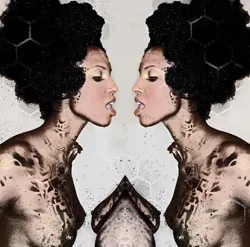 (Self-released, CD, vinyl)
Cop-out or no, you decide: The NEKtones' debut full-length opens with a 39-second, spoken-word track introducing listeners to the band and the album. In a Twilight Zone voice and style, John K. Westinghouse intones info that is both literal and mystical, and seemingly unnecessary. However, we'll assume this has been included because of its importance to the band and its mission, whatever that might be. Here it is:
The NEKtones are a product of the Northeast Kingdom of Vermont and have been playing together in various iterations since the late '90s. Our sound is accumulative of a thousand jam sessions, house parties, bonfires, midnight swims and backwoods moments too important to suggest otherwise. The music you are about to enjoy has been filtered through a lens which has been polished by the hearts and minds of those who have spent their lives learning its lessons day by day. NEKtones: the sound the Kingdom makes.
Who knew the sound of the Kingdom was neo-soul? The stage thus set, "Wait Until the Moment" begins somewhat abruptly with soulful keys (Peter Krag) and vocals (Matt Scott), sounding something like what Stevie Wonder might play at Burlington's Radio Bean. Lyrics about hope and abandonment provide a thematic duality that remains constant throughout Proof of Concept. When bassist Nathanael Reynolds and drummer Micah Carbonneau kick in, joined by Alex Wolston on muted trumpet and Luke Laplant on baritone sax, the tone shifts from lonesome reflection to let's-just-dance spontaneity reminiscent of Steely Dan. The lyrics get a little lazy (there's mention of early-morning beverages) as the NEKtones put their all into crafting an atmosphere of retro-funky good times.
This introspection/let-it-loose soul formula is reiterated on Proof of Concept's six remaining tracks. But the NEKtones do throw a few curveballs here and there. "The Wait and See" features a slick guest verse from St. Johnsbury MC Wombaticus Rex. "Missing the Point" makes passionate use of an F-bomb, and horns. And album slow-dance closer "Got A Way" is a subtle, truly soulful confession of loss and regret that almost channels Ray Charles in his heyday.
The NEKtones are clearly a talented bunch with more than a few years of collective chemistry behind them, but ingenuity is largely missing on Proof of Concept. The NEKtones' particular brand of funked-out soul might get an audience feeling fine, but on a studio album, a little more innovation would be welcome. Proof of Concept by NEKtones is available at nektones.bandcamp.com.