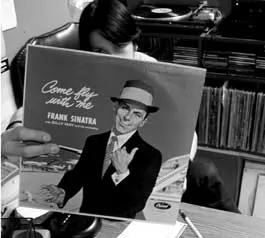 What is it about spinning records that casts a spell on some listeners — people for whom a grooved disc and a few wires makes magic in the living room? Not just any old record, of course. Finding just the right — and preferably obscure — slab of vintage vinyl or odd CD is a highly subjective quest.
Record collecting is almost primal to those who "get it." Those who don't may simply smile indulgently at the fixation, or scratch their heads in disbelief at the dollars sometimes required for the fix. People collect records for many reasons, from financial to historical to sentimental. And everyone has a story about their personal best find — or the ones that got awayÉ
---
LJ PALARDY, WRUV deejay, Burlington — In 1964, I was working at a club in New York City that had a jazz jukebox. In it was a tune by Roland Kirk called "Berkshire Blues." The record was a vocal cut, and I fell in love with it. I began to look for a copy of the tune, but could never find it. From 1964 to 1997 I looked for that record, yet never had any luck. Then, in 1997, I was at the Montréal Jazz Festival. In the middle of all these great jazz performers and record shops was a mall. The friends I was with needed to use the restroom, so we walked in. In the mall was a typically unimpressive record store. I had some time to kill, so I took a minute to browse and saw an album called Jazz Masters 27, on Verve Records. The album was a CD collection of old jazz cuts by Kirk, and I turned it over and "Berkshire Blues" was listed. It was pure nirvana, the Holy Grail. I rushed back to Burlington to make sure it was the right song, and found out in the CD notes that it had been released only as a 45 single for jukeboxes, and that was why I could never find it.
---
DAMIAN NEUHOFF, clerk at Vinyl Destination, Burlington — In high school, I fell in love with Pink Floyd, and was particularly fond of Meddle and Aton Heart Mother. I decided that I wanted to own both of those records, in their original vinyl pressings. However, Floyd records never really got repressed, so finding copies was extremely hard. I eventually reached a point where I had pretty much decided to give up and stop lookingÉ One year, I was spending a few months traveling in Europe, and entered an open-air market in Amsterdam. One stall was filled with crates and crates of records. I didn't think much of the opportunity, but decided to take a look. After about 30 seconds of looking, I found a copy of Meddle in perfect condition. I checked the labels and it was an original pressing. About one minute later, my friend said "Hey, Damian," and held up an identically perfect copy of Atom Heart. It really hit my heart — here I was thousands of miles away from home, having put the search out of my head, and I found them both!
---
MIA SLADYK, assistant promotions manager at Higher Ground in Winooski — A couple of years ago I was in Asheville, North Carolina, and stopped into a record store owned by Govt Mule's Warren Haynes. There was a box of 8-tracks in the corner, and in the box was a copy of Never Mind the Bullocks, by The Sex Pistols. I thought that was pretty cool, but when I picked the copy up, there was a giant swastika drawn on the back. It was so disappointing, and I just couldn't bring myself to buy it after that.
---
TOM AYRES, marketing director of the Flynn Center, Burlington — The first record I ever bought was The Kinks' Greatest Hits, when I was in seventh grade. However, when I was in college, in 1971, I sold all of my vinyl from high school and replaced it on cassette. In 1977, I was at a record convention in Asbury Park, New Jersey, and found the same album that I had sold six years earlier. I checked the record, and it had my handwriting and initials written on it, where I had labeled all of my records. After all those years and miles, I once again had the first record that I had ever purchased.
---
JEFF LYONS, owner of Vinyl Destination in Burlington — One Saturday a few years back, I was having a bad week as far as records went. Lots of people had come into the shop with great old records that were just ruined due to poor care. On my way out to lunch, this real businessman guy — wearing wingtips and a tie on a Saturday — asked if I would take a look at his records. I kind of sighed and finally said "Yeah, sure," and he brought me down to his car. In his car were boxes of '60s rock records in perfect condition — Beatles, Zappa, Moby Grape, all in their original shrink-wrap. Many had never even been played and had original price tags on them. The guy had never even listened to them in 30 years!
---
GEORGE THOMAS, deejay at The Point and Vermont Public Radio, Waitsfield — In the early '80s, I was working for Rounder Records and got a call from a friend who had a shop in Hartford, Connecticut. He told me that they had just received the entire collection of an anonymous European jazz critic. I drove to Hartford to check it out, and found there were over 8000 records and a similar number of books. In the collection I found an entire set of unmarked records that turned out to be alternate versions of Robert Johnson recordings. These were records that nobody even knew existed.
---
DAVE LAMONT, engineer, Burlington — My greatest find is also my greatest loss. I had a friend who had a box of records kicking around his house that he finally decided to give me. In the collection were autographed copies of '60s acts — The Beatles, Everly Brothers, Otis Redding — all signed. It turned out that my friend's brother had been a stagehand at all these great '60s shows and had the records autographed. Unfortunately, when I was moving into my house in Burlington, I put the box in the garage and the roof leaked onto them. I still have them, but they are all ruined and stuck together.
---
MARK HARLAN, photographer, Burlington — Years ago at Yesterday and Today Records, I was standing around when a middle-aged woman came in with a box of records. She announced that she was selling them all because she was moving to a convent. I thought that was a pretty interesting reason to sell records, and started flipping through. In the box was a copy of the infamous Beatles "Butcher cover." It has become one of the most famous records ever. [This collector's item features the band covered in bloody baby dolls. The record company stopped its release after only very limited quantities.]
---
STEVE SPENSLEY, teacher, Pittsford — I have always been in love with the sound of slide guitar. Something about pushing air from a wooden box with a piece of glass made a sound that grabbed my gut and never let go. I was hooked from the moment I heard Ry Cooder's Into the Purple Valley, and have been collecting his music ever since. It was fairly easy to find most of his stuff, but there existed an ultra-rare 1972 promo LP called The Ry Cooder Radio Show that had been handed out in advance of one of his albums. I had heard of the record appearing occasionally on the West Coast for as much as $100, but could never find or afford it. Then, in 1995, I was scanning [trade magazine] Goldmine, and saw it listed for a mere $5. I rushed to the phone and bought it. Who knows, maybe I was the only one who cared at that point, but it still is the coolest sound around.
---
MIKE THURSTIN, owner of Exile on Main Street in Barre — Tori Amos' first record was called Y Kant Tori Read, and was released with this crazy S&M cover. The record included no information about who the artist was, though, and so it sold nothing. After Tori became famous, she grew to revile the album, and used all of her power to prevent its spread. Since it was released in 1988, as compact discs were first getting popular, the CD version is the rarest — worth about $250. I was in Fort Lauderdale, Florida, a few years ago on vacation with my wife. One night, feeling tired, we decided to walk to this mall complex next door and go to this chicken-and-rib joint. While waiting for a table, my wife pointed out this sorry-looking record store and said that I should go look around. The place was pretty bad — selling more skin mags than records — but I took a look. In a box of cheap, throw-away records was a CD copy of the Tori Amos album, selling for $3.99. I couldn't believe it. The funniest part of the story is that, when I sold the record a year or two later, the guy that bought it lived in Fort Lauderdale. After all that time, the record ended up back in south Florida.
---
NAT WOODARD, creative director for Bluehouse Group, Burlington — I am really into reggae, so once, when I was in New York, I looked up the address of an old producer named Brad Osbourne. His store was closed, but there was another one open in the same location way up in the Bronx. When I asked the owner of the new shop about the history of the spot, he showed me a trap door that led into a grungy basement. In the basement I found what was practically Brad Osbourne's life. There were original albums, the original artwork for the covers of the albums, test pressings, even the master plates that the records had been made from. The guys that owned the shop just didn't know what to do with all that stuff, so they gave most of it to me.
---
FRED WILBER, owner of Buch Spieler in Montpelier — My greatest loss actually occurred exactly 10 years ago, in March 1992. The flood that hit Montpelier that spring wiped out my collection of about 500 records. I had the albums all organized on shelves in the basement of my building, and the water and oil from the flood ruined everything. I was especially fond of the artwork on the albums — which, of course, was the first to go. A lot of the records were pretty rare, too — there was a Beatles "Butcher Cover," old Rolling Stones originals, lots of great '60s rock. The worst part of the whole thing was that my landlord called maintenance people to clean, and they had thrown out all of the records before I even got a chance to see if they could be saved.