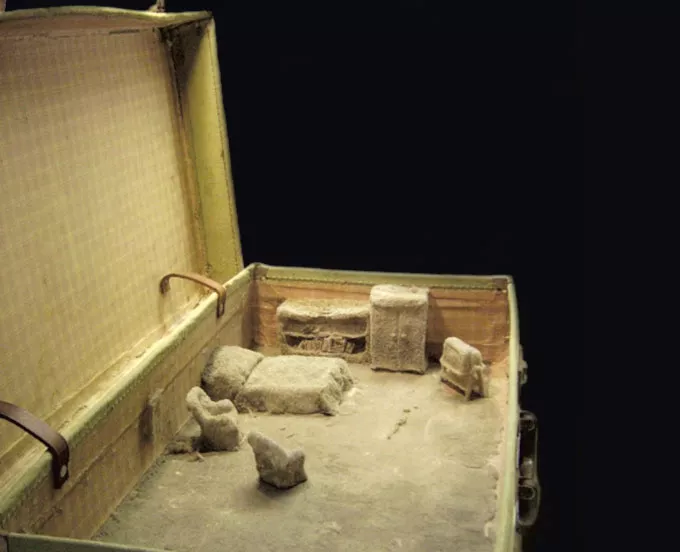 Courtesy of Clare Dolan
"Vacancy" by Paul Hazelton
Last week, a curious call to artists caught our attention and quickly evoked the question, "Does this really qualify as art?"
The quirky call came from Clare Dolan, the self-described "chief operating philosopher" of the even quirkier Museum of Everyday Life in Glover. The self-service museum is housed in an unheated, unlocked barn beside her house. And, true to its name, it has mounted surprisingly informative, well-researched annual exhibitions on such everyday objects as the safety pin, the pencil and the toothbrush. Dolan recently installed a seasonal exhibit titled "Get Out of This One: Broken Snow Removal Devices of the NEK."
Her current call? It's for dust. Yes, you read that right: the kind that makes bunnies.
Dolan describes dust as the "most ubiquitous substance that gathers in all corners of everyday life." For the exhibit, she seeks all kinds of dust-related items, including dust-removal objects, anecdotes, dust scholarship — apparently, that is a thing — and works of dust art. She also hopes to obtain dust samples from locations as distant as outer space and as intimate as a celebrity's belly button.
Dolan explains in a phone conversation that the project was conceived "more with whimsy than thoughts of permanence." The dust in her home environment was her initial inspiration. But as Dolan researched the topic, she began to consider its depths. "There's a lot to it," she marvels. "There's a lot to dust."
For the museum's fifth season, which she calls a miniature milestone, "We're going to go a little bit more abstract, a little bit more out there," Dolan says. But she assures us the direction won't be permanent. "It just seemed like a good year to try something a little bit different."
Courtesy of Clare Dolan
"Dust Breeding" by Man Ray
Dolan modestly notes that she doesn't think her idea is original. She cites two books published in the past decade on the subject of dust: The Secret Life of Dust: From the Cosmos to the Kitchen Counter, the Big Consequences of Little Things by Hannah Holmes; and Dust: A History of the Small and the Invisible by Joseph A. Amato. And Dolan rapturously describes an account she read of Italian director Romeo Castellucci's 2014 production of Stravinsky's The Rite of Spring, which used bone dust in place of ballerinas. (He created machines that made the dust "dance" to live music.)
After just one week, Dolan has received two related series of photographs involving brooms and street cleaners from a French couple; she's been promised the loan of 9/11 ashes from David Fairbanks Ford of the Main Street Museum in White River Junction; and she's heard from an artist who is working on mounting dust bunnies with adhesives. "I'm really interested to see how that works out," Dolan says. We are, too.
Many of the submissions have been ideas rather than objects. "People have written in saying things like, Do you know about Man Ray's photo 'Dust Breeding'?" She does. Dolan appreciates the tips as she curates in real time, actively generating the exhibit as people send in ideas and, of course, actual dust. The museum welcomes participation during all phases of the project, she says.
The seemingly endless possibilities of her humble subject may be more than Dolan bargained for. "I'm worried now," she admits. "It's an ambitious choice, and I'm worried, oh, that I'm not going to have enough time to do it justice. But you know, there could always be 'Dust: Part 1' and 'Dust: Part 2.'"