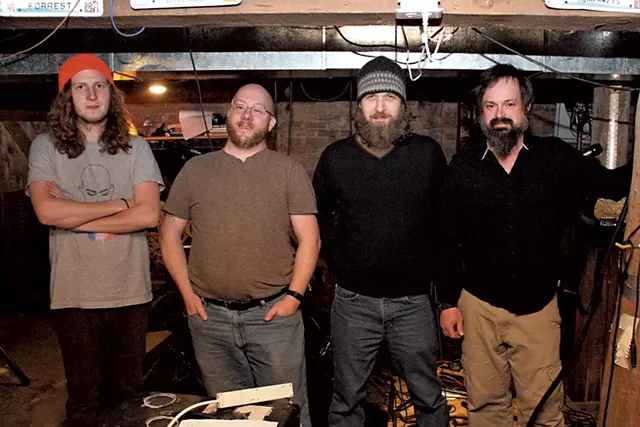 Shawn Corrow
Left to right: Justus Gaston, Andy Frappier, Jedd Kettler and Ben Maddox
"I'm so fucking sick of hearing about Farm," jokes Andy Frappier, bassist of Enosburg Falls rock quartet the Mountain Says No. He's referring to the experimental folk trio that in some ways birthed TMSN. Frappier plays alongside guitarists and former Farm-hands Jedd Kettler and Ben Maddox, as well as drummer Justus Gaston.
When Farm was put out to pasture several years ago, Kettler and Maddox linked up with longtime friends and collaborators Gaston and Frappier. Maddox was something of a mentor to Gaston in his teen years, always keen to introduce him to his latest music gear and the projects he was working on. It should be noted that Gaston is in his twenties, while his bandmates are at, as they put it, "prime top condition" in their forties. Frappier occasionally played saxophone with Farm and briefly collaborated with Maddox in a loop-based project called Mouthbreather. (Maddox beseeches you to not look it up.) And here's a fun fact: Frappier was Gaston's band teacher at Enosburg Falls middle and high schools.
TMSN are definitely not a Farm reboot. When it was in the early stages, Kettler and Maddox knew that whatever their next project was going to be, it needed to be much, much simpler. Farm's music is a complicated, dreamlike offering of experimental, boutique folk, using exponentially more instruments than there were musicians to play them. TMSN's music is burly, eclectic rock that occasionally encroaches on nightmarish but holds a 1-to-1 ratio of instruments to musicians. The stylistic transition, as well as a general coalescence between its members, makes TMSN's new album, Golden Landfill, its most cohesive offering to date. The Mountain Says No celebrate the release on Friday, February 17, at ArtsRiot in Burlington.
The Moutain Says No, Golden Landfill
Sitting in the Cave of Legends, a subterranean lair beneath Flying Disc, Maddox's café and secondhand media emporium in Enosburg Falls, the band begin to unravel their process. The Cave is their designated space for chain-smoking, sipping from mason jars filled with unidentifiable brown liquid and, most importantly, rehearsing.
Kettler says that one of the main differences between Farm and TMSN was that Farm was a "studio band," meaning that their intricate compositions demanded complex live performances. To accurately reproduce an album's worth of Farm songs for a live show required laborious reconfigurations from song to song, all of which had to be worked out ahead of time and perfectly executed during their shows.
"It really was like putting on a play," says Kettler. "When we practiced for a show, we would run that show, that set list."
"They had it choreographed," says Frappier.
In Farm, Kettler notes, the members were constantly switching instruments, "which was super fun," he says. But they knew it could be simpler.
TMSN have indeed simplified their instrumentation: Each member has just one. But what about songwriting?
Farm had a collaborative songwriting process that mostly survived the transition into TMSN — though what exactly the process is can be murky at times. Maddox and Kettler bring more "completed" songs to the group, but that doesn't mean Frappier and Gaston don't contribute.
"We tried to take a conscious attitude of [letting] everybody do what they're going to do until they feel like they're satisfied with it," says Maddox.
"A lot of the songs that are on the new album either come out of a jam or a riff that Justus or Andy brought in, or an unformed idea that we then bring together as a band," explains Kettler.
Maddox points to the band's collaborative song-arranging board, a green chalkboard covered in chicken-scratch notations.
"On JV, we were like, 'No, dude. Do this. Do that,'" says Maddox, referring to the band's 2015 debut. "Now, everybody just brings their shit to the table. Then we hash it out in arrangement."
"What's great about the more collaborative approach is that what happens comes much more naturally as a group," says Kettler. "So, if there's a build in the song, it's not because the guy who brought the song goes, 'There should be a build here.' It's because we all felt that while we were working on it," he continues. "That's what makes that stuff ebb and flow more naturally."
"I feel like, compared to our first album, which was all over the place, this one still has a lot of variety but seems more cohesive," says Gaston, who also is the founder of the instrumental rock quartet Sad Turtle.
The new album is also more concise than JV — nine songs compared to 13. TMSN recorded the album's basic tracks in one session at Ryan Cohen's Robot Dog Studio. JV's prolonged gestation happened piecemeal over approximately 18 months.
"We were still getting to know what one guy would naturally bring to it [on JV], and what everybody else wanted," says Kettler. "With [Golden Landfill], most of the songs were written together, and we had everything in mind before we recorded basic tracks."
Does this mean that TMSN would never take their time again like they did for JV? Probably not.
"We're not set in stone. This is not necessarily the way we're going to work from this point on," says Kettler, suggesting the band may choose a different process in the future — including taking more than one day for tracking. "But I do feel like coming out of JV, we thought maybe that album was longer than it needed to be," he continues. "By the end of it, I'm not sure we were feeling like all of the overthinking was actually adding to it."
"It really is fun to go back and overdub a bunch of cool sonic structures and create some aspects while you're recording," says Maddox.
Golden Landfill is markedly darker in tone than the nuanced rock on the band's debut. Tracks such as the haunting, atmospheric "Be Like Ryan," the prickly, grunged-out "You Say You're Alive" and the menacing, stoner-rock crusher "Gazerbeam" are as unsettling as they are confounding.
The band is hesitant to define its sound using typical terms. Instead, TMSN offer a creative description: crypto-bombastism. Translation: uproarious and brash but lyrically ambiguous and abstract.
Maddox describes TMSN's music as derived from personal impulse but not necessarily reflective of their individual lives. Gaston even admits he doesn't know what all of the songs mean, but he agrees the album is more commentative than confessional.
"[Music] doesn't need to serve some other purpose. It doesn't need to be about something," says Maddox. "Painters get away with that shit all the time."