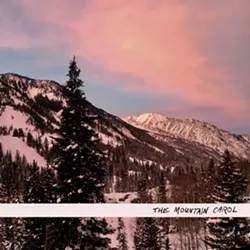 The Mountain Carol,The Mountain Carol
(Self-released, CD, digital download)
If you heard that there was a new band called the Mountain Carol hailing from the Adirondacks, certain sounds and images might flood your senses: a reclusive, grizzled logger; string-based ballads; three-part harmonies; and an overall aesthetic rooted in 19th-century tradition. (The band offers a hand-tied sprig of spruce needles with the purchase of their CD, for crying out loud.) But you know what they say about judging books and whatnot.
While the Saranac/Plattsburgh, N.Y., group does engage lyrically in an exploration of nature, sonically the new EP is mechanical and highly modern — at least in the sense that it has elements of electronica and a relentless, ticking Casio drum machine on every track.
The best and most suitable description is decadent lo-fi: Decadent because keyboardist/vocalist Bruce Wilson's drawl is reminiscent of the dark and brooding men who fronted hedonistic 1980s pop and new-wave acts; and lo-fi because it sounds like the band gathered in a warehouse around a Fisher-Price cassette player and pressed "record." The result is a mysterious, gorgeous exploration of isolation, memory and life in the mountains.
Guitarist Austin Petrashune, Wilson and producer/drummer Matt Hall are the Mountain Carol. Petrashune and Wilson grew up together in Saranac and have been working together for years. But this EP is the first product they've formally shared with the world.
It begins with the title track, a muffled, contemplative expedition into recollections of winters past. Atop the Casio's metronomic tick, tropical guitar chords sweep in and offset the song's wintry motif. Wilson's vocals are cloaked in darkness as he sings, "It used to snow / I would put out my tongue / And catch them falling one by one."
Wilson pointedly emphasizes not only every word but practically every syllable. As his nearly unintelligible musings momentarily subside, Petrashune introduces a staccato, guitar-picked melody.
On the second track, "All Is Lost," the Casio introduces a new pattern, underscoring a bleak yet whimsical descent into darkness. A rhythmic guitar line adds counterpoint to the regimented beat. Bulbous bursts of synth — like the beeps and blorps issued from command consoles on Star Trek's original USS Enterprise — bubble and boil between Wilson's downcast ruminations.
"Adventure Safari" concludes the alpine trek. An ascending piano line is interspersed between melancholy jazz chords encased in tinny snares and high-pitched, unidentifiable warbling. The piano melody morphs into an exuberant, marchlike refrain. Wilson concludes the song with a puzzling statement: "On adventure safari / You will dance."
The Mountain Carol is a haunting, confounding plunge into the mind of a curious and enigmatic singer-songwriter. Conceptually uncluttered and with a cohesive sonic palette, it's a strong debut.
The Mountain Carol is available at bandcamp.com. Catch the Mountain Carol on Thursday, August 3, at Monopole in Plattsburgh, and Monday, August 7, at Radio Bean in Burlington.