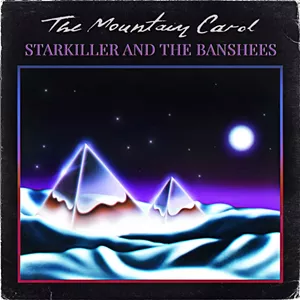 The Mountain Carol, Starkiller and the Banshees
(Self-released, CD, digital download)
Oh, what a difference a year makes. Or, perhaps, what a difference a studio makes. When Plattsburgh/Saranac, N.Y., band the Mountain Carol first materialized in the summer of 2017, they offered a lo-fi self-titled EP dripping with reverb and charmingly chintzy beats. Singer, keyboardist and primary songwriter Bruce Wilson's sphinx-like mumblings floated alongside guitarist Austin Petrashune's tropical accents in an airy space conjured by drummer and producer Matt Hall. The DIY effort was magical — and an enticing preview of what might be.
The trio recorded its fantastical first full-length, Starkiller and the Banshees, at Plattsburgh's Wayward Sound Studio. With the aid of engineer and coproducer Jamse Ward, the group expands its hybrid sound — ambient-occult-new-wave-progressive-pop, if you will — by scores on the new album.
Like echoes in reverse, reimagined (and rerecorded) versions of "Adventure Safari" and "The Mountain Carol" — both of which appeared on The Mountain Carol — are full-bodied renderings of their skeletal predecessors. With five other brand-new tracks, Starkiller is a confident, tripped-out voyage through a cosmos brimming with glistening keys, stormy riffs and dark incantations.
Calling on new-jack swing beats and glamorous '80s-pop aesthetics, "The Party's Over" is a rambunctious romp. Petrashune strums jagged, syncopated chords that ebb and flow with Wilson's glittery synth work. The song feels like it could be a forgotten collaboration of Peter Gabriel and Janet Jackson at the peak of their respective powers.
On "Sway," a sparse and sexy slow jam, the band dabbles in jazz. Wilson pours his syrupy baritone vocals over sharp, picked-guitar, rounded-organ tones and 16-beat electronic snares and hi-hats. He sings an amorous plea: "So I came around / There's nobody home / Let's burn this place down / Rock, baby, roll with me / I've got to know you."
A lumbering beat rolls in during the beginning of album opener "Dino." Rhythmic guitar and buzzing synth meander toward the song's climactic epicenter. Wilson fervently whisper-sings before delving into an unchained, flourishing synth passage.
Tom-heavy beats and octave-jumping synth bass provide the foundation for "Essex Ferry." Huge blasts of full-band power riffs punctuate the dark song like M-80s against a moonless night sky.
With its ice-water keys and heartbeat bass drum, "Shadow Puppets" is a chilly, swirling mass of macabre feelings. Repeating the same patterns again and again, it embodies a bad thought that indefinitely floats around your cortex.
Throughout Starkiller and the Banshees, Wilson and co. create a mood even more striking than that of their first EP. That they do so without leaning on flashy hooks or traditional tropes shows the Mountain Carol to be one of the most unclassifiable and ingenious groups in the area.
Starkiller and the Banshees will be available at themountaincarol.bandcamp.com on Friday, June 1. The Mountain Carol celebrate its release the same day, at Monopole in Plattsburgh.