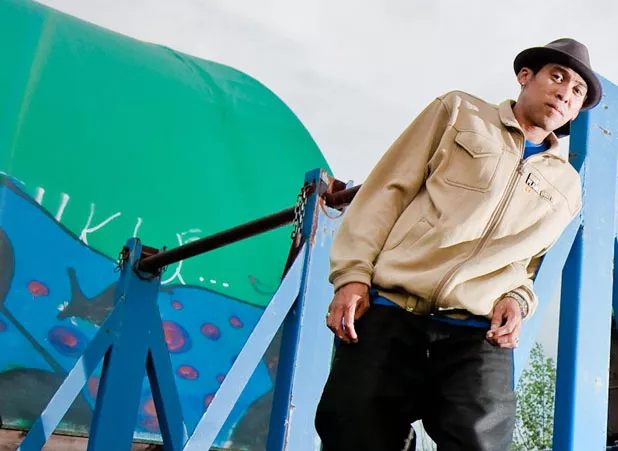 Man, 2013 is off to a rough start. Apologies in advance if this is the most depressing Soundbites column in years.
We begin our Vermont joyless parade in Montpelier, where news broke recently that the Black Door closed on January 1, 2013, adding yet another name to the list of recently deceased live-music venues in the state capital, along with the Lamb Abbey and the late, great Langdon Street Café.
The closing was announced in Ed DuFresne's January 3 "Capital Sounds" column for the Barre-Montpelier Times Argus. In it, DuFresne, who was the booking agent at the Black Door in addition to his music-scribe duties, writes that the BD went out "with a bang," a New Year's Eve blowout featuring red-hot local blues and soul man Dave Keller. But he laments that Keller's show will be the last on the club's third-floor stage for the foreseeable future. He's not the only one who's bummed.
Knayte Lander, of Montpelier's Golden Dome Musicians' Collective and State and Main Records and the band Champagne Dynasty writes in to say that the Black Door has been "a Montpelier rendezvous for years," dating back to the bar and restaurant's original owner, Phil Gentile. Lander recalls that, especially on summer nights when the joint's large outdoor patio was open, the Black Door was arguably the capital city's hottest nightspot. He adds that, particularly under Gentile, the club was a critical supporter of local music and arts in the city that "will be sorely missed."
In his column, DuFresne echoes Lander's sentiment that Montpelier is losing a vital cog in its music scene. He points out that with the Black Door shuttering its doors, there remain only three venues in the city "actively booking" live music: Charlie O's, Positive Pie II and Bagitos. The Skinny Pancake also has live music, but generally only on Sunday afternoons.
DuFresne goes on to pose a larger question: "What's happening to the music scene in the capital city now that it's losing another one of its crucial venues?"
It's a scary question to consider.
Only two years ago, Montpelier boasted a scene that was arguably the rival of any in the state, including its highfalutin big sister to the north, Burlington. Obviously, in terms of sheer size, the two cities aren't comparable. But on a per-capita scale, you could make a strong case that Montpelier's musical community was every bit as vibrant and creative as that of the Queen City — or, for that matter, Brattleboro's. It was a scene that boasted numerous quality venues, hordes of talented players, and a solid brain trust of progressive-minded movers and shakers. But then the dominoes began falling, starting with Lamb Abbey.
What is encouraging is that most of those pieces are still in place. The GDMC still claims a wealth of talent, in addition to the numerous independent artists who call the city and its surroundings home. There are still creative, motivated people — DuFresne and Lander, among others — willing to foster and further a growing scene. And, based on previous history, we can be fairly certain there's an audience willing to do its part. Which makes it all the more perplexing that the city continues to bleed quality venues.
I wish I had an easy answer — as do DuFresne and Lander, I imagine. But rather than speculate on symptoms and solutions, for now I'll simply echo DuFresne's hope that 2013 finds the city's remaining venues able to step up their game even further, and that maybe some mystery person or persons will take up the mantle and create a new outlet for live music in Montpelier. The future of a dynamic music scene depends on it.
I need a drink. Please tell me Charlie O's is still open.
Check Yo'self
As most of you have undoubtedly heard by now, Andy Williams, aka DJ A-Dog, long regarded as one of the state's finest turntablists and sweetest guys around, was diagnosed with leukemia in December. (I told you this would be a depressing column.) Fortunately, he was diagnosed in the early stages of the disease — a factor that can tip the odds of recovery in a patient's favor. Unfortunately, like most musicians, Williams doesn't have adequate health insurance. I probably don't need to tell you that a month of chemotherapy and several months of outpatient treatment, which Williams is currently facing, come with a hefty price tag.
To help defray some of the costs, the Burlington music scene has already begun to rally behind Williams. A benefit show at Club Metronome last Thursday, January 3, was a massive success. If you couldn't attend and want to pitch in, you can donate to the cause at inlu.com.
Other benefit shows are in the works, including at Red Square, where A-Dog has been a fixture behind the decks for years, and at Higher Ground. We'll have more details on both as they become available. But for now, keep an eye on your own health, OK?
Musicians, particularly young ones, tend to ignore warning signs, either because we think youth makes us invincible or because we lack sufficient health care coverage. Neither is a rational reason not to get regular checkups.
Cautionary tale: Big Star founder Alex Chilton died of a heart attack in 2010 at age 59. Despite experiencing all the typical warning signs — shortness of breath, chills, etc. — in the weeks preceding the attack, he never sought medical attention. Why? Chilton had no health insurance. Sure, that heart attack might still have claimed him had he gone to see a doctor. But there's also a possibility that proper care could have circumvented a fatal attack. We'll never know.
As my colleague at the Burlington Free Press, Brent Hallenbeck, reported in an excellent article about A-Dog last week ["Burlington rallies to help DJ A-Dog," January 3], Williams felt a malaise set in following the death of his mother in early 2012. He found he was tired often. He could feel his heart pounding. He felt unmotivated. So he went to the doctor to see what was wrong. I shudder to think of the articles we'd likely be writing months from now had he not.
So, please, if you think you might need medical attention, seek it out. It might just save your life.
Stay strong, Andy.
BiteTorrent
In lighter news, Burlington has a brand spankin'-new local klezmer band, the 400 Lux Klezmer Ensemble. Founded by Gabi Shapiro (Grup Anwar, Brass Balagan), the group features some ace world-music talent, including Jeff Davis (Lokum, Grup Anwar), Brian Perkins (Brass Balagan), Colin Henkel (Sunyata) and Mike Fried (Dr. Ruckus). The band makes its second appearance on Tuesday, January 15, at Radio Bean in Burlington.
Last but not least, in Montpelier music news that doesn't suck, Bagitos is doing its best to fill the widening live-music void — or at least the folksy, acoustic part — in the capital city. The choice highlight this weekend is "Winter Songs," a showcase of central Vermont songwriters, including Nancy Smith and Bronwyn Fryer performing the, ahem, chilling work of Joni Mitchell, Leonard Cohen, Patti Casey and others. Check it out on Saturday, January 12.