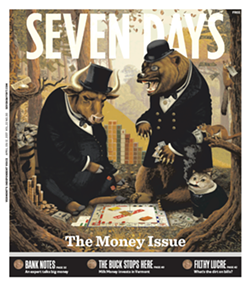 Jeff Drew | Rev. Diane Sullivan
It's said that sex and money are the two most troublesome topics in relationships. But here at Seven Days, we found plenty to say — at least on the latter subject — in this annual issue.
To be sure, money makes the world go round, and retired economist John Hill gives us a glimpse into the global order.
On a much smaller scale, Milk Money Vermont matches local investors with local startups.
Meantime, Cash or Trade helps music fans buy or sell tickets at face value, sidestepping scalpers and bots.
We learn how Muslims, whose religion prohibits riba, or interest, try to navigate a borrowing-based economy.
Legal Aid lawyer Jean Murray helps debt-strapped Vermonters who missed the memo.
We also discover how Contaminated our cash can be. We suggest you don't put your money where your mouth is.