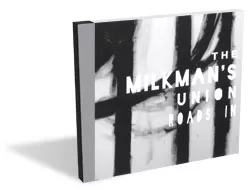 (Self-released, CD)
When last we left Henry Jamison — then Jamison-Root — he was a promising 17-year-old who had, within less than a year, released a pair of locally acclaimed albums as The Milkman's Union. That was early 2007. Now old enough to vote and backed by a handful of schoolmates from Bowdoin College in Maine, Jamison/The Milkman's Union deliver a self-described "second debut," Roads In.
Whether the disc is, in fact, a debut depends on your perspective. Unlike the local indie-rock prodigy's first two albums — 2007's Oh Boy and MU's actual debut, Here's Hoping, in 2006 — which were essentially solo projects, Roads In finds Jamison surrounded by a cadre of backing musicians. In that sense, the disc does serve as something of an introduction to, or perhaps a benchmark for, the next stage of Jamison's budding career; the album features a layered sonic depth well beyond his earlier endeavors. But at its core, The Milkman's Union is still Henry Jamison. And Roads In succeeds — and occasionally stumbles — on the strength of his vision.
The curtain rises on "Rehearse a Scene," which introduces itself with ragged guitar jangle and a ringing lead line. Jamison, borderline hyper-literate as a teenager, remains a potent lyricist. Here, however, he keeps things almost overly simple, imparting his meaning less with words than swooning atmospherics and a detached vocal drawl.
"Emerald Flares" is a standout, showcasing both Jamison's natural gift for melody and maturing but playful lyrical prowess. "So she says she's done / being a lightbulb / Going off and on / I should be careful," he sings, on the tune's opening line. Then at the chorus he wonders, "How many gentlemen does it take to screw you in?"
Jamison seems to have set aside, or at least learned to mask, his overt affinity for Dylan evident on earlier albums. But he hasn't completely outgrown his formative influences yet. Shades of Pavement, early Death Cab for Cutie and Modest Mouse are identifiable throughout, as are the more subtle imprints of Deerhoof and Radiohead.
But let's cut the kid some slack. He's barely old enough to buy a beer. Plus, taken as a whole — and a "debut" — the record reveals telling glimpses of brilliance to come. From the lilting melancholia of "The White Sox," to the unhinged frailty of "St. Petersburg," to the gathering sonic avalanche that is "America," to the album's closing benediction, "Percy, Lost at Sea," Jamison proves a startlingly gifted artist. And one who has only begun to explore his immense potential.
The Milkman's Union make a homecoming appearance (of sorts) at Burlington's Radio Bean this Saturday, January 23.