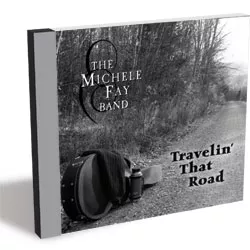 (Self-released, CD)
With their self-titled 2008 debut, The Michele Fay Band established themselves as a worthy addition to Vermont's vibrant folk scene. Though not without its flaws, the album also introduced Fay as a unique voice among the state's growing chorus of talented Americana songwriters. On the Ripton-based quartet's recently released follow-up, Travelin' That Road, Fay and company sand away many of the blemishes from that first recording with a fine grit and light touch. The result is a sophomore effort that, while noticeably more polished, retains an appealing, down-home charm.
The record comprises a cozy mix of originals, covers and traditionals that, with few exceptions, are woven seamlessly together. "Hold on to Your Golden Crown" leads off, reintroducing Fay as a sturdy songwriter. "When you're doubting all that you done, / When you're blinded by the sun, / Feel a victim of circumstance, / You deserve to dance," she sings in her familiar, airy croon.
Fay has a naturally pleasant voice. But a tendency to slide in pitch, particularly at the ends of phrases, somewhat marred her debut. It is an issue she seems to have mostly solved. However, Fay's delivery on the cleverly wistful rag "Simple Life" is frustratingly thin — perhaps just beyond the upper reaches of her range.
She rebounds on the following track, a sort of waltz mashup of the traditional "Midnight on the Water" and Walt Aldridge's classic "Ain't No Ash Will Burn." Fiddler Lausanne Allen and Fay's husband, mandolinist Tim Price, unfurl a delightful opening melody. Fay matches their breezy reel with a particularly self-assured performance, perhaps her finest of the album.
"Addie Card" marks Fay's most impressive songwriting effort. Fay takes no small amount of inspiration from her Vermont surroundings. Here, she uses her rural backdrop to chilling effect, spinning a gritty folk tale of young love and hard living in an old mill town. Call it Green Mountain gothic.
"Old Love" is a touching ballad, celebrating the profound bond formed through a lifetime spent in love with one person. It's hard not to swoon as Fay and Allen sing in dovetail harmony, "If there ever comes a time / When your hand is not in mine / It will only be because / We have reached the oldest love."
Speaking of Fay and Allen, their a cappella rendition of "Across the Blue Mountains" is a stunner.
The title track brings Travelin' That Road to its humble, homespun conclusion, a fitting end to a humble, homespun gem.
Catch the Michele Fay Band at Middlebury's 51 Main this Saturday.