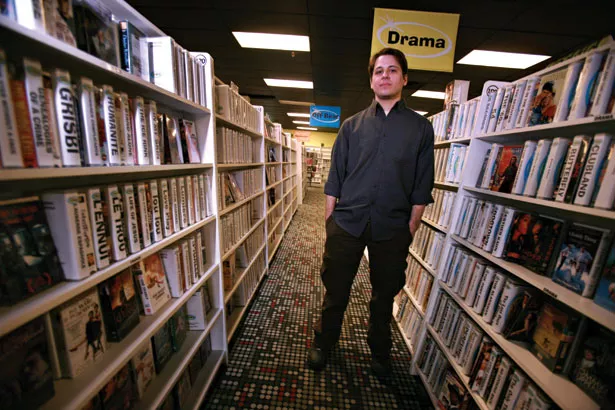 Putting things in the Netflix "queue" is all well and good, but sometimes you want to see 30 Days of Night or 2 Days in Paris right now. No mail-order business can match the immediate gratification of the local video store - and when it comes to selection, no walk-in outfit compares to Waterfront Video.
The guy who keeps the shelves stocked with some 19,000 films - and an eye on his patrons' tastes - is Seth Jarvis. The 32-year-old Burlington native is a familiar face to local theater audiences: He wrote and directed The Next State and The Once and Future Ubu, and gave an acclaimed performance last fall in Jim Lantz's American Machine. A founder of the Burlington Poetry Slam, Jarvis is also known for dynamic performances of his own verse.
For the past decade, while local performance venues have come and gone, Jarvis has worked at Waterfront. He started soon after the store opened in 1996 and quickly became the buyer - "or, as the owner likes to call me, the tape wrangler," he says. While 11 years is a long time for an artist to stick with a single day job, Jarvis clearly isn't doing it just for the money. "I do have an abiding love of movies," he says. "And I say 'love' because it sounds better than 'obsession.'"
Seven Days sat down with Jarvis to ask him how he picks 'em, and the ways in which Waterfront is coping with the competition.
SEVEN DAYS: How many movies do you watch per week?
SETH JARVIS: It would probably be embarrassing to fully confess, but I'd say I average six to seven.
SD: How do you choose which new releases to order, and how many?
SJ: I guess, because I've been doing it for so long now, I've got a lot of precedent to go on . . . We're lucky with our customers, because what is the top renter for Blockbuster for a year is very rarely our top renter. It's the type of store where I can buy twice as many copies of David Lynch's Inland Empire as I did of Fantastic Four: Rise of the Silver Surfer. Those both came out at the same time, but, knowing our customer base, the David Lynch one will rent more and rent longer.
Being an independent store, we can't compete with the quantity the chains can offer. We can't have 200 to 300 copies of the most popular new release. What we lack in quantity, we try to make up for with a more diverse selection.
SD: What's the most you've ever ordered of anything?
SJ: Last year, The Departed was definitely the most copies we got, because from a buyer's perspective that was pure gold. This year it's No Country for Old Men. I've ordered 50 copies of that, which is a lot for us. It may be the most we've ordered in a long time.
SD: Do you buy the movies outright, or can you return some to the distributor?
SJ: We buy them. There are programs that allow stores to, say, get 100 copies of something and return 80 percent of them, but that's designed for the stores that primarily traffic in the most popular, mainstream new releases.
SD: What do you do with all the extras?
SJ: We sell a lot of them. Between the two stores [in Burlington and Middlebury], we can usually sell off the older copies . . . We're constantly changing things, moving things around. What we're doing now is shrinking the space videos are taking up and making DVDs more prominent, space-wise.
SD: Do you have customers who still watch only on VHS?
SJ: I think most now have gotten some kind of DVD player. But we do still have the die-hard handful.
SD: How have you reacted to the high-definition "format war" between HD DVDs and Blu-ray discs?
SJ: With interest and patience. When Blu-ray and HD DVD first came out, rather than just rush right into it, we decided to wait. So, Blu-ray has been declared the winner [Toshiba announced its plans to stop manufacturing HD DVDs last month], and we will now begin getting some in, to test the waters and see if our customers are interested. Initially, I will get in less than 50 - primarily new releases.
SD: How do you handle special requests from customers?
SJ: I try to get as many as we can. A lot of times I hear about films through the customers. With foreign films, somebody who's traveling and has been to the Venice Film Festival will stop by and say, "I saw this, this and this," and I'll write those down and, when they become available, try to get them.
SD: Is there anything you won't order?
SJ: There are some things we don't carry, like the Faces of Death videos, and they would, I'm sure, make a little bit of money, but we've just decided that's not what we're about. We don't carry video games: The decision was made early on that we're a movie store.
have to say, a lot of what we are as a store is largely because of the vision of the owner, Murray Self. He had the foresight, when most video stores were completely jettisoning their VHS selections, to suggest we hold on to ours. I think that was a really wise decision, because now we have thousands of titles that aren't available yet on DVD.
SD: How has Netflix affected your job?
SJ: We did see a dip in our customer numbers. But we have seen a lot of those customers return, either because those outlets didn't work for them, or - what a lot of people have done is keep an online subscription and a membership at the video store. [At the store] there's the tactile browsing capability, which I think people like - I'm one of them - and I think the element of human interaction can't be overstated. You want people's recommendations; you want that personal element.
SD: What about digitally downloading movies? Can't people do that legally now?
SJ: There are not yet any sites where you can legally download new movies or any sites that have a wide selection. There are, however, a few sites
. . . that have begun allowing streaming (that is, you can watch it through the site . . .). Right now, some of the problems include . . . the quality and speed/time of downloads, the inconvenience of having to watch the movies on your computer, and so on. I'm sure the technology is on its way, but it still looks to be some ways off.
SD: You recommend movies to customers. What's your most popular recommendation ever?
SJ: When Donnie Darko came out [in 2001], it never came to town; it never played theatrically. I'd seen it on one or two critics' Top 10 lists, and the name stuck with me. Then we got a screener in advance, and I watched it and thought it was excellent, so I tripled our order. And they came in and sat there. It took me a while just to get other coworkers to watch it. But once [they did], we all wound up slapping our sticker on it . . . and it became our number-one renter for over a year and a half. So I think that's a good example of the power of word of mouth and personal suggestions . . .
One of the main reasons I don't mind that I've been at this one job for over a decade is because, even though a video store is obviously a business, a capitalist enterprise, I do believe it serves a social function, too. Any time you're making art and entertainment and information available to people who might otherwise not have access to it, I believe that's a worthwhile endeavor.