500-ISH BC
It started as a boy-meets-girl story, as so many do. Once upon a time in Greece, Orpheus met, fell in love with and married Eurydice, a beautiful wood nymph. He was such a gifted musician, it is said, he could charm all living beings, not to mention gods and even stones. On their wedding day, according to one version of the myth, Eurydice was bitten by a snake and died. Grief-stricken, Orpheus traveled to the Underworld to get his wife back. His father, Apollo, called ahead to convince Hades to listen to his son's plea.
When Orpheus sang and played his lyre, Hades wept, and his wife, Persephone, totally lost it. She persuaded Hades to allow Eurydice to follow Orpheus back to the land of the living. But, jerk that he was, the king of the Underworld included one condition: If Orpheus turned back to look at Eurydice before they were both in daylight, she would be lost forever.
Now, Orpheus was a brilliant musician, but he was not so good at being responsible or following instructions. Near the end of their long journey, he glanced back to see if Eurydice was following him, and she was immediately hauled into the Underworld, never to return. The distraught Orpheus proceeded to reject all other women, which turned out to be a poor decision, as well. But that's another story.
2006
File: Jeb Wallace-brodeur
2007 Hadestown cast, left to right: Miriam Bernardo, Sarah-Dawn Albini, Lisa Raatikainen, Sara Grace, Nessa Rabin, David Symons, Ben t. Matchstick, Anaîs Mitchell, Ben Campbell
Fast-forward about two and a half millennia. Vermont singer-songwriter Anaïs Mitchell was in the middle of recording her first album, The Brightness, for the label Righteous Babe when strange songs began to come to her.
ANAïS MITCHELL: It started in the random, cosmic way most art things start, I'd say: A few lines came into my head while I was on a long drive. I was just kinda getting going as a touring singer-songwriter then, and mostly playing solo. [The songs] seemed to be about the Orpheus myth.
The song "Hades & Persephone" appeared on The Brightness, which was produced by Vermont musician-composer Michael Chorney in the Bristmill studio in Bristol.
Another of Mitchell's early collaborators was Ben t. Matchstick, a longtime theater artist and Bread and Puppet Theater alum. As he accompanied Mitchell on one of her long drives, they began to envision some kind of a show — a whole performance based on the stories of Orpheus and Eurydice and Hades and Persephone.
File: Jeb Wallace-brodeur
Ben t. Matchstick as Hermes in 2007
BEN T. MATCHSTICK: Crack in the Wall was the initial idea for a title. A week later, Anaïs said "Hadestown," and it brought a flood of all these images — a company town, labor history, Depression-era stuff. I started gravitating to characters who embodied these things. It's hard to say what came first, the lyrics or the images.
Things evolved very quickly. Mitchell wrote more songs, and Matchstick developed characters and visual design. He rounded up a group of friends and, with just two weeks' rehearsal, mounted a bare-bones production of Hadestown at Barre's Old Labor Hall. Mitchell played Eurydice; Matchstick was Hermes, a messenger for Hades. Chorney's then-current band, Magic City, supplied the orchestration. In a recent interview, Matchstick remembers this stage of the production as "raw" and "euphoric."
MITCHELL: There are aspects of the world of Hadestown that simply wouldn't exist if not for Ben. I think it was he who suggested the role of "the Fates." These are three fearsome women who comment darkly on everything. He's a very politically committed artist and always pushed for the highlighting of the sociopolitical story alongside the love story. Mainly, in the early days, the inspiration for creating the piece was as much about the magic of the collaboration between myself, Ben and Michael as anything else. I wouldn't have written it at all if I weren't massively inspired by those guys and their artistry.
2007
Eva Sollberger
Michael Chorney
The Brightness was released in February. Later in the year, Mitchell obtained a creation grant from the Vermont Arts Council that facilitated a slightly more developed version of Hadestown. It was performed eight times in several Vermont locations, as well as in Somerville, Mass. Dan Bolles wrote about the "sprawling folk opera" in a cover story for Seven Days. He noted that Hadestown featured some of Mitchell's finest songwriting to date — but also some of her least accessible.
Mitchell told Bolles that creating the show was "a songwriter's wet dream," but she admitted that parts of it were abstract. While she didn't want to sacrifice the work's "poetic beauty," she acknowledged that developing the characters and streamlining the story would enable the audience to better grasp the concepts. "I love to be invested in a story," Mitchell said, "and musical theater has that power, because music expresses something that you can't say in words or even show onstage."
Chorney's genius as a composer and arranger contributed greatly to that expression, fleshing out Mitchell's song demos and giving each of them distinct sounds.
MITCHELL: In 2007, in addition to me adding more songs, Michael added the viola to the orchestra, and Ben went deep into the postapocalyptic aspect of the world ... [It] was more sophisticated in terms of sets, lighting, props and staging concepts.
After the Vermont shows, Mitchell's career as a singer-songwriter accelerated. She toured extensively, sometimes with Chorney. Still, she kept working on Hadestown. And then came the recording.
2010-2012
Courtesy Of Michael Chorney
Hadestown in concert, Union Chapel in London with Martin Carthy
In March 2010, Hadestown was released on Righteous Babe as a "concept album." Alongside Mitchell as Eurydice, its 20 songs featured a gallery of well-known artists: label founder Ani DiFranco as Persephone, Bon Iver's Justin Vernon as Orpheus, Greg Brown as Hades, Ben Knox Miller as Hermes and the Haden Triplets as the Fates. New York musician Todd Sickafoose produced the album at Brooklyn Recording. As always, Chorney supplied orchestral arrangements.
The album won international raves. In its wake, Hadestown went on an unusual concert tour: Mitchell, Chorney and the band traveled to some 60 cities in the U.S., Canada and the UK, finding local singers in each location to perform the vocal roles.
MITCHELL: The album ushered in another, different chapter of the project, the "music world" chapter. We were trying to figure out how to tour behind the album, and hit upon the idea of working with different guest singers and presenting the show as a concert. We did "New York City Sings Hadestown," "California Sings Hadestown," Colorado, Virginia, Alberta, Boston, Pacific Northwest, London and Glasgow. I might be forgetting some! Every time, we had seven new singers joining us onstage who had literally just learned their parts ... There was certainly some mayhem.
There was a lot of great spirit, there was never enough money, and there were always just insane logistics. But I can say in hindsight, on balance, those shows were very magical, joyous occasions, and there are friendships and relationships and collaborations still going that began during those travels.
At one of those tour stops, Mitchell met Dale Franzen. A former opera singer and then director of the Broad Stage in Santa Monica, Calif., Franzen had heard the studio album of Hadestown and seen the concert version. As Mitchell puts it, Franzen "became committed to the idea of developing it into a full-length professional theater piece."
MITCHELL: Other producers had reached out after the album's release, but Dale was special — very passionate, very determined, ready to be in it for the long haul. She later partnered with Mara Isaacs, a New York-based producer, and the two of them partnered with New York Theatre Workshop for this developmental version of the show.
DALE FRANZEN: I had been sent the CD and found myself listening to it and sharing with others, and we all loved the sound and couldn't stop listening to it. After I saw Anaïs at McCabe's [Guitar Shop] in Santa Monica, I knew this could become a show, and it turned out she was already thinking that way, so we began working together.
I had performed the opera L'Orfeo and so was very familiar with the myths and the power of retelling these stories. I wanted nothing more than to bring this original, brilliant talent into the world of theater, where Anaïs wanted to roam. It has been a deep and gratifying pleasure to see her grow so uniquely with this new challenge.
2013-2016
File: Jeb Wallace-brodeur
Damon Daunno (Orpheus) and Nabiyah Be (Eurydice)
Developing Hadestown for a potential off-Broadway show took "a lot more time, work and personnel than I could have imagined," says Mitchell. In 2013, she began collaborating with Rachel Chavkin, an Obie-winning director, dramaturge and artistic founding director of Brooklyn-based company the TEAM. Suffice it to say they clicked. In Chavkin, Mitchell found a collaborator deeply immersed in the world of New York theater and musical-theater production. A number of sessions at the nonprofit New York Theatre Workshop ensued.
MITCHELL: Most of the workshops were fully cast in terms of actor-singers, and then there'd be a stripped-back version of the music — often just a music director accompanying on a piano. For each workshop, I'd be asked to do a bunch of writing and rewriting in response to feedback. That feedback came primarily from Rachel, but also from a professional dramaturge named Ken Cerniglia, whom the theater brought on board. And also from the producers, the theater and the actors — a lot of feedback!
But I think all the folks involved recognized that Hadestown was never going to fit a conventional model for musical theater. They were excited about taking it as far as it could go narratively without messing with its identity as a piece that is "more poetry than prose."
RACHEL CHAVKIN: Anaïs and I started with the album. We began by looking at what work was already being done by the extant songs, including character and story development, but also emotional and political themes. She was very clear this was a poetry versus a prose piece, and so it really was a question as to how little was necessary to carve the story.
The two forms are so fundamentally different in terms of how time is experienced and how much moment-to-moment change is desirable.
And then I led the selection of the design team and led multiple developmental workshops where we tried out the evolving score with performers.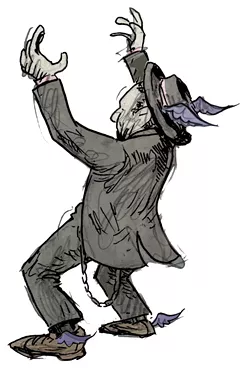 One workshop, which took place at the Berkeley Repertory Theatre in California, focused on instrumentation and enabled Chorney to try out ideas for arrangements. Sickafoose became involved and began assembling a band for the New York show. It would include Chorney on prepared guitar, as well as Vermont bassist and longtime Chorney bandmate Robinson Morse.
Finally, the New York Theatre Workshop deemed Hadestown production worthy — but not quite ready. Chavkin led the team through a new series of creative talks and preparations for staging, sets, costumes and props — the last of which would become the responsibility of another theater professional from Vermont, Noah Mease.
One result of the long workshop process, Mitchell notes, was a "dream team" of actors who were familiar with the material. Among them was the fifth Vermont participant in Hadestown, singer-actor Shaina Taub, who plays one of the Fates.
CHAVKIN: We were looking for actors with unusual instruments. Each voice you hear in the show is profoundly different and quite unique [and distinct] from the more polished sound you might expect to hear in a musical. There's more gravel, more sense of wear. I'm more moved by someone whose voice is wholly their own than strictly perfect technique. And Anaïs was definitely skeptical of any choices, including casting, that might push the project towards a more homogenized, shiny feel.
Some of the steps in the making of the musical can be seen in so-called Casebook sessions, which the NYTW details for the public on its Tumblr, complete with video footage. The mission is "to feed your curiosity and continue the conversation beyond the theatre walls."
In one such Casebook session, the creative team assesses the dramatic functions of Mitchell's Hadestown songs, even grouping them on a chart "according to emotions and themes." That classification "later proved to be a pivotal moment in establishing the arc of the piece," reads the blog post.
The entire development period required a lot from Mitchell. Not only did she need to learn the ropes of professional musical theater, but she churned out more songs — the show now has 34, compared with the album's 20 — and created more connective tissue for the story.
MITCHELL: At first, I thought, OK, if we're going to go further with this thing, all I've gotta do is write more songs. I'm a songwriter, so that was a familiar task. But at some point it became abundantly clear that new songs were not enough. Audiences were craving more story information from moment to moment. So one big change was to develop the Hermes character as a narrator. It's a natural role for him, as he is, mythologically speaking, a "guide." And it was really useful to have a character be able to simply explain what was happening.
Summer 2016
Courtesy Of Jay Sansone
Anaïs Mitchell
Hadestown opened at New York Theatre Workshop on May 23. The media notices were immediate and positive. New York Times critic Charles Isherwood called the show a "gorgeously sung, elementally spare production."
CHARLES ISHERWOOD: Ms. Mitchell's lovely music and well-turned lyrics are tightly bound together, and recall traditional folk music with a distinctive Southern flavor (although she hails from Vermont) ... The orchestrations, by Michael Chorney and Todd Sickafoose, are simultaneously rich and spare, deftly echoing the sounds of traditional folk music while also having an indie-pop flair.
In a June 9 feature in the Times — titled "Anaïs Mitchell Hopes to Change the World With Her First Musical" — Alexis Soloski calls the play "theatrically frisky and musically daring." The Village Voice opines that "Hadestown is an underworld you won't want to leave."
Other coverage has touched on the show's timely aspects. In a recent interview in Vogue, Mitchell notes that she began writing Hadestown in response to George W. Bush's reelection, which she viewed as a demoralizing turn of events. Little did she know that audiences in 2016 would hear her song "Why We Build the Wall" and immediately associate it with another political figure, Donald Trump. A more recent review in London's the Guardian spells out that resonance clearly: "Mitchell's hit off-Broadway show about a tyrannical billionaire building a wall to 'keep out the enemy' was written in 2006 but could hardly be more topical."
The show's run has been extended twice — it's currently set to conclude on July 31 — and the performers are put to the test with eight shows a week. Asked if that schedule is grueling, Chorney says no. "I wondered if it would be," he admits, "but there are enough variables. The actors are so incredible — they try new things and mix it up. And the audience reaction has a huge impact."
Friday, June 17, 2016
File: Jeb Wallace-brodeur
The Fates, from left: Shaina Taub, Lulu Fall and Jessie Shelton
There's nothing quite like sitting in the audience and witnessing that reaction first-hand, as this writer did last Friday. To a viewer who has seen a previous, Vermont incarnation of Hadestown, both evolution and continuity were evident in the production on New York's Lower East Side.
Director Chavkin and NYTW cleverly configured the company's theater in the round for Hadestown, populating its tiered seating area with a motley collection of vintage chairs and cushions (one of prop master Mease's tasks). The result is an intimate experience for the audience, as well as for the performers, who use the aisles and first tier in their staging. (Viewers in the front row need to watch their toes.)
As Chorney indicates, Hadestown mixes things up — and in a dizzying number of ways. The songs, dispatched by a veteran ensemble of seven musicians and directed by Liam Robinson, are variously rendered in the style of indie folk, rollicking New Orleans jazz, soaring ballads and edgy 1930s-style tunes that recall The Threepenny Opera.
The Guardian review suggests that the show has a more "serious sheen" than the earthier album. That may be true, but it's to be expected in an off-Broadway-maybe-going-to-Broadway show for which audiences pay fat ticket prices. In this viewer's opinion, the music of Hadestown now is even more engaging and, at times, utterly thrilling.
Costumes cross eras, too: a pastiche in which vintage accoutrements mix with modern ones such as Eurydice's Keds sneakers and Hermes' hipster watch chains. (Note: Absolutely no one is clad in Grecian robes.) The set is exceedingly minimal — more like a circus ring into which drama, dancing and singing are thrust.
Then there are the historical overlays. Hadestown is based on ancient myths, yet it reimagines Hades — the place — as a clanking steel town with oppressed workers and an authoritarian overlord. The era is intentionally ambiguous, yet the parameters of greed and power fit any age.
The lack of linear storytelling in Hadestown may be disconcerting to those who like their narratives neat, their endings happy. But the performances are ample compensation for any lapses in logic.
Hades the king, nattily clad all in black and performed with sexy chill by New York stage veteran Patrick Page, has an impossibly deep voice. Think Leonard Cohen meets Tommy Lee Jones. Persephone, a thoroughly enchanting Amber Gray, matches her king with saucy attitude (and, occasionally, a bottle of hooch), even if she is his captive most of the year.
The Fates — Taub, Jessie Shelton and Lulu Fall — deliver flawless harmonies with glee, while Chris Sullivan nearly steals the show as a shuffle-dancing, growly-voiced Hermes.
Nabiyah Be and Damon Daunno, as Eurydice and Orpheus, play the sweetly flawed lovers, and both have luminous, angelic voices. Ironically, their characters' love story is the least interesting of all Hadestown's threads, even if their sad fate is the show's denouement. Perhaps their story absorbs us less because its conclusion is foregone; we know that Orpheus will always look back.
Courtesy Of Joan Marcus
Patrick Page (Hades)
It's hard not to notice that the central female characters, Eurydice and Persephone, are totally screwed — one by a romantic slacker, the other by an abductor. This Underworld depicted as a workers' hellhole is none too cheery, either.
Hadestown was never meant to be a feel-good musical — the ending you know is coming is still a stab in the heart because, you know, hope springs eternal. Even so, working with dark material as old as drama itself, Mitchell, Chavkin and company have elevated this Hades to a little slice of heaven.
CHAVKIN: The production has been carefully calibrated to keep one foot in the concert world and one foot in the dramatic. In a sense it's the recitative, and particularly the storyteller Hermes, that allows the piece to transcend pure concert and take on dramatic form ... I love what we made, and there's always work to do.
MITCHELL: It was the magic of the collaboration with other artists, from the get-go, that kept the wind in the sails of Hadestown for long enough to be up off-Broadway 10 years later.