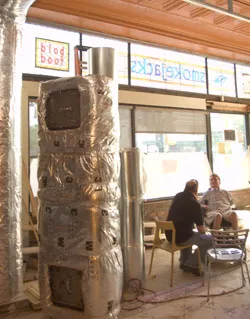 Matthew Thorsen
Dave Sullivan and Ned Church inside Church & Main
Few new restaurants actually start cooking when the proprietors hope they will. So it comes as no great surprise that Church & Main — whose ambitious owners have taken over the old Smokejacks location — isn't exactly on schedule.
The proprietors had planned to open in time for the Burlington Discover Jazz Festival, but early August now appears more likely. "We've had a number of different holdups and obstacles," explains principal Ned Church. "But we're now down to details and tying up loose ends."
Managing partner Dave Sullivan says the restaurant's plumbing and entire exhaust system needed to be pulled out and replaced, but the plus side is that now everything is sparkling and new. "We tore everything down to the studs. We retrofitted the whole place," he says. Dishware, chairs and a few commissioned pieces of stained glass — made by Stephen Kemp, who also did work for Smokejacks — are on the way.
One thing that is ready is the menu. Dave Fonte, who was going to be Church & Main's lead man in the kitchen, is off the team, but a new executive chef, former NECI instructor Benjamin Brezic, swiftly stepped up. Sullivan says the contemporary American fare will include yellowfin tuna tartare tacos, a crispy sweetbread scramble with local bacon and mushrooms, and fried chicken with savory herbed waffles.
Cheese, part of Smokejacks' claim to fame, will play a starring role on Church & Main's menu, too, and bananas Foster with homemade ice cream will be flambéed tableside.
Vegetarians won't be left out. "The chef's wife is actually a vegan," Sullivan says. "So he's got some great vegetarian dishes." One is a cashew-crusted tofu "steak" with jasmine rice and coconut curry.
Sullivan, a certified sommelier, is planning a wine list 80 bottles strong, and says he means to keep the markup significantly lower than at other area eateries. "We're going to be the most affordable place to enjoy fine wine in Vermont," he boasts. Cristal Champagne — the rappers' fave that typically goes for upward of $400 a bottle — will be available for around $260.
Want smaller quaffs? A wine preservation system that uses argon will allow Church & Main to serve fancy stuff — such as Silver Oak cabernet — by the glass: Those selections will range in price from $5 to $40. Hop heads will find a selection of five beers on tap.
With just a few weeks before their new projected opening date, the business partners say it feels like things are coming together.
"I'm confident that my vision will be realized," says Church. "There are lots of unique and personal touches in terms of the menu and design."
Sullivan agrees: "Every day a new piece of the puzzle falls into place."