Courtesy Of Stephanie Berger
Dorrance Dance
Tip Tap
Tuesday 5
Dorrance Dance brings the long history of tap-dancing into the 21st century with a percussive performance at Lyndon Institute Auditorium. Part of Catamount Arts' KCP Presents series, the fleet-flooted troupe gives an emotional showing with SOUNDspace. The celebration of "movement as music" proves that tap can be thrilling, dynamic and a whole lot of fun.
Free Verse
Thursday 30
Courtesy Of Kamaria Shepherd
Kamaria Shepherd
Vermont Studio Center's virtual spotlight series Writers on the Rise aims to amplify a diverse array of creative voices and visions. This month's featured speaker is California poet, artist and former VSC resident Kamaria Shepherd, whose work explores themes of Blackness, womanhood, memory and joy. Her paintings, prints and sculptures have been shown across the country, and her poem "Inna House" is currently on display at NewTown Arts' "City Speaks 4" sonic installation in Pasadena.
Lady Birds
Friday 1
Courtesy Of Rutland County Audubon
Bridget Butler
Vermont's Bridget Butler, perhaps better known by her nickname "the Bird Diva," draws on 20 years of experience as a naturalist and birding consultant for an upcoming talk at Chaffee Art Center in Rutland. Presented by the Rutland County Audubon Society, Butler gives listeners the fascinating lowdown on "Female Birds & the Founding Mothers of Ornithology."
Playing With Fire
Through Monday 4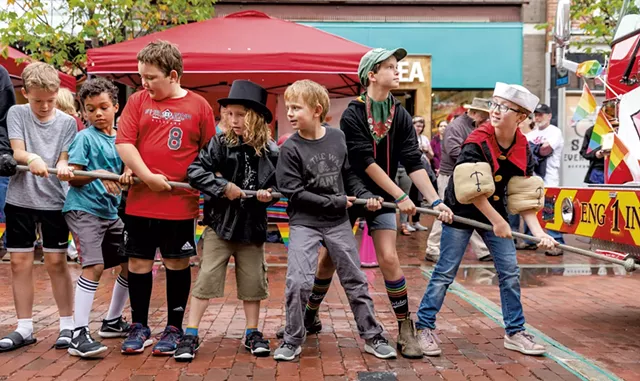 Courtesy Of Brandon Parrish
Fire Truck Pull
Outright Vermont's annual Fire Truck Pull goes virtual once again this year. Fundraising teams need only submit a video of themselves by September 30 pulling something — be it a cardboard fire truck, a wagon or a reluctant cat on a leash — alongside their donations for the LGBTQ+ youth advocacy group. Teams that raise $1,000 or more qualify for trophies and bragging rights.
The Horse Awakens
Saturday 2
Courtesy Of UVM Morgan Horse Farm Archives
Statue Centennial Celebration
The University of Vermont Morgan Horse Farm in Weybridge celebrates the 100th birthday of its bronze statue of the first-ever Morgan horse, a sire named Figure, with a daylong Statue Centennial Celebration. The event re-creates the festivities surrounding the 1921 unveiling of the statue and gives Vermont's state animal a proper party.
Everything Nice
Ongoing
© James Kirkikis | Dreamstime
The Maple 100
Mad about maple? Visit a sugarhouse, pour syrup in your coffee or peep a majestic maple leaf this fall, and you could be in line for prizes. Autumn enthusiasts who snap a pic while doing these and other activities can aim for five in a row on the Vermont Department of Tourism and Marketing's Maple 100 bingo cards. Submit your photos by October 15 for a chance to win goodies from Vermont food producers.
Barn Gazing
Ongoing
Courtesy Of Tunbridge Public Library
Joan Hoffman
Viewers may almost feel the breeze ruffling their hair as they witness "Libraries and Barns: Vermont en Plein Air," Joan Hoffmann's collection of impressionistic landscapes at the Tunbridge Public Library. The works in oil and watercolor capture a keen sense of place — specifically the rolling hills and rustic architecture of the Green Mountains.