Courtesy Of The Flynn
A Portrait Without Borders
Art Nouveau
Saturday 23
Do androids dream of electric solo exhibitions? The wall-painting AIs created by UK studio Kaleider just might. As part of its Grand Reopening Ceremony, Burlington's Flynn unveils "A Portrait Without Borders," a new mural in the Amy E. Tarrant Gallery composed of hundreds of images of smiling Vermonters, drawn this month by these little mechanical masters.
All That Jazz
Saturday 23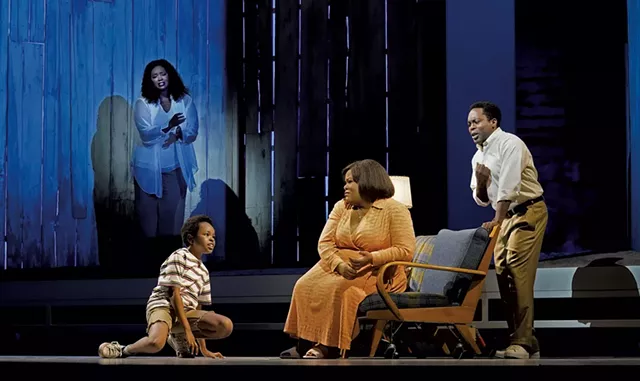 Courtesy Of Ken Howard & Met Opera
Fire Shut Up in My Bones
Through the magic of technology, moviegoers at Hanover, N.H.'s Hopkins Center for the Arts get to experience the Metropolitan Opera's first performance of an opera by a Black composer, streamed straight to the big screen. Composed by Grammy Award-winning jazz musician Terence Blanchard and directed by James Robinson and Camille A. Brown, Fire Shut Up in My Bones dramatizes Charles M. Blow's moving memoir.
Search History
Wednesday 20-Sunday 24
© Peanutroaster | Dreamstime
Junction: A Walking Tour
Using only their cellphones and earbuds, self-guided participants in Junction: A Walking Tour experience more than a century of White River Junction history. From a silent film actress in 1920 to a biracial teen in 1970 to a writer searching for a pandemic scoop in 2020, the characters and audio scenes brought to life by Northern Stage offer new perspectives on WRJ locales.
Haunted Horrors
Thursday 21-Saturday 23
Courtesy Of Nightmare Vermont
Nightmare Vermont
The evil geniuses behind Nightmare Vermont have been deprived of the screams of audience members since 2019, so patrons can expect an extra eerie evening. This year's immersive horror experience in Essex Junction's Champlain Valley Exposition blasts victims into a postapocalyptic future filled with monsters, cannibals and telekinetic terrors, brought to life by an all-volunteer cast and spine-chilling special effects.
Freaky Farm
Sunday 24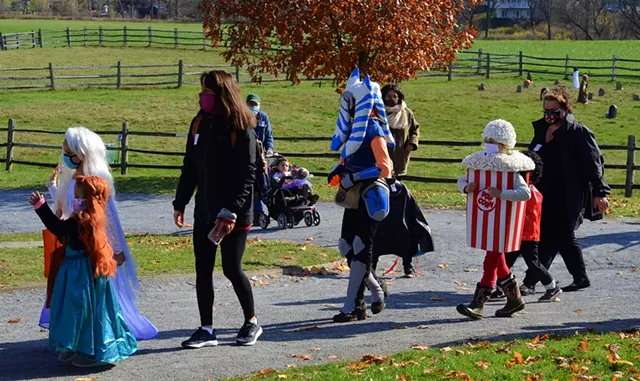 Courtesy Of Billings Farm & Museum
A Family Halloween
Folks seeking wholesome holiday activities find a packed program of tricks and treats at A Family Halloween at Woodstock's Billings Farm & Museum. Kids in costume get in free with a ticketed adult, and everyone enjoys a day of candy acquisition, parades, pumpkin bowling, spooky stories, creepy crafts and hayrides around the grounds.
Immigrant Song
Tuesday 26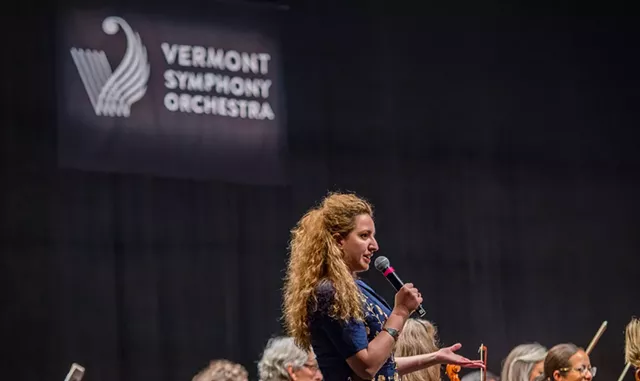 Courtesy Of Luke Awtry
New American Musician
In advance of the premiere of her newest piece this month at the Flynn, Jordanian Canadian composer Suad Bushnaq joins several other immigrant musicians for the Vermont Symphony Orchestra panel "In Conversation: New American Musicians." Local soul singer Myra Flynn moderates this discussion of art and heritage at the University of Vermont Recital Hall in Burlington.
Quoth the Raven
Wednesday 27
© Marilyn Gould | Dreamstime
Poetry & Horror
At Montpelier's Kellogg-Hubbard Library, Rachel Hinton, author of the award-winning collection Hospice Plastics, leads "Poetry & Horror," a workshop dedicated to helping writers unleash the undead and embrace the unearthly in their verse. Participants learn from published poems and then create their own — in person (masked) or via Zoom.