Courtesy of Annie Lesser
Kristina Wong
1. Political Humor
Some may know Kristina Wong as the subversive comedian behind performance pieces such as
The Wong Street Journal
, a humorous take on privilege and economic theory. To Los Angelenos, Wong is recognized as an elected representative of Koreatown. The theater artist brings these two roles together in her one-person show
Kristina Wong for Public Office
. Originally intended to augment real-life political rallies leading up to the 2020 election, the work is now a virtual experience livestreamed from Wong's home. Pay what you can to see it via Burlington performing arts center the Flynn on Tuesday, October 20, at 7 p.m.
2. Drawn From History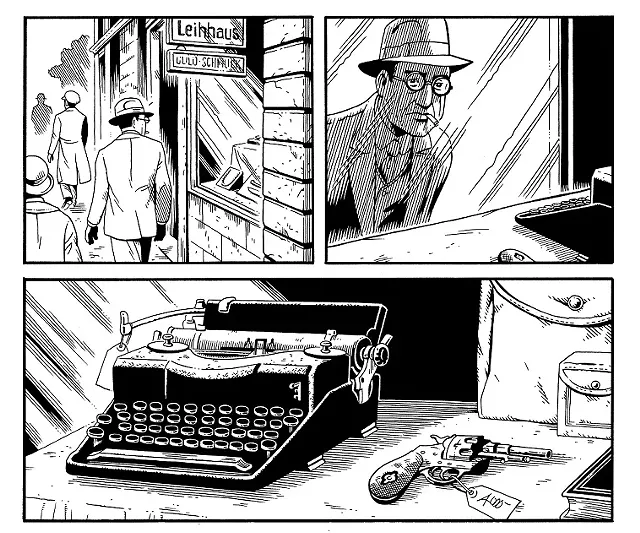 Courtesy of Norman Williams Public Library
Panels from 'Berlin' by Jason Lutes
In 2019,
Jason Lutes
' graphic novel
Berlin
became the first graphic work to win the
Vermont Book Award
. Part history and part fiction, the 2018 publication chronicles the rise of German fascism between the first and second World Wars. On Thursday, October 15, at 7 p.m., the Hartland cartoonist, who is also a faculty member at the Center for Cartoon Studies in White River Junction, discusses his artistic background, as well as the inspiration for his 580-page work.
Preregister
for this free virtual talk presented as part of Bookstock: Green Mountain Festival of Words.
3. Ghost Story
Courtesy of Lost Nation Theater/Mike Furey
Kim Allen Bent performing 'The Raven'
Spooky season is in full swing, and Kim Allen Bent, founder and artistic director of Montpelier's Lost Nation Theater, is feeling it. This Thursday, October 15, Bent stands atop the
Montpelier City Hall
portico to deliver spine-tingling readings of Edgar Allen Poe's haunting poem "
The Raven
." Community members gather (at a safe distance, of course) at 6, 7 and 8 p.m. to hear those eerie stanzas that begin with "Once upon a midnight dreary, while I pondered, weak and weary."
4. Sunday Drivers
Courtesy of Henry Sheldon Museum of Vermont History
What better time of year for a leisurely drive through Addison County than leaf season? The Henry Sheldon Museum of Vermont History in Middlebury brings a fun-spirited competition to the state's leaf-peeping tradition with its
Road Trip Scavenger Hunt
on Sunday, October 18. Preregistered participants traverse two routes (East Middlebury to Vergennes, or Orwell to Middlebury), following clues to local landmarks. Take a pic with each landmark and tag the Sheldon on Instagram or Facebook to snag an Addison County poster from the museum store. Happy hunting!
5. Her Story
Courtesy of Northern Daughters
"Another Glance" by Pamela Smith
Bristol artist
Pamela Smith
's painting "Another Glance" depicts a black-haired woman flanked by yellow birds, all against a background of pink flowers. This colorful combination of a woman protagonist, animals and flora threads through "Internal Flight," Smith's solo exhibition at Vergennes gallery
Northern Daughters
. The collection of 12 new works by the self-taught artist is on view online and by appointment through November 15.
6. All Fall Down
Courtesy of Michelle Frehsee
Katy Perry fans who tuned into the pop superstar's four-day livestream event promoting her 2017 album
Witness
likely saw YouTuber Lily Hevesh's mind-blowing
7,000-piece domino project
forming the album's eyeball logo. Hevesh is among the domino artists to bring their unique talent to the 13th annual
Domino Toppling Extravaganza
at the
Brattleboro Museum & Art Center
. The artists arrive 48 hours ahead of the Sunday, October 18, event to set up thousands of precariously placed rectangular game pieces. For scale, last year's event featured 30,000 dominos. Hop online at 5:15 p.m. to watch live video, or preregister for a limited number of in-person tickets.
7. Timely Topics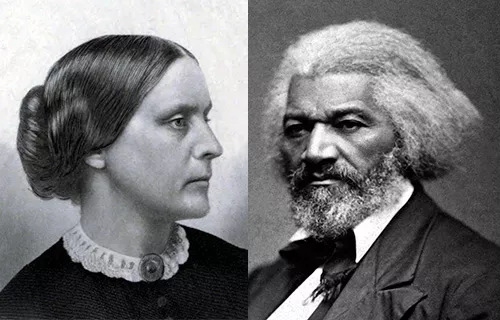 Courtesy of Town Hall Theater
"
The Agitators
is a stunningly beautiful play that chronicles the long friendship between two abolitionists," said director Michole Biancosino in a press release, "yet the themes of the play resonate strongly today as our nation contemplates the upcoming election." She was referring to Mat Smart's hard-hitting play centered on suffragette Susan B. Anthony and civil rights leader Frederick Douglass. Biancosino and fellow Middlebury College faculty member Claudio Medeiros, along with Town Hall Theater, present this timely work at the historic
Clemmons Family Farm
in Charlotte. Register for free outdoor performances at 2 p.m. on Saturday, October 17, and Sunday, October 18.
---
This is just a small sampling of the state's in-person and virtual happenings in the coming days. Browse our
art
,
calendar
and
music + nightlife
listings for more.
If you're planning or promoting an event in Vermont, please send details our way for a free online listing. Find our event submission form at
sevendaysvt.com/postevent
.