Jeb Wallace ©️ Seven Days
Mirna Valerio
1. Playing Outside
Mirna Valerio
's Instagram pics make one thing clear: This woman loves the outdoors. The Montpelier-based athlete and writer is pictured jogging on a snowy trail, fatbiking in the woods and soaking up sunshine in a field. Valerio, the subject of an August 2020
cover story
in
Seven Days
, has achieved national recognition as an ultramarathoner (someone who runs distances of more than 26.2 miles), creator of the blog
Fat Girl Running
and author of the 2017 memoir
A Beautiful Work in Progress
. The Green Mountain Club hosts Valerio for the virtual talk "Awe, Community and the Outdoors: A Perfect Trifecta," on Thursday, January 7, at 7 p.m. as part of its annual James P. Taylor Outdoor Adventure Speaker Series.
2. Drawn Together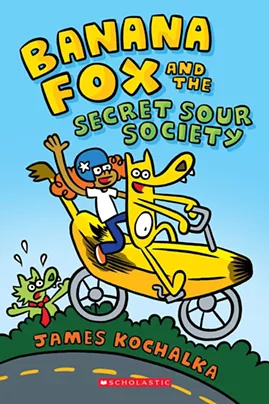 Courtesy of Graphix
'Banana Fox and the Secret Sour Society' by James Kochalka
Whether they're young in years or young at heart, fans of
James Kochalka
's children's books can't help but chuckle at his characters' crazy antics and cute friendships. The Vermont graphic artist — who was also the state's first official Cartoonist Laureate — launches his latest book for young readers,
Banana Fox and the Secret Sour Society
, with a remote reading and drawing lesson. Bookworms of all ages should
preregister
for this free Phoenix Books event taking place at 11 a.m. on Saturday, November 9.
3. Seeing the Light
Bogged down by post-holiday blues? Psychologist Margaret Wehrenberg suggests getting out of the house. In a January 4 article for
Psychology Today
titled
"7 Tips to Beat the Post-Holiday Blues,"
she wrote, "Even on a gray day, letting yourself have some time outside raises your energy." Burlingtonians can walk, ski or drive to the South End Arts District, where
South End Glow Up
cuts through the darkness. Presented by the South End Arts and Business Association, this illuminating project includes light installations by Satellite Arts Productions and local artist Marie Davis at Pine Street businesses ArtsRiot, Dedalus Wine Shop, Market & Wine Bar, and Speeder & Earl's Coffee. Bask in the glow every night in January and February.
4. Protect and Serve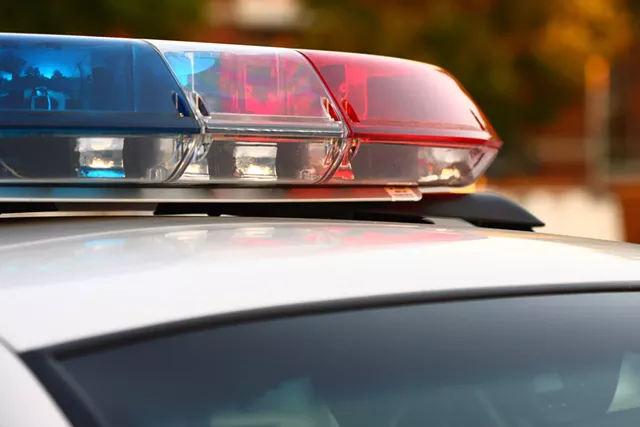 © Pcheruvi | Dreamstime.com
How do law enforcement officers interact with individuals in the throes of a mental health crisis? Montpelier police chief Brian Peete, Disability Rights Vermont supervising attorney A.J. Ruben and Vermont Psychiatric Survivors executive director Karim Chapman weigh in on this question during a panel discussion presented as part of the League of Women Voters program series "
Policing and Mental Health
." With League member Madeline Motta moderating, the speakers share their perspectives on police reform approaches that could prevent or mitigate unnecessary violence. Listen in on this free Zoom program at 7 p.m. on Wednesday, January 13.
5. Visual Storytelling
Courtesy of Ned Richardson
Untitled mixed-media work by Ned Richardson
On its website, Montpelier cooperative art gallery
the Front
describes
Ned Richardson
's work as "complex, reflecting accumulations of meaning and stories quietly collecting in digital drifts all around us, like fallen leaves." Intrigued? Art enthusiasts can view Richardson's solo show "untitled [recent work]," in which he explores connections between the digital and natural worlds, at the Front from January 8 through 31. A limited-occupancy reception takes place Friday, January 8, 4 to 7 p.m.
6. Beyond Words
Courtesy of Hannah Assefa
Hannah Assefa
In an online event called
More Than Hope 2.0
, three accomplished musicians consider the role of music in moving from talk to action in the fight for racial justice. Violinist and
Sphinx Organization
president Afa Dworkin, cellist and former Carolina Chocolate Drops member Leyla McCalla, and Grammy Award-nominated violinist Regina Carter exchange ideas about how to increase young musicians and dancers' exposure to works by Black and Brown artists. Local fiddler and Young Tradition Vermont board member Hannah Assefa hosts this thought-provoking dialogue on Tuesday, January 12, at 2 p.m.
7. Creative Community
Mr.pipat Pajongwong | Dreamstime.com
So you picked up guitar playing during quarantine, and you're ready to share your newfound talent with an audience.
Moretown Open Mic
, sponsored by the Moretown Memorial Library, is a virtual venue for performers to showcase their skills, be they musicians or comics or jugglers . Those looking to perform or provide moral support should preregister by emailing organizer Jay Saffran at shloinky@gmail.com before show time at 7 p.m. every Friday.
---
This is just a small sampling of the state's in-person and virtual happenings in the coming days. Browse our
art
,
calendar
and
music + nightlife
listings for more.
If you're planning or promoting an event in Vermont, please send details our way for a free online listing. Find our event submission form at
sevendaysvt.com/postevent
.