Courtesy Of Eric England
Tracy Silverman
It's Electric
Saturday 4
Andrew Crust, the final candidate for music director of the Vermont Symphony Orchestra, makes his case at the Flynn in Burlington conducting Electric Dreams. This high-energy program includes works by Pyotr Ilyich Tchaikovsky and Canadian composer Jocelyn Morlock and hits its crescendo with a newly commissioned concerto by Latin Grammy Award-winning composer Roberto Sierra, featuring electric violinist Tracy Silverman.
First Language
Wednesday 8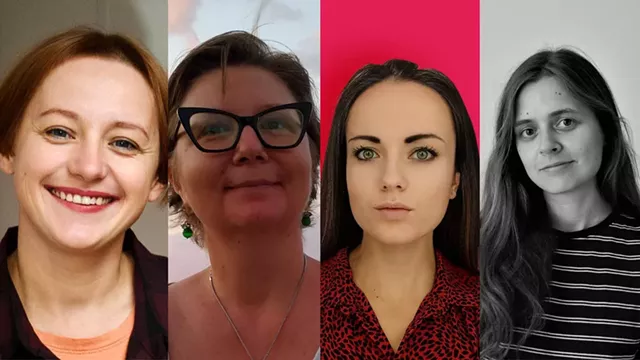 Courtesy
Hanna Leliv, Lada Kolomiyets, Daryna Gladun & Veronika Yadukha
Hanna Leliv, Lada Kolomiyets, Daryna Gladun and Veronika Yadukha, four of Dartmouth College's visiting Ukrainian writers and translators, make a joint appearance at Norwich Bookstore to read from their work. The evening also features discussions of poetry, language and translation theory.
Stick It to Cancer
Friday 3
Courtesy Of Nich Hall
Rally Against Cancer
The University of Vermont's hockey and basketball teams unite with its cancer center to present Rally Against Cancer, a series of games benefiting research and care. Fans are encouraged to wear lavender and bid on player jerseys at the first game at Burlington's Gutterson Fieldhouse, where the women's hockey team will square off against Merrimack College.
Track and Field
Saturday 4
© Denis Trofimov | Dreamstime
Winter Trees and Tracking
Amateur naturalists and community scientists of all stripes team up for Winter Tree and Tracking Bioblitz Day at Green Mountain Audubon Center in Huntington. Led by AmeriCorps member Jacob Crawford, participants take photos of the trees and animal tracks they find in the forest, to be uploaded to iNaturalist.
Snow Burn
Sunday 5
Courtesy Of Kim Smith
Ice on Fire
Deep winter gets an injection of heat at Ice on Fire, the Capital City's annual festival of warmth and whimsy. Visitors at the former grounds of the Montpelier Elks Club enjoy an afternoon of music, storytelling, dance and family activities, capped off by a bonfire at dusk.
Derring Doo-Wop
Sunday 5
Courtesy
Green Mountain Chorus
Vermont's oldest barbershop-style ensemble, the Green Mountain Chorus, stops by Westford Common Hall. The Winooski-based warblers treat listeners to hits from decades past, ear-tingling harmonies and gleeful shenanigans, while a community pie raffle offers extra, delicious fun.
Floral Imperative
Ongoing
Courtesy Of Nek Artisans Guild
"Sunflowers for Ukraine" by Benjamin Barnes
Art lovers already craving the return of spring enjoy "Winter Blossoms," a group show by Benjamin Barnes, Sachiko Yoshida and Robert Chapla at the Northeast Kingdom Artisans Guild Backroom Gallery in St. Johnsbury. The exhibit features watercolor, oil and acrylic paintings of every flower under the sun.