Courtesy of 7th Empire Media
'Coded Bias'
1. Face Value
Who does facial recognition technology help and who does it hurt? By focusing on the work of MIT Media Lab researcher Joy Buolamwini, the 2020 documentary
Coded Bias
delves into this question — and reveals widespread discrimination in artificial intelligence.
Vermont International Film Foundation presents
the hard-hitting doc online through December 17.
Coded Bias
is also shown in conjunction with
Computer Science Education Week
from December 7 through 13.
2. A Little Collection
Courtesy of Axel's Frame Shop & Gallery
Installation view of "Smalls" paintings
Owning a one-of-a-kind piece of art doesn't always require a huge investment. Just look at "
Smalls
," a show at Axel's Frame Shop & Gallery in Waterbury. On view by appointment through Thursday, December 24, the group exhibition includes original works of art — think photos, paintings and sculptures — measuring 10 inches square or smaller and priced at or under $100. Art hounds may also browse and buy these mini masterpieces
online
.
3. Delicious Discussion
Courtesy of Lidia Bastianich
Lidia Bastianich
Seasoned chef, restaurateur and host of the Amazon Prime program "Lidia's Kitchen" Lidia Bastianich dishes on holiday cooking and traditions in a virtual chat presented by Vermont PBS. Hosted by
Seven Days
food writer Melissa Pasanen,
From Lidia's Kitchen to Yours: A Live Q&A
also features discussion of Bastianich's latest cookbook,
Felidia: Recipes From My Flagship Restaurant
, as well as time for audience queries.
Preregister
to watch for free on Wednesday, December 9, at 7 p.m.
4. Pop Culture
Courtesy of University of California Press
Segregation, civil rights, rock 'n' roll, and the rise of televised youth culture. Dartmouth College history professor
Matthew F. Delmont
connects these major themes in American history through the lens of "American Bandstand," a live music and dance TV show that aired for decades starting in 1952. Delmont, who penned the 2012 book
The Nicest Kids in Town: American Bandstand, Rock 'n' Roll, and the Struggle for Civil Rights in 1950s Philadelphia
, elucidates his ideas in a free remote talk presented by Lebanon Opera House in New Hampshire. Listen in at 6 p.m. on Tuesday, December 8, and be sure to
register
ahead of time.
5. World Tour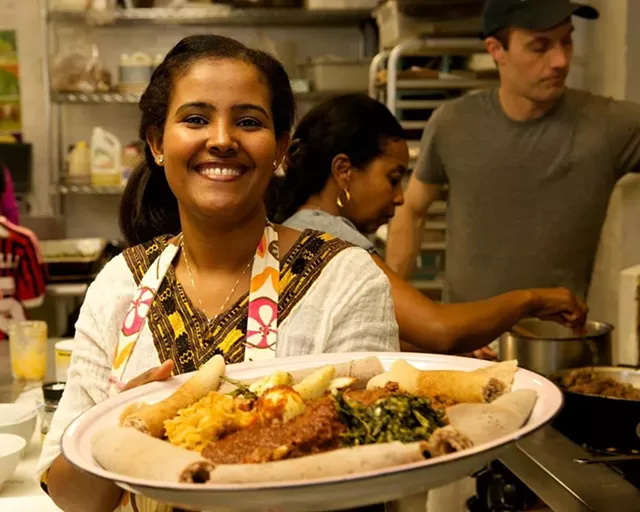 Courtesy of Vermont International Festival
Mulu Tewelde
Itching for a getaway in the era of COVID-19? Try touring the world in a weekend — without leaving home. The 28th annual
Vermont International Festival
, a celebration of global cultures,
goes virtual
in 2020, offering education, entertainment and shopping through your computer, Friday, December 4, through Sunday, December 6. Pretaped acts by artists such as
Vermont Nepali Heritage Dance
and Afro-funk band
Sabouyouma
shine a light on diverse performing arts styles, while an online marketplace offers artisan wares such as Chinese jewelry and Madagascan natural-fiber bags. Also on the menu: Authentic world cuisine available for takeaway (order ahead
here
) at the
O'Brien Community Center
in Winooski.
6. Fresh Format
Courtesy of Dominic Spillane
Two for Zoom
Instead of adapting existing theater works for an online format, Green Room Productions presents two one-act plays created specifically for performance on the video chat platform Zoom. "Missing Ingredients" by Colleen O'Doherty follows a woman giving her sister a long-distance helping hand after a family tragedy. In "Zoe" by Jack Canfora, a woman reluctantly agrees to a video chat with her ex-husband. Packaged as
Two for Zoom
, the two shows stream back-to-back at 7:30 p.m. on Friday, December 4, and Saturday, December 5, and at 2 p.m. on Sunday, December 6.
7. Here We Come A-Caroling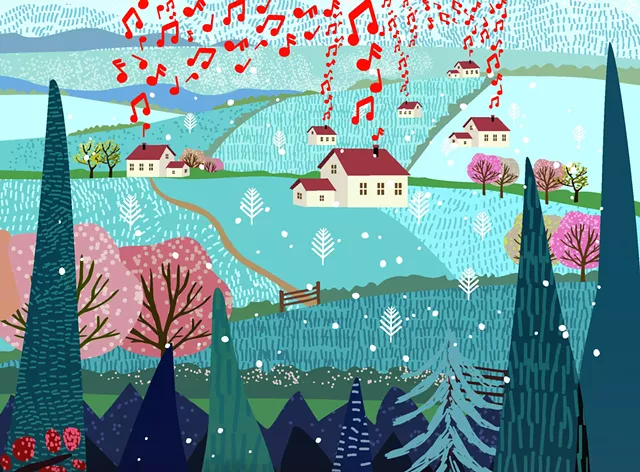 Adobe Stock and Taylor Haynes
Is the holiday season complete without a family rendition of "The Twelve Days of Christmas"? In an effort to keep music a part of yuletide traditions despite social-distancing measures, the Upper Valley Music Center offers a dozen days of virtual events, such as children's sing-alongs, student recitals, a fiddle-tune jam session and a participatory singing of Handel's
Messiah
. View the
complete schedule
for the
Holiday Music Festival
and join in song between December 4 and 15.
---
This is just a small sampling of the state's in-person and virtual happenings in the coming days. Browse our
art
,
calendar
and
music + nightlife
listings for more.
If you're planning or promoting an event in Vermont, please send details our way for a free online listing. Find our event submission form at
sevendaysvt.com/postevent
.