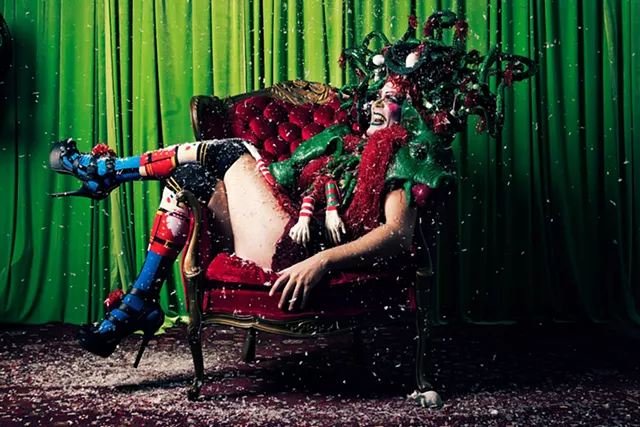 Courtesy of Little Fang Photography
Taylor Mac
1. Sauced Up
Award-winning drag performer
Taylor Mac
gives the gifts of kitsch, camp and glam this season with the virtual spectacular
Holiday Sauce ... Pandemic!
Through a fabulous mix of music, film and burlesque, Mac, who uses the gender-neutral pronoun "judy," subverts capitalist traditions and highlights the power of chosen family. Pay what you wish to stream the production through the Hopkins Center for the Arts in Hanover, N.H., on Saturday, December 12. Oh, and parents: Keep kids occupied elsewhere, lest they hear naughty words.
2. A Woman's Work
Courtesy of Film Movement
Audrey Flack
A trailer for the 2019 documentary
Queen of Hearts: Audrey Flack
starts with the famed American painter musing, "I believe art cuts across time." The Deborah Shaffer-directed film provides a portrait of Flack's trailblazing life and work, including her creative evolution from abstract impressionism to photorealism, as well as her experiences as the mother of a child with autism. Vermont International Film Foundation presents the doc for streaming from Friday, December 11, through Thursday, December 17.
3. Hard Luck
Courtesy of Red Hen Press
'Summer of the Cicadas' by Chelsea Catherine
Jessica, the protagonist in Florida author
Chelsea Catherine
's 2020 novel
Summer of the Cicadas
, has lost her family and her job, is addicted to pain pills, and is in unrequited love with a West Virginia city councilwoman. Then the cicadas come. Catherine, a Barre native, reads from and discusses her poignant page-turner in a virtual appearance with Vermont College of Fine Arts founder Thomas Christopher Greene on Thursday, December 10, at 7 p.m.
Preregister
for a Zoom link from Montpelier's Bear Pond Books and Kellogg-Hubbard Library.
4. Virtual Viewing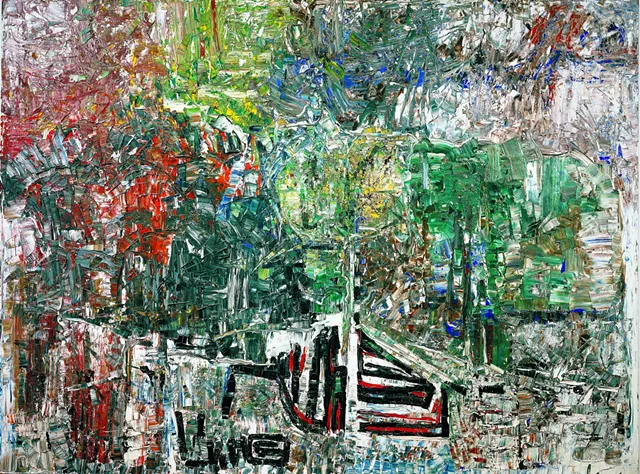 Courtesy of MMFA
"L'étang—Hommage à Grey Owl" by Jean Paul Riopelle
Though the Montréal Museum of Fine Arts is closed due to the coronavirus pandemic, folks can still view the art within its walls. The free virtual exhibition
"Riopelle: The Call of Northern Landscapes and Indigenous Cultures"
spotlights the work of 20th-century Canadian painter Jean Paul Riopelle, known for his technique of squeezing paint straight from the tube onto the canvas. Visit the MMFA website through January 11 to explore 160 works and more than 150 artifacts and documents.
5. Bright Lights
The year's end is often a time for reflection. Montpelier's Beth Jacob Synagogue offers an opportunity to celebrate the Jewish Festival of Lights
and
consider challenges facing individuals throughout the country. During each of the eight nights of Hanukkah, members of the Beth Jacob community set menorah candles aglow to illuminate pressing issues such as racial and economic justice, mental health, and the climate crisis. Preregister to remotely participate in
Shine a Light for Social Justice
, taking place nightly December 10 through 17.
6. Being Green
Courtesy of studioWEBSTER
Have you ever wondered what exactly goes into an energy-efficient home? At noon on Wednesday, December 16, Vermont Green Building Network lets environmentally conscious community members inside two sustainable dwellings — an 1880s farmhouse in Dorset and a new passive house in Marlboro — to explore and ask questions.
Vermont's Greenest Homes Virtual Tour
is free with
preregistration
.
7. On Angels' Wings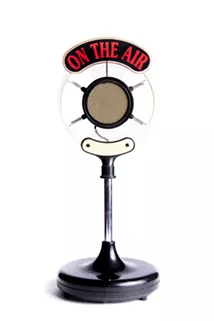 © Fernando Gregory | Dreamstime.com
While comedian
Pete Davidson
will give
It's a Wonderful Life
a fresh voice in the role of George Bailey in a December 13 table read benefitting the Ed Asner Family Center, Northern Stage gives it the old-fashioned treatment. The White River Junction theater company presents the classic Christmastime story of a desperate man and his guardian angel for on-demand streaming in the style of a 1940s radio play. Access the show through January 3.
---
This is just a small sampling of the state's in-person and virtual happenings in the coming days. Browse our
art
,
calendar
and
music + nightlife
listings for more.
If you're planning or promoting an event in Vermont, please send details our way for a free online listing. Find our event submission form at
sevendaysvt.com/postevent
.