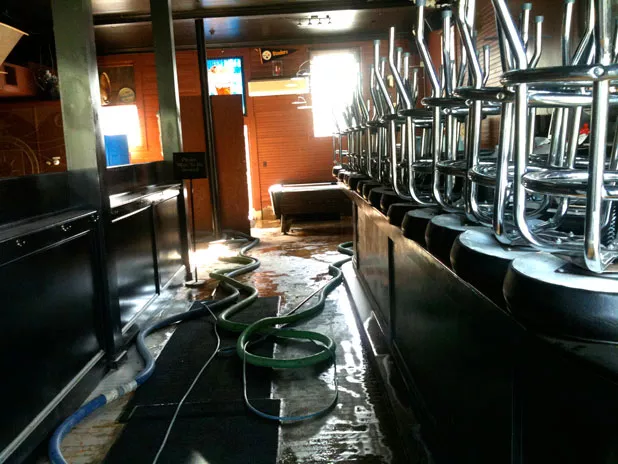 damage at the Alchemist after Irene
Following months of mounting challenges, owners Jen and John Kimmich announced Friday that they will not reopen the Alchemist Pub and Brewery. The pub on its own, however, may return in a new form.
The 10-year-old Waterbury landmark was devastated last summer by Tropical Storm Irene, which flooded the basement and filled the dining room with waist-high water. An email from Jen Kimmich reads: "Our basement was the lifeblood of our business — our brewery, our beer, all of our food and our offices were in the basement. Moving forward, we have come to the realization that rebuilding our basement brewery is not a viable option."
After months of work with the brewery's insurance company, the couple finally learned that none of the contents of the basement were covered.
Now the Kimmiches are focused on rebuilding the 23 Main Street pub without the brewery. The couple is in talks with several local restaurateurs interested in serving food in the space — and in employing many of the Alchemist's staff who were left high and dry after the flood.
The seven-barrel brewery that formerly filled the basement downtown will be moved to the recently opened Alchemist Cannery and tasting room at 35 Crossroad, also in Waterbury. "Once we have installed the brewery, John will be hard at work to supply the community with his creative and tasty small-production beers," says Kimmich. She hopes those brews will be served on tap at the new pub.