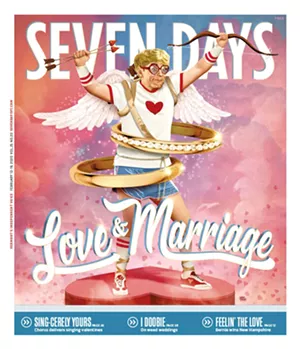 Jeff Drew | Rev. Diane Sullivan
Here's a hot take: Valentine's Day gets a bad rap. Oh, sure, February 14 is easy to complain about. It's nothing but a Hallmark holiday. It conflates love with consumerism and creates unrealistic expectations. It's a lousy day to be single. It places outsize importance on one day of the year when we should really celebrate the ones we love all the time. (Because that's realistic, right?) Conversation hearts taste like chalk. We get it. But hear us out.
What is so terrible about devoting a specific day to intentionally appreciating that special someone you love the most? How does doing so diminish your love the other 364 days of the year — or 365, in the case of this leap year? The answer: It doesn't. But the key to enjoying Valentine's Day is figuring out how to make it work for you and your significant other. And isn't that also the key to lasting love?
In this installment of our annual Love & Marriage Issue, you'll meet folks who practice and celebrate love in a variety of diverse and personalized fashions. Take, for example, Thomas McCurdy and his husband, Bailey Hale. They've got some good, simple tips for getting romantic with cocktails and Vermont cheese.
Some couples really do go all out on Valentine's Day. If you're looking for that grand, classic gesture, one place to start is family-owned Lippa's Estate and Fine Jewelry. It's been placing gems on fingers in Burlington for more than 80 years. Because, with apologies to Kay Jewelers, every kiss begins with Lippa's. (Sorry.)
But if you want to save some cash on wedding bands — or an actual wedding — you should check out this national trend: "forever engagements." It's pretty much exactly what it sounds like. Couples get engaged and stay that way, never marrying.
That strategy has pros and cons. One downside? You'll never get to have a weed wedding. In the wake of the legalization of recreational cannabis, canna-nuptials are on the rise in Vermont. We asked some experts how to host them safely — and legally.
Of course, it's hard for some to really get in the spirit of Valentine's Day when there is so much wrong with the world, from daily presidential scandals to the climate crisis. Chelsea Edgar riffs on those dire topics in a satirical essay on love in the time of the apocalypse. Maybe someone should send her a singing Valentine from the local Green Mountain Chorus barbershop ensemble.
Last but not least, Valentine's Day actually can be pretty sexy. Learn more about healthy sex attitudes and practices through comedian Jenna Emerson's hilarious monthly variety show, "Sex w/Jenna."