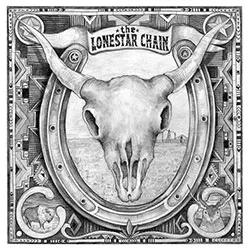 (Self-released, CD)
In 1998, British politico-rock singer Billy Bragg and alt-country darlings Wilco reimagined the forgotten songbooks of Woody Guthrie via the remarkable Mermaid Avenue Vol. I (some will disregard Vol. II). Refracting the American folk icon through a contemporary lens, those stylistic variations added up to one of the finest albums of that year. With their self-titled debut, The Lonestar Chain have crafted an album very close in heart to those sessions, and very nearly as good.
However, this time it seems the muse is that sweetheart of the '70s country-rock movement, Gram Parsons. But rather than mine the Grievous Angel's lost songbooks — which, if they ever existed, would likely have perished in his Joshua Tree funeral pyre — these songs spring from TLC's lead singer and guitarist Burette Douglas. The Cush front man has assembled his own local quasi-supergroup, in which lead-guitar duties are handed to Bill Mullins (Blowtorch, Barbacoa). The pair's voices and guitars harmonize tantalizingly throughout the album. Rounding out the crew is a fail-proof rhythm section of Creston Lea (Cave Bees, James Kochalka Superstar) and Steve Hadeka (Turkey Bouillon Mafia, The Seth Yacovone Band).
The disc opens with "Black Horse Acre," a lost-love graveside lament. It is not the only heartache on the album. "Where Are You Tonight?" and "Don't Look Back" pine for the one who got away, while "I Stand Corrected" invokes some of Parsons' best and most heartbreaking work — right down to guest vocalist and Cush cohort/wife Gabrielle Douglas doing her best Emmylou Harris act. When the couple sing, "I thought that we were protected by pitfalls that come / but I stand corrected, outside of your love," it's hard not to feel an empty hurt of your own.
Not that the whole album is a dour affair. Douglas and company add heat to their Flying Burritos, creating a rollicking alt-country party. The American folk parable "Joe Henry" does recall Guthrie and seems timely as recession hits. "The Gasoline Age" is a Faces-style saloon rocker, while tracks like "Make Me See Stars" and, especially, "Abilene" display some of Cracker's wry, winking humor. "Pay Phone Blues" bristles with countrified grunge, á la Mike Ness, lending the album a nice — and necessary — edge.
Given these disparate pieces, it's nice to hear how well the album functions as a whole. Each song carries perfectly into the next, and while The Lonestar Chain may never hit a single "peak" moment, there are absolutely no weak spots, either. I, for one, will be front and center at their album release party this Saturday, November 1, at Radio Bean.