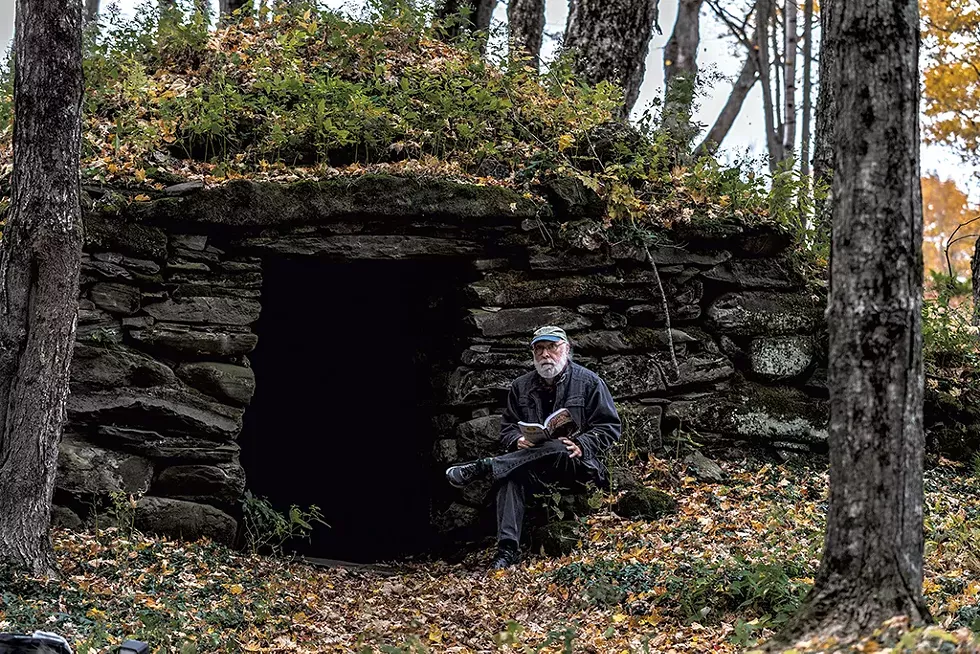 Tom Mcneill
Joe Citro at Calendar II
The time had come to speak of dark things — madness, death and, perhaps, the devil himself. Beyond the glass doors of the tony Woodstock Inn & Resort restaurant, past socially distanced tables filled with tourists from New Jersey and Connecticut, a cool, gray rain fell, casting a perpetual gloaming even at midday. At our corner booth, Joe Citro absently stirred his coffee, long since cold, his gaze downcast and solemn as he perhaps considered (dreaded?) the question he knew I had to ask.
You wouldn't guess it from his kind, grandfatherly eyes; his bushy, white beard; or his wry and sometimes kooky sense of humor, but Citro has spent a lifetime exploring and chronicling the darkest corners of the world — or at least of Vermont. The native Vermonter seeks out the strange and diabolical the way most of the other noontime diners in the room would soon seek out changing leaves. If anyone knows what evil lurks in the hearts of men — or vampires — it's Citro.
"Did you know there's a vampire's heart buried in the town green across the street?" he'd asked me earlier, his tone as casual as if he were inquiring about the score of the Red Sox game the night before. And I did know about the vampire, of course.
I've been reading Citro's books since I was a teenager. His 1994 collection of eerie local lore, Green Mountain Ghosts, Ghouls & Unsolved Mysteries, owned a place on my nightstand alongside the classic macabre YA fiction of John Bellairs — and later Peter Straub, Shirley Jackson and Stephen King. I tore through Citro's subsequent volumes, which include Passing Strange: True Tales of New England Hauntings and Horrors; Green Mountains, Dark Tales; and The Vermont Ghost Guide. He's authored 11 such collections in all.
So I was indeed aware of poor Corwin the Vampire, who — or whose corpse — was a posthumous victim of the so-called "vampire panic" that swept New England in the early 1830s.
Corwin died of the "wasting disease," then known as consumption and now called tuberculosis, which produced a sallow appearance and fatigue, the same symptoms associated in folklore with vampirism. As Citro wrote in Green Mountain Ghosts, to prevent Corwin's return from the grave, locals exhumed the young boy's body, removed and burned his heart, and buried the ashes in a cast-iron kettle 15 feet below the Woodstock town green.
That morbid tale and others, whether spun in print or during his frequent speaking engagements and appearances on radio and television, have made Citro a local celebrity — the "Bard of the Bizarre," as the Boston Globe dubbed him.
Thea Lewis, founder of Queen City Ghostwalk, put it this way: "You can't talk about horror in Vermont without talking about Joe Citro."
Citro has also seen success with his Vermont-based fiction. His novel Shadow Child was recently rereleased in an expanded edition and optioned for film by C. Henry Chaisson, who cowrote the forthcoming horror film Antlers, directed by Scott Cooper (Crazy Heart, Black Mass). Together with the upcoming rerelease of 2016's The Vermont Ghost Experience, featuring some 30 new tales and illustrations by Citro's friend Robert Waldo Brunelle Jr., the fresh film interest makes it all the more likely that Citro will find new generations of readers.
When I met Citro, some wistful part of me envisioned him as a character from Bellairs' or King's books. Perhaps he would be the Professor Childermass to my Johnny Dixon, the Matt Burke to my Ben Mears from 'Salem's Lot — or, more classically, Bram Stoker's Abraham Van Helsing.
But Citro is not a fearless vampire hunter. At lunch, the genial 72-year-old Windsor resident passed on fries with his medium-well burger because he's watching his salt intake. Beside a bumper sticker on his sensible Toyota Corolla that reads "Citro/Bigfoot: Make America Paranormal Again" is another that advises driving a pokey 55 mph to combat global warming. It's hard to imagine him squaring off with vamps, demons or the Bennington Monster.
"I'm not especially weird," Citro said.
Nor does Vermont's "Ghost-Master General" — another honorific often used for him, this one of uncertain origin — have much patience with paranormal investigators. With some exceptions, Citro views them as carpetbaggers, frauds on par with the Eddy brothers. The latter were Vermont spiritualists who gained fame in the 1870s for séances that have since been debunked as little more than parlor tricks and illusion. (Their Chittenden farmhouse remains a popular haunt among ghost hunters and, Citro admits, an obsession of his own.)
Humble and earnest, Citro insists he's simply a storyteller.
"For me, it's all about the story," he said. "That's it."
Not that there's no magic in what Citro does. As horror master King put it in On Writing: A Memoir of the Craft, "Writing is telepathy," the transfer of ideas and imagery from one mind to another. In that sense, Citro is something like the mediums he's spent years skeptically researching. He, too, is a conduit to the unknown, to people and places and monsters (human and otherwise) long since banished to the shadows of history.
Through him, their stories come alive again to the delight, and fright, of longtime fans and those just discovering his work. In his work, readers discover a Vermont history of an entirely different sort — and some find inspiration for works of their own.
Lunch was winding down, and I still hadn't asked Citro my big question. But I sought an avenue into what might be the greatest mystery of his work.
As the server cleared our plates, we made small talk about politics and how parts of the vastly inferior movie version of Straub's classic horror novel Ghost Story were shot nearby. Then, in a lull, I saw my opening.
"So, tell me, Joe," I asked, still not entirely sure I really wanted to know, "do you believe in ghosts?"
---
Stories Told as True
Courtesy
Illustration of the Eddy Brothers by Robert Waldo Brunelle Jr.
Throughout his career, Citro has been coy on the question of whether he believes in ghosts. The reserved writer's reluctance to take a stand on the supernatural could be considered a rare bit of theater designed to preserve the mystery around his stories.
"One of the things I find funny about Joe is that he has this vast knowledge and has sat down with all these people and gotten all of these stories about ghosts in Vermont, but he won't say whether or not he believes in ghosts," said Lewis, who leads tours of haunted places in Burlington and is herself the author of several books on spooky local lore.
According to Citro, his fence-sitting has frustrated both skeptics who wish he'd simply debunk campfire tales and true believers who see in him a kindred ... well, you know.
"I think some people expect me to blindly believe every scary story they tell me," he said. "That's not quite how it works.
"I've developed a pretty keen bullshit detector over the years, and a lot of people will bullshit you," he continued. He paused and raised an eyebrow before adding, "But not all."
While Citro's stories have plenty of fantastical elements — ghosts and lake monsters and pigmen — it's their grounding in reported or at least anecdotal fact that has helped make him the preeminent keeper of dark Green Mountain lore.
"In folklore studies, we use the word 'legend,' which has a specific meaning that is 'a story told as true,'" said Andy Kolovos, associate director and archivist at the Vermont Folklife Center. "Often we think of legends as supernatural kinds of things," he continued. "Joe is a legend, in all the meanings of the term, in Vermont."
Citro was born in Rutland and grew up in Chester, a small town at the southernmost end of Windsor County. His father was a machinist who worked in the nearby mill town of Springfield. He was also an avid storyteller who would bring his son around to "the places where things happened" — such as haunted houses and the site in Cavendish where, in 1848, a tamping rod blasted through railroad foreman Phineas Gage's skull.
"A lot of the stories my father told were not told accurately," Citro said. "But those were the seeds that grew into somewhat more accurate tellings in my books."
Citro's mother was a fan of mystery novels and encouraged her two sons to enjoy reading. In sixth grade, a teacher introduced Citro to the weird horror of H.P. Lovecraft, which he devoured alongside Sir Arthur Conan Doyle's Sherlock Holmes mysteries and, especially, Doyle's science fiction novel The Lost World.
Citro dabbled in writing in high school but put it aside as a young adult. After an abbreviated stint at college in New Hampshire, he returned to the craft in the early 1980s.
"I didn't want to end up on my deathbed thinking, Gee, I wish I had written that novel," Citro said.
Courtesy
Shadow Child by Joseph A. Citro, Macabre Ink, 428 pages. $19.99.
In fact, he wrote five novels: Shadow Child, Guardian Angels, The Gore, Lake Monsters (which, though published four years after Shadow Child, was the first novel he wrote) and, finally, in 1994, Deus-X. Each was born of Vermont folklore, from Champ to Sasquatch to UFOs.
"They were all stories that I was repurposing for a modern audience," Citro said. "These were old stories about the mythology of Vermont and Vermonters," he continued. "We are an unusual breed."
Given his gothic bent, you might assume Citro is an Edgar Allan Poe fan. In fact, he said, he's far more influenced by John Steinbeck than by the author of "The Raven."
Citro's fusion of Lovecraftian scares with subtle humor and earnestness was a winning formula for fiction, for a while. But the author said he eventually soured on the hustle of the publishing industry.
Around 1990, Citro began doing regular Vermont Public Radio commentaries on local oddities and folklore, a gig he would enjoy for 20 years. Those appearances, first weekly and later monthly, provided the framework for his collections of nonfiction.
In 1994, the first of those collections, Green Mountain Ghosts, was released by Chapters Publishing in Shelburne. As the niche imprint normally specialized in cookbooks, issuing a book whose star attractions were a lake monster, extraterrestrials and the dastardly Eddy brothers was a bit of a risk. So Chapters partnered on the project with Vermont Life magazine, then under the stewardship of editor in chief Tom Slayton.
"My original idea was, [the book] would be enough for a press run, a few thousand copies," said Chapters cofounder Barry Estabrook, who coordinated the venture. "I was completely wrong. It sold and sold and sold."
Chapters' market was national, so everyone was surprised to see such strong sales for a Vermont-focused book.
"It turned out to be a real dandy," Estabrook said.
Citro also did well with his next book for Chapters, Passing Strange, which broadened his focus to New England folklore. Estabrook, a Ferrisburgh-based food writer and editor with several James Beard Foundation awards to his name, credits Citro's success partly to his "genial, easy style and voice." "It's just incredibly readable. I really admire that," he said.
Estabrook also suggested that Citro's appeal goes deeper than fantastic and ghastly tales.
"He really captures the spirit of certain parts of Vermont in a way that no one else that I've read does," he said. "You get the feeling like you're sitting next to some old guy telling yarns."
---
Living Dead History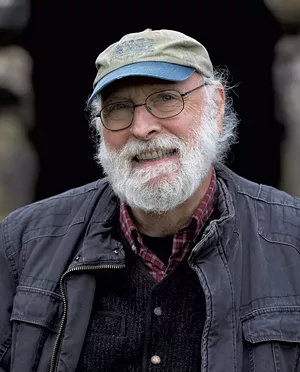 Tom Mcneill
Joe Citro
To Citro, the tradition of sharing stories is something close to sacred. That's likely why he's spent his adult life scouring Vermont to find them, logging thousands of miles and exponentially more hours researching, investigating and conducting interviews. He's probably on a first-name basis with the heads of half the historical societies and libraries in the state.
Citro is as meticulous in his research as he is charming in his prose. He never sets out to debunk a myth, though that may be the end result. Rather, with a journalist's skepticism, he endeavors to corroborate and verify as much as he can, combing though newspaper articles, eyewitness accounts and expert opinions to arrive at some reasonable version of the truth.
"I look for similarities and differences," Citro said of his approach to vetting stories. "Then I look for bridges, ways to connect pieces of the puzzle that might not seem to go together." He acknowledged, "It's often hard to fillet the fact from the fantasy in these stories."
One example of Citro parsing the real from the surreal is the story of "The Awful," which he recounts in The Vermont Ghost Experience. In 2006, investigative journalist and author H.P. Albarelli Jr. wrote a pair of articles in the Enosburg Falls County Courier about a mysterious winged beast terrorizing nearby Richford. Albarelli, who died in 2019, reported eyewitness accounts of the Awful as "huge, with large wings and a long, strange beak ... like a pterodactyl." Another source reported seeing "an unbelievable looking winged monster."
That latter description is perhaps closest to the truth, in Citro's estimation: unbelievable.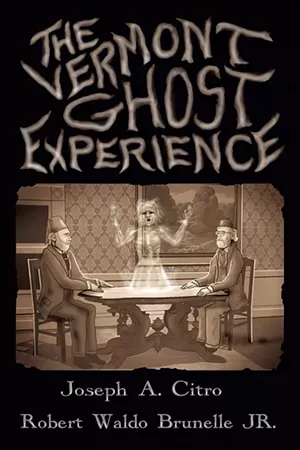 Courtesy
The Vermont Ghost Experience
In his writings and a subsequent interview with Citro, Albarelli claimed the creature's existence had been verified by none other than H.P. Lovecraft while on a fact-finding mission to Richford and environs in 1925. Citro found that notion as dubious as flying dinosaurs in modern-day Franklin County.
While it's possible — probable, even — that Lovecraft visited the Green Mountains in 1925, Citro wrote, the odds of the author investigating paranormal activity in Vermont were nil. Lovecraft was an avowed atheist and realist who staunchly did not believe in the supernatural, despite his fantastical writings.
"He wouldn't have bothered with any purported 'paranormal activity,'" Donovan K. Loucks, keeper of the H.P. Lovecraft Archive, told Citro.
Furthermore, Lovecraft never ventured farther north than Brattleboro and Guilford — because, according to Loucks, no buses ran to northern Vermont on the days he wanted to go.
Thus, through research, vetting and expert testimony, Citro debunked Albarelli's tale — though he left open the possibility that Richford residents saw ... something.
The skeptical rigor Citro applied to the Awful also informs his perplexingly nuanced views on the afterlife.
"If ghosts are the spirits of the dead, no, I don't believe," Citro declared. "I don't believe the dead come back."
Why, then, spend a lifetime chasing ghosts?
For one thing, it's fun: Who doesn't love a good ghost story? For another, just because Citro doesn't believe ghosts are the spirits of the dead doesn't mean he doesn't believe in ghosts.
"If ghosts are some sort of spiritual phenomenon that we don't have a better explanation for, then, yes, I do believe," he said. "But I don't know what they are."
Citro is content to let others solve that mystery. He prefers to focus on finding and telling stories, which he believes is far more important work.
"I collect stories. And these stories are part of our heritage as Vermonters," he said. "Yeah, kids might get pissed at me because I don't believe in ghosts or Champ. But if I tell them a story about a haunted house, they'll go home and read up about it, or Phineas Gage." He continued, "I want to engage people's curiosity. I want them to feel like I [did] when my father was telling me these stories."
"The ghostliness is the hook, but the history is the important part," said Lewis, who is also no stranger to weaving ghost stories with history. "Vermont history becomes real to people because of the stories. The vehicle that Joe provides makes the history stick."
---
The Chamber of Secrets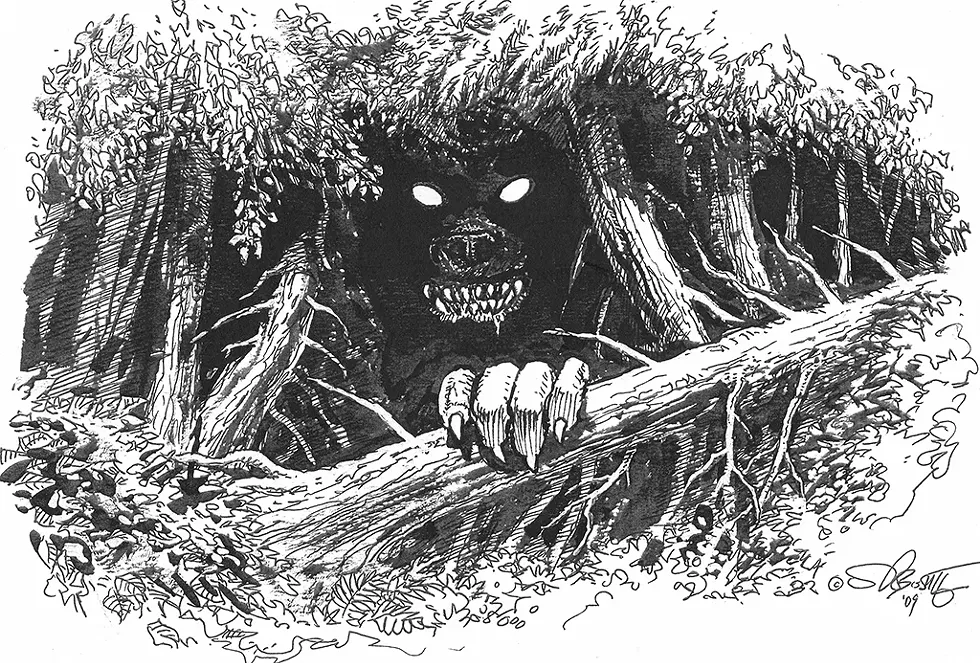 Courtesy
Illustration of the Bennington Monster by Stephen R. Bissette
While Citro is best known now for his collections of spine-tingling folklore, his masterpiece is a terrifying work of gothic fiction.
Shadow Child was first published in 1987 by Zebra Books and has since been hailed as the "folk-horror classic that scared New Englanders out of the woods," in the words of its jacket copy. It frightened more than just Yankees. Citro's debut was a commercial success, selling, to his recollection, more than 100,000 copies. It's been optioned for film a few times, including once to Miramax. Citro later released Lake Monsters and The Gore through publishing monolith Warner Books, which changed the titles to Dark Twilight and The Unseen, respectively — for, as Citro put it, "no good reason." Subsequent editions printed by the University Press of New England's Hardscrabble Books division restored the original titles.
Shadow Child has enjoyed several reissues, most recently an enhanced edition released earlier this year by Macabre Ink, a subset of Crossroad Press, that features a lengthy interview with Citro and expansive author's notes. It also includes a photo gallery of the real-life Vermont places that inspired the story.
Shadow Child is set in the Upper Valley town of Antrim, a fictional stand-in for Citro's native Chester, where a darkness is afoot. With casual but deliberate pacing and palpable empathy, Citro conjures terror that drifts in like morning fog in a Vermont hollow — and then explodes like a nor'easter.
Shadow Child is the story of Eric Nolan, an orphaned and recently widowed college professor in his thirties who returns from Long Island to his hometown of Antrim to reconnect with his family, grieve his wife and perhaps rediscover some semblance of his former self. But Antrim holds its own ghosts for Eric.
When they were children, his brother Brian vanished in the woods near their grandparents' farm and was never seen again. It's the same farm where Eric's cousin — with whom he was almost uncomfortably close as a teenager — now lives with her husband and son. Up a steep mountain trail behind the farm is a strange stone cavern. A root cellar, perhaps. (But who would put a root cellar there, of all places? Who indeed.)
A series of inexplicable disappearances sets the plot in motion, unleashing mysterious and perhaps nefarious entities that would later become familiar to fans of Citro's folkloric work, such as Vermont's wicked, fairylike Little People. The story also involves the Bennington Triangle, a vaguely defined area around Glastenbury Mountain where numerous people are said to have vanished in real life — at the claws of the red-eyed Bennington Monster, according to some legends.
Beyond the chilling atmosphere and the scares, Shadow Child distinguishes itself with its sense of place. Lovingly drawn composites of the people and places in Citro's youth populate the novel, lending it a small-town Vermont authenticity.
The inspiration for grizzled, eccentric mountain man Perly Greer, for instance, was an actual hermit who lived on the outskirts of Chester. Stoic police chief Dick Bates is based on a childhood friend. Elizabeth McKensie, the elderly, wheelchair-bound historian whose newspaper clippings and journal entries on strange rural tragedies frame each chapter of the book, is based on Citro's mother.
The gang that drinks and gossips at mechanic Billy Newton's garage — and serves as something of a Greek chorus throughout the book — is taken from the Chester garage where Citro's father used to hang out. (It sits just down the road from the mill where Clarence Adams — aka Chester's infamous "Gentleman Burglar," a Citro favorite — was shot in 1902.)
But the true horror of Shadow Child radiates from within a mysterious stone cavern that has inspired and haunted Citro since he was a boy. The Antrim cavern is based on one near Citro's childhood home in Chester. It has since become a ruin, after a well-intentioned farmer tried to repair it and inadvertently destroyed it. But several other such sites are scattered around New England. And no one seems to know what they are or who built them.
One such structure, known as Calendar II, lies on a mountaintop in South Woodstock, about a 10-minute drive from the charred remains of Corwin the Vampire's heart. Pictured on the cover of Shadow Child, it's a favorite destination of Citro's.
"This place continues to hypnotize me," he told me as we headed there after our lunch at the Woodstock Inn. The chamber sits on real estate developer Pritam Singh's 280-acre South Woodstock estate, along with another perhaps ancient mystery: a colossal, Stonehenge-like stone circle.
Tom Mcneill
Joe Citro by the Stonehenge-like stone circle in South Woodstock
Approaching the chamber from behind, you'd never know it was there. It looks like a grassy mound of earth rising gently from a forest of maple and pine. But from the front, it's clear this is no natural formation.
Large, unmortared stones, including several massive slabs that must weigh tons, form a 10-by-20-foot chamber — the same ratio, 2-to-1, of the King's Chamber in Egypt's Great Pyramid, as numerous folklore websites have noted. Inside, a ceiling flue at the rear of the chamber permits a small amount of light to filter into the otherwise dark cavern. At the solstices, the cavern's entrance and skylight are said to align perfectly with the sunrise in a feat of ancient astrological engineering.
That fact leads Citro to dismiss a commonly held notion that the chamber — which archaeological studies have revealed is very, very old — is nothing more than a root cellar.
"Doesn't that seem like an awful lot of trouble to go to for potatoes?" he asked, his rich baritone reverberating through the chamber. "And why would you put a root cellar here, of all places?" (For a spookier hypothesis about what the chamber was built to hold, see this week's WTF column.)
Anglocentric theories have posited that early Celtic explorers built the chambers, as they bear similarities to ancient structures in the British Isles. Others believe they're Native American ceremonial sites. And some credit visitors from much farther away.
"Oh, some folks say it was aliens or that they're portals to other dimensions or some such nonsense," Citro said with a wave of his hand. "I have no idea what they are or who built them," he continued before slipping into a slight Vermont twang: "But it sure captures the imagination, don't it?"
---
There's Something in the Woods
Citro's is not the only imagination that Calendar II has seduced. The site is popular with Wiccans and pagans, paranormal tourists, and other mystical sorts. But it has also intrigued the man who might finally deliver Shadow Child to the silver screen.
"The stone structures that feature heavily in the book still feel relevant and mysterious, and make the book feel like a living story," filmmaker Chaisson said.
The filmmaker and screenwriter discovered Citro when he read Passing Strange as a kid growing up in central Massachusetts. Chaisson and his wife recently moved from Los Angeles to an old farmhouse in New Hampshire, and he sought out Citro to ask about optioning Shadow Child for film.
"What drew me to the book was the fascination with folklore and the feeling that this is something that could still happen, even though it's set in the '80s," Chaisson said.
Citro is delighted by Chaisson's interest and the possibility of realizing the decades-long dream of bringing Shadow Child to the screen. But, in typically reserved Yankee fashion, he keeps his hopes guarded.
This is at least the fifth time the book has been optioned for Hollywood. None of the previous attempts resulted in a film — probably for the better, in Citro's estimation. (His story "Soul Keeper" was made into a creepy short film in 2011 by Middlebury filmmaker Tim Joy; it starred local actors Andy Butterfield and Paul Schnabel.)
Aside from the challenges of getting any movie made, the problem with the previous treatments of Shadow Child, Citro said, is that the writers overlooked a crucial character in the book: Vermont.
"One guy had a scene set in a triple-decker shopping mall in the Northeast Kingdom," Citro recalled, rolling his eyes. "Does that sound like Vermont to you?"
In Chaisson, Citro appears finally to have connected with a screenwriter who gets that Vermont, and Vermont lore, is as important to Shadow Child as any of its characters.
"I love Shadow Child because the supernatural lore of that book really feels like it could only happen in that one town in the Connecticut River Valley, and you couldn't transpose it onto any other place in the world," said Chaisson, who recently toured Chester and Calendar II with Citro. "It's really important to Joe, and to myself, to nail that sense of place, of the people and the architecture," he continued, "and bring the town and the more fantastical elements of the book to life."
Bringing supernatural folklore to life is something with which Chaisson has some practice. The forthcoming Antlers, which he cowrote with Nick Antosca, is a modern folkloric horror film set in the Pacific Northwest and centered on the myth of the Wendigo, a malevolent woodland spirit said to turn humans to cannibalism.
"Joe and I definitely compared Wendigo notes," Chaisson said with a chuckle.
Chaisson's background is in documentary filmmaking. In Citro, he sees a like-minded craftsman.
"Joe really seems to me like a documentarian," Chaisson explained. "He goes out and talks to people ... to find the oddities and horrors in the environment around us. That's something I see in his books: the respect for folklore that I really love."
Citro's fusion of fiction and folklore is a large part of what makes Shadow Child so compelling. But the novel's gnawing psychological terror is every bit as disquieting as the gore and jump scares.
While protagonist Eric, like most of the book's other figures, is a composite of real people, Citro admitted the character is largely a surrogate for himself. When he wrote Shadow Child, Citro was in his late thirties. His mother was ill and dying; he'd lost his father years earlier. He was in the throes of a failing relationship. The palpable grief that surrounds Eric is at least partially synthesized from Citro's own struggles. That grief practically becomes a character itself, making Eric an increasingly unreliable narrator as the story progresses.
"As I look back on writing the book, I can see that Eric's marriage ending with death was drawn from the realization that my relationship was ending," Citro said. "My mother's death was still in the future, but I could see it coming. She influenced the Elizabeth McKenzie character quite a bit.
"All this is complicated, of course, by the realization that there is no one-to-one correspondence between real life and fiction," he continued. "I think for me, at the time, writing the novel was acting like a kind of therapy."
---
The Ghost-Master's Progeny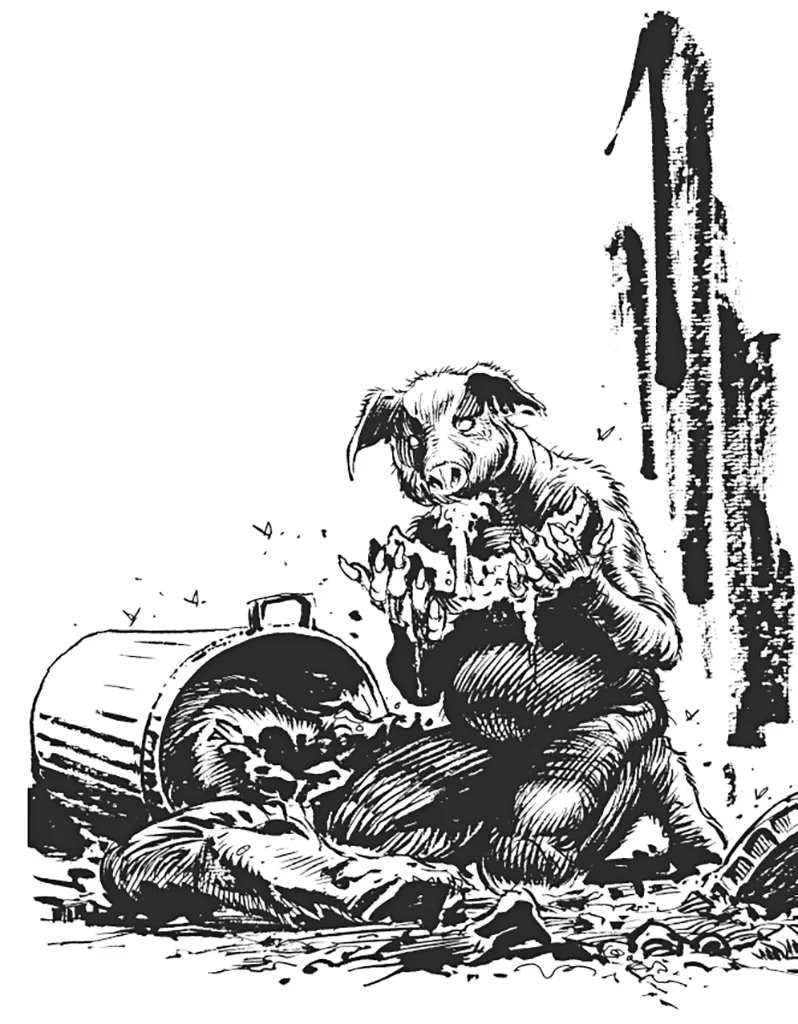 Courtesy
Illustration of Pigman by Stephen R. Bissette
For Chad Abramovich, reading Citro was a kind of therapy. The Essex resident is the founder and author of Obscure Vermont, a lively and comprehensive blog about strange places and mysteries in the Green Mountains. Abramovich, who says he's on the autism spectrum, said he often struggled to fit in as a kid in Milton due to his "garbage social skills." Then he discovered Green Mountains, Dark Tales.
"Something about it really stuck with me," Abramovich recalled. "Learning about this weird stuff that happened right in our backyard, places I pass by every day, it really opened me up."
The inspiration he drew from Citro's work also gave Abramovich direction and a sense of self.
"I was plagued with self-esteem issues, and for the longest time I had no idea who I was," he recalled. "Reading Joe's work helped me find my inner voice."
Over the years, Citro and Abramovich would correspond regularly and meet on occasion, sometimes to talk shop and sometimes just to talk.
"Joe is so unique," Abramovich said. "He really embraces his Vermont character, his idiosyncrasies, his weirdness. That really spoke to me.
"Joe is my hero," he continued. "He's been my biggest influence and a mentor."
Abramovich is not alone. Citro's influence is evident throughout Vermont's folklore and horror circles as a new generation of writers and weird-history buffs draws inspiration from his work.
Daniel Mills is a Hinesburg horror novelist and historian who produces "These Dark Mountains," a podcast that explores some of Vermont's most grisly and bizarre crimes. He, too, was inspired by Citro as a youngster.
"I'd always been drawn to ghost stories and the macabre," Mills said. But when he got his hands on Green Mountain Ghosts in 1994, "It was a revelation for me," he said. "It had never occurred to me that we had those same kinds of stories right here in Vermont, in places I could go and visit." Citro's book, he continued, "shaped a lot of my interests by grounding my morbid sensibilities here, in the landscape I grew up in."
The second episode of "These Dark Mountains" offers a thorough examination of Clarence Adams, Chester's famed kleptomaniac, who may or may not have faked his own death — or, in some versions of the story, risen from the grave. Citro's account of Adams' tale figures heavily in Mills' telling. But Mills goes a step further, applying modern psychological knowledge to Adams to paint a more complete and tragic portrait.
"Joe evokes a kind of 'Jekyll and Hyde' dynamic that I think Adams was aware of himself," Mill explained. "Joe tells it with a sort of wry, very New England humor that shows up in a lot of his work. But, as I dug into Adams myself, it struck me as a very sad story, a man who was trapped and unable to escape himself."
Mills finds deep cultural value in Citro's work, saying, "He's reshaped the popular mythological landscape of Vermont."
Citro's influence goes beyond mythmaking. Cody Sullivan and Zach Husband are the creators of "Pulp! From Beyond the Veil," a schlocky anthology podcast that suggests "Tales From the Crypt" presented as an old-time radio play. Both writers cite Citro, their Windsor neighbor, as an influence and resource.
In an email, Husband noted that the "monsters and mediums" from Green Mountain Ghosts have long haunted his own writing.
"Every time I craft a piece in which things from beyond the veil intrude violently and abruptly into daily life, I am really doing my best to channel Joe," he wrote. "Reading a Joe Citro book is like hearing a story late at night around a campfire, whether I'm relaxing on the couch or waiting at the DMV. Even when the stars and the darkness aren't present, the chills are inescapable."
"Whether he's tracking down regional folklore, or inviting the reader to step onto Main Street of his fictional town of Antrim, his work is quintessential Vermont," Sullivan added in an email. "When I write for Pulp!, often the settings of the stories are based on places I've spent a lot of time in. Joe's way of inviting the reader — or in our case, listener — into the space continues to inspire the stories I write."
Courtesy
The Vermont Monster Guide by Joseph A. Citro, Leprechaun Productions, 128 pages. $19.99.
While many are ready to pick up the ghostly mantle from Citro whenever he decides to relinquish it, he's unlikely to slow down anytime soon. The Vermont Monster Guide, originally published in 2009 and illustrated by Vermont cartoonist Stephen R. Bissette, was rereleased by an imprint of Eerie Lights earlier this year. The expanded version of The Vermont Ghost Experience is due to hit shelves before Christmas.
The Monster Guide is one of several Citro titles that were first printed by the now-defunct University Press of New England under its Hardscrabble Books imprint. He hopes his other Hardscrabble titles will follow.
"Books are meant to be read, not go out of print," Citro said.
He also hints that he might return to writing fiction, possibly based on the Eddy brothers or Clarence Adams, two of his oldest fascinations.
"There are two or three Vermont stories that I've written about, but not to my own satisfaction," he said. "Those 19th-century stories almost seem like fiction now, so that's how I would want to approach them, not as reporting."
Citro views the Eddy brothers, in particular, as a kind of "Sherlock Holmes story"; at one point he even started a manuscript about them.
"It's such a mystery-by-gaslight story," he said.
October is typically Citro's busiest month. "Halloween is like my Christmas," he joked. But the pandemic has drastically curtailed his usual slate of spooky-season appearances. He recently filmed a piece on the haunted Bowman Mansion in Cuttingsville for the PBS show "New England Legends," which will air on Vermont PBS on October 29. But his lone reading was earlier this month, around a bonfire outside the Windsor Public Library.
Citro's 1786 home is just a short stroll from that library, which is in turn just down the street from the former Vermont State Prison, where Mary Rogers became the last woman to be hanged in Vermont. It's unclear whether proximity to the library or to the still-creepy former prison — now a senior living and subsidized housing facility — most swayed Citro's choice of domicile.
Citro said he's thrilled by the continued interest in his work, and especially by those who are building on what he's done. Because that, he said, is the nature of folklore itself.
"Ghost stories are collaborations," Citro said. "One person will tell a story, and another will add to it and run with it." He paused before adding with a wry grin, "They spread like a pandemic in that way."