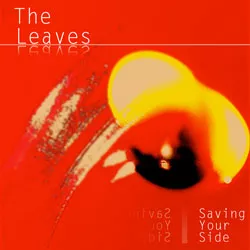 (Self-released, CD)
I was asked recently which album I listened to when I was feeling really down. I responded that it depended upon whether I wanted to feel better or keep feeling bad. For those of you who enjoy wallowing, may I suggest Saving Your Side, the sophomore effort from Burlington's The Leaves. Front woman Aya Inoue has delved into her personal journals and penned an album that paints a pretty clear portrait of hurt.
On opener "Givin' Up," Inoue spies an ex-lover — one who drinks alone for two and from whom all her heartache seemingly stems. Over the course of the disc it becomes evident that this guy has caused real damage, and potentially stained the prospect of future love. I gotta say, if all these songs are aimed at the same fella, I would not want to be him. If karma has its way, the dude is somewhere having a drink thrown in his face right now.
Songs such as "Perspective," "Disguise," "True Stories" and "Record Players" bolster the theme of a heel who hides behind a smile and empty eyes; one who laughs when Inoue falls and has wounded her to the point that she can convey no emotion deeper than would fit on a postcard. Throughout, Inoue sings this pain with a smoky edge; she's best served on tunes such as "Happier I Guess" and "Who I Am," when she allows a country lilt and twang to sneak through or channels Lucinda Williams' dirge and snarl.
Ultimately, though, what will bring me back to this album is guitarist Matt Harpster. He clearly gets Inoue's pain, and at times does an even better job of conveying it himself. He employs a deep, rich tone in his leads and wraps them in just the right amount of fuzz. What makes Harpster's solos stand out — to the point that I was backing up tracks just to hear them again — is that they aren't technically perfect; there's a patina of dirt on 'em. And it's just enough to give the songs a traction they might otherwise lack.
I'm glad to say that, just when Inoue has almost convinced you it will never be light again, she and The Leaves end the album with "Movin' On." The track lets you know that, even though she's "halfway through a bottle and it's half past noon," there's a glimmer of hope for happiness. Here, the band finally finds a little stomp and swagger, letting loose a rocker that hints at a future, sunnier album. Until then, I'll be happy to lend you my copy of Songs in the Key of Life.