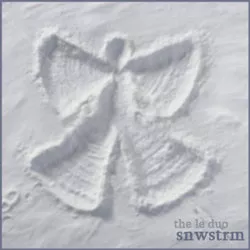 (Aether Everywhere, CD, Digital download)
Recklessly tabulated swirls of live sound make up snwstrm, the appropriately titled sophomore release from Burlington-based open-improv/experimental noise outfit, The Le Duo. The group is one of a large set of experiential outfits at work throughout the region under the collective label Aether Everywhere — many members of which appear on this release. Fans of more humanmade, packed-powder genres will want to stay off the roads during this sonic weather event; the acoustical black diamond veers perilously close to the boundary separating noise and sound.
The Le Duo is not, in fact, a duo but a revolving cast of noise artists headed by Burlington sound collagist J.B. Ledoux. The two-part LP — available as a free download or on CD at the group's performances — is a live recording captured at Winooski's venerable Monkey House last December. At times the record is as sonically deafening as driving snow is blinding, leaving the listener to metaphorically shovel what remains. By recording's end, one is left to contemplate any inherent, subjective beauty in it.
Whether by design or an accident of an awkwardly captured live recording, Ledoux's energetic percussion takes center stage. He vigorously pings cymbals and high-pitched toms. The surround instrumentation is too cacophonous for the listener to make out any kind of harmonic phrasing, experimental or otherwise. Whatever interesting improvisational creations might be happening here, they're hard to grasp.
Even in the widely cast, anything-goes spectrum of experimental noise, this snwstrm never truly develops from the percussive din of its "Pt. 1." A few scant clarinet phrases pipe up, and there are sometimes audible tape loops and seconds of barely discernable electric guitar. Only on the album's waning minutes is any cohesion apparent — a combination of loops and distortion.
It's tough, and perhaps unjust, to give low marks to a musical form so dependent upon attendance at its conception. Snwstrm is more an acoustic documentation of an event than a conventional collection of recordings. But local listeners weary of the area's prevailing musical moods might delight in The Le Duo and their Aether Everywhere guild. Find out by downloading snwstrm at aethereverywhere.com.