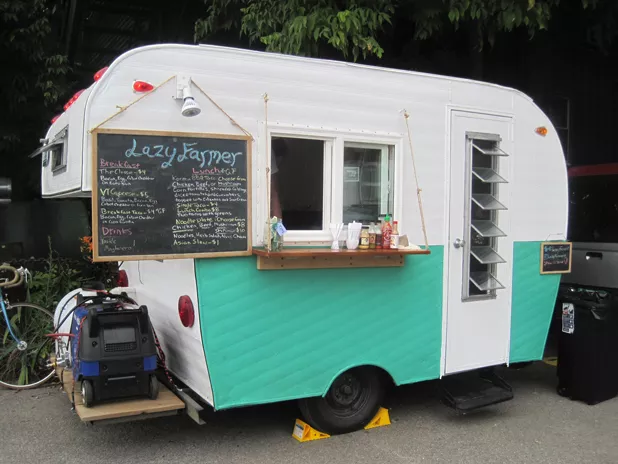 Is running a food truck a lazy pursuit? According to Chris Simard, it's more so than working at Sol Fresh Farm, as he has in recent summers. That's why he named his trailer the Lazy Farmer.
Most of us would call Simard far from lazy. Last week he began parking his vintage aqua-and-white trailer at Burlington's Maltex Building on Mondays and Tuesdays; at Burton Snowboards on Wednesdays; and at Maglianero on Fridays, from 8:30 a.m. to 2 p.m.
Simard studied cooking at Le Cordon Bleu Ottawa before deciding to focus on ecological agriculture at the University of Vermont. After college, he pursued both his passions by cooking at Tiny Thai and farming in Charlotte, supplying his employer and now his own trailer.
Time in San Francisco has influenced Simard's opening menu. His affection for that city's Korean barbecue found its way into Mexican-style tacos with marinated chicken, beef or mushrooms. The corn tortillas are also filled with fresh tomatoes, cucumber and cabbage with cilantro and flavored sour cream. Noodle plates and Asian slaw are on the lunch menu, too, but Simard says he plans to change the offerings frequently, so Eastern flavors may not always dominate.
At breakfast, variations on bacon, egg and cheese sandwiches fill the bill of fare.
In another less-than-lazy move, Simard hopes to keep the trailer open year-round if the trend for mild winters continues in 2014. He says he's looking into serving his grub not only in Burlington but on ski mountains, where athletes can slide right down for a taco.
The original print version of this article was headlined "Farmer Fresh."