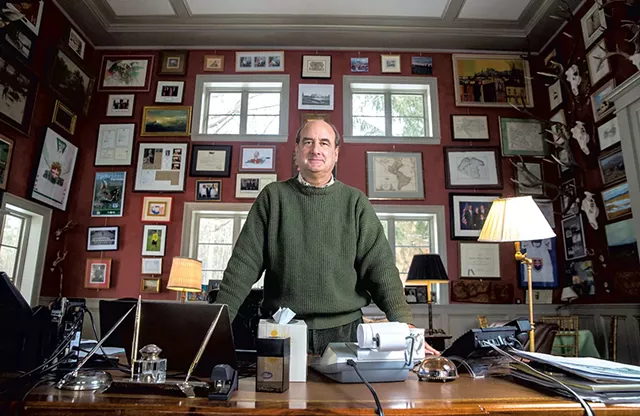 James Buck
Skip Vallee in his home library
In a subterranean hospital room on the Upper East Side of Manhattan, Skip Vallee rolled up the right sleeve of his dress shirt and rested his arm on a pillow. A nurse pressed a needle-nosed tube into a vein near his wrist.
"Relax your fingertips," the nurse said. "There you go. Much more relaxed."
Vallee, 57, was finishing his 48th chemotherapy treatment since he was diagnosed last spring with multiple myeloma, a particularly aggressive form of blood cancer. "Hopefully the last," he told the nurse at Memorial Sloan Kettering Cancer Center. "Not that I don't like you guys."
The Vermont gasoline mogul, GOP donor, political muckraker and former hockey star isn't used to playing defense.
Over the past three decades, he has turned his family's sleepy fuel delivery company, R.L. Vallee, into an oil empire that now claims 46 gas stations and 700 employees. He's raised hundreds of thousands of dollars for Republican politicians, helping to elect governors and presidents — and earned an ambassadorship to Slovakia in the process.
Though no longer an omnipresent voice of Vermont conservatism, Vallee continues to cast a long shadow over the state's political scene. To his allies, he's a brilliant businessman, quick-witted strategist, loyal friend and devoted family man. To his adversaries, he's a profiteering One Percenter, polluting the planet one gallon of gas at a time — as Sen. Bernie Sanders' (I-Vt.) spokesman once put it, a "junior varsity" Koch brother.
Now the cheerful political combatant and relentless competitor is up against a disease he acknowledges is incurable. Asked how long he has to live, Vallee responded with a shrug, "You know, I think it's a big unknown."
As the nurse hooked him up to a bag, Vallee held up the second part of his three-drug cocktail: five mint-green steroid pills in a clear plastic cup. "They don't taste very good, so you want to take it in one shot," he said, tossing the pills back with a glass of water.
Vallee's closest friends call him "the man who never sleeps." These days, due to the steroids, he really can't sleep. The night before, he said, he had woken at 2 a.m. — though he'd refrained from emailing friends and colleagues the steady stream of Breitbart stories and business directives he refers to as "chirps" until 4.
Since his diagnosis last May, Vallee has channeled his unflagging energy into managing his illness. A college biology major who seriously considered medical school, he has immersed himself in research and clinical trials, in search of the most promising treatment.
"The last thing you want to do as a cancer patient is google life expectancy on your disease, because most of those are based on data from four or five years ago," he said as the drugs trickled into his veins. "The technology has, you know, moved so rapidly."
With his treatment wrapping up, Vallee would learn within two weeks whether eight months of chemo had managed to suppress the malignant plasma cells in his bone marrow. If so, a move to a maintenance drug might forestall further treatment for five or more years — beyond the median life expectancy for a myeloma patient.
"You know, six years is like a Senate term, right?" he said, as always framing the world in political terms. "The theory is that, in that period of time, they would come up with a new set of drugs."
Though others afflicted with a fatal disease might reexamine their convictions, Vallee has not. He stubbornly insists that the free market is his savior and that liberalism would do him in.
"I really have no patience for politicians that trash our Big Pharma companies," he said from his hospital chair, alluding, as he often does, to Sanders. "These discoveries, at all levels, for all cancers, would never have been made in Canada or in England, with socialized medicine."
Whether all myeloma patients have access to those discoveries — and the first-rate care of Sloan Kettering's docs — is a question Vallee seems reluctant to answer.
To him, the upshot of his ordeal is not that cancer treatment is out of reach for many Americans but that it can really get in the way of "the non-cancer part of people's lives."
"If you're a single mom working in Brooklyn, and I see them in here all the time, that's a real disruption to your life," Vallee said. "And I think I have a better appreciation for that."
'Don't Lose'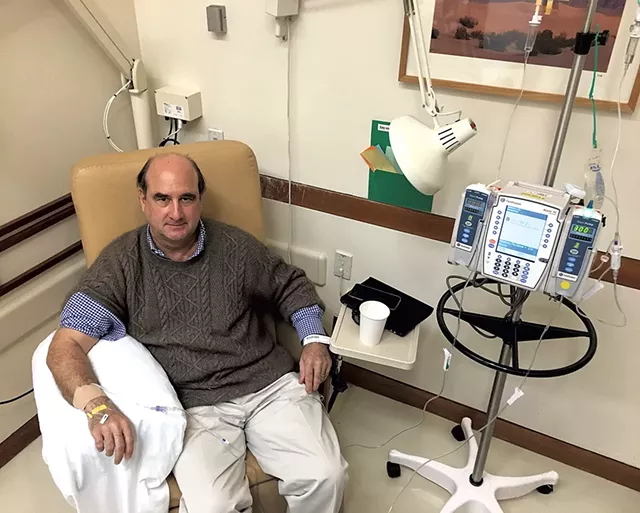 Paul Heintz
Skip Vallee undergoing cancer treatment
Since well before his diagnosis, Vallee and his wife, Denise, have rented an apartment just two and a half blocks west of Sloan Kettering's outpatient cancer center.
"We're not complaining about logistics," Vallee said as he walked toward the 10-story building at 64th and Park Avenue.
The couple's sixth-floor, three-bedroom suite is decorated with modern art, mementos from Slovakia and photos of their two sons: Teddy, 27, who works in finance, and Charlie, 23, who works for a foreign policy think tank.
"So this," the ambassador declared with a typical dose of irony, "is my prison."
Vallee traded his hospital attire for a sweat suit and hiking boots and covered his bald dome with a blaze-orange Beretta baseball cap. Tufts of graying dark hair, matching his bushy eyebrows, protruded from the back of the hat, forming a minor mullet. The aging athlete was ready for what he called his "forced march" — a daily, four- to five-mile walk or run through Central Park, which has kept him relatively fit through months of treatment.
Vallee certainly didn't look like a man fighting cancer.
Back downstairs, he bantered for a moment with the building's doorman, Steve, then greeted the red-capped porters next door at the Hôtel Plaza Athénée.
"Bonjour!" he shouted. "Comment ça va?"
"Bonjour, Monsieur Vallee," a hotel employee responded, pronouncing the Vermonter's name the way his French Canadian great-grandfather, Rodolphe Armand Vallee, might have.
In 1942, Rodolphe Armand's son, Rodolphe Louis, founded a kerosene delivery business in St. Albans. Skip, whose given name is Rodolphe Meaker Vallee, grew up delivering coal and propane for the company — and resenting the long hours his father, Rodolphe James, worked.
"We wouldn't get to presents on Christmas until midmorning because he would be on the phone dispatching," he recalled.
Vallee spent much of his youth hunting and playing hockey, though an early interest in politics led to his election as "secretary of state" at the Green Mountain Boys' State competition. He won four state championships on the Bellows Free Academy hockey team and spent two years as captain of the Williams College squad.
"I was a pretty ferocious forechecker," the former forward said immodestly.
Vallee's competitive drive took him to the University of Pennsylvania's Wharton School, where he earned an MBA, and then to Wall Street in the mid-1980s. There, he worked for the trash-burning power plant division of a renewable energy company and found himself negotiating ash disposal with some unsavory characters. At a beach party in Rhode Island, he met a Merrill Lynch bond salesperson from North Carolina named Denise Mack, and he married her in 1988.
Vallee's "forced march" begins barely a block from his apartment, at the Central Park Zoo, and cuts a clockwise path around the perimeter of the park. It is punctuated — at least, on this windy January day — by Vallee's endless political commentary, which appears designed to provoke. He delighted in a story about encountering members of the Women's March the previous weekend and asking his wife whether he could shout "MAGA" at them, referring to President Donald Trump's campaign slogan, "just to piss them off."
As he marched north, Vallee recalled his decision to leave the city in 1989 and return to the family business. At the time, R.L. Vallee was still a regional home-heating company with a handful of gas stations and wholesale delivery contracts. Skip and brother Tim, who bought out their father in 1992, set about acquiring and consolidating other propane distributors and, a few years later, sold them to a Québec City conglomerate.
With the proceeds, the brothers made a strategic shift toward the gas retail market. They'd realized they sold as much fuel at a single truck stop as the entire legacy home-heating business.
In 1997, a Mobil station in Woodstock became the first Maplefields convenience store. Vallee made sure its bathrooms always featured fresh flowers, a touch he replicated at the dozens of Maplefields he has opened since.
"It sets the tone for the rest of the store," he explained. "And I think you get a lot of repeat business because of the clean bathrooms."
Vallee huffed up a hill overlooking the Jacqueline Kennedy Onassis Reservoir, where a flock of Canada geese perched on a thin sheet of ice.
Asked whether he had any regrets in life, Vallee brushed off the question.
"Not socializing more in business school," he offered.
Other than that?
"I don't have too many," he said.
Asked again, Vallee's voice grew quiet and steely.
"I don't have too many," he repeated.
"Just barrel on forward," he added, turning his attention to the geese. "Don't lose."
A 'Cute Little Environmentalist'
James Buck
A photo of (left to right) Skip Vallee, Laura Bush, president George W. Bush and Denise Vallee
Vallee hasn't always been a card-carrying conservative.
Between Williams and Wharton, he recalled, he was "this cute little environmentalist" with "far left-of-center" views who had voted for president Jimmy Carter and spent a summer working for the National Audubon Society.
But in the fall of 1982, a decision was made for him that would change the trajectory of his political life. Vallee applied for jobs with Vermont's two U.S. senators: a mail room position with Democrat Patrick Leahy and a campaign gig with Republican Robert Stafford. He was rejected by the former and hired by the latter.
After Stafford won reelection, Vallee drove his green Volkswagen Rabbit to Washington, D.C., and went to work for Vermont's senior senator on the Senate Subcommittee on Education, Arts and the Humanities. "Skip was just so enthusiastic," said Bruce Post, a veteran Vermont politico who also worked on the subcommittee. "He'd want to jump to a conclusion before he'd heard the whole thing."
Rick Green, another young Stafford aide, recruited Vallee to an office softball team and eventually roomed with him near Dupont Circle. The two would argue late into the night, with Green staking out positions to the left of their moderate Republican boss and Vallee somewhat to the right.
"I never really thought he was a hard-core, right-wing kind of guy, as he's sometimes painted in Vermont," said Green, now assistant managing editor of the Hartford Courant. "Because I always thought he was willing to examine his own opinions and rethink things."
But by the late 1990s, when he emerged on the Vermont political scene as national committeeman for the state GOP, Vallee had clearly aligned with the conservative wing of his party. In 2000, he served as finance chair of Ruth Dwyer's fire-and-brimstone gubernatorial campaign, which embraced the state's "Take Back Vermont" movement and vigorously opposed its legalization of same-sex civil unions.
That year, for the first and last time, Vallee sought elected office himself: a seat representing Chittenden County in the state Senate. Though he opposed abortion rights and civil unions, he took a more pragmatic position than Dwyer and downplayed those positions in his own campaign.
Democrats nevertheless attacked Vallee in a mailing as "too extreme for Chittenden County" and eviscerated him for spending a record $123,000 on the race, including $60,000 of his own money. He lost that November by 1,333 votes. (Vallee said he has since become "more libertarian" and now supports same-sex marriage.)
In May 2001, Vermont's centrist U.S. senator, Jim Jeffords, fled the Republican Party, handing control of the Senate to Democrats. Vallee was apoplectic.
"My concern for Jeffords is that his legacy will be as one of Benedict Arnold," he said on the eve of the senator's decision.
Though Jeffords was an ideological heir to Stafford, Vallee had become an uncompromising Republican — and Jeffords had deserted the team. In interviews after the switch, Vallee described feeling "a sense of betrayal" and "real anger," and he demanded that Jeffords return campaign contributions he'd received from Republican donors.
Vallee's greatest contribution to the party and its candidates has been as a fundraiser. When his friend, state treasurer Jim Douglas, sought the governorship in 2002, Vermont's strict campaign finance laws limited each donation to $400. "You had to really shake the trees," Douglas recalled recently. Vallee did just that, helping Douglas raise close to $1.2 million, while Democrat Doug Racine took in just $840,000.
Vallee took delight in lambasting Democrats in the press, accusing Racine at one point of "Enron-style accounting" for allegedly understating his wealth. Even some of Vallee's adversaries enjoyed sparring with him in that era.
"You know, there are backstabbers and front-stabbers, and I think we were both front-stabbers," said Luke Albee, a former Leahy chief of staff.
But sometimes, Vallee would cut too deep, according to governor Howard Dean. During the Democrat's gubernatorial and presidential campaigns, he said, Vallee pushed a false story that he had covered up allegations of domestic abuse by a member of his security detail.
"I found Skip a little too big for his own britches," Dean said. "I mean, he resorted to stuff that people in Vermont don't do."
Asked recently about Dean's charge, Vallee refused to say whether he had spread the story but lashed back at the former governor. "So I presume he agrees that the accusers of Roy Moore should have shut up?" Vallee said, referring to the 2017 Alabama Senate candidate accused of sexual misconduct.
These days, Vallee isn't as politically active as he once was, but he continues to contribute to the cause. He, members of his family and the businesses they control donated $80,000 to state Republican candidates during the 2016 election. Vallee supported and raised money for Gov. Phil Scott, though the two aren't as close as Vallee was to Douglas.
"I'm a George W. Bush conservative," he said. "I don't think Phil Scott is a George W. Bush conservative." Vallee describes that as one who seeks to limit the role of government, preserve the "freedom to succeed or fail" and provide a safety net to those who truly need it.
Vallee seems as driven by style as he is by ideology. In a 2005 speech he wrote for the Conservative Club of Bratislava, he focused on the macho morality of his three favorite presidents: Teddy Roosevelt Jr., Ronald Reagan and George W. Bush. "For each of these presidents, rounded in the rugged robustness of the American West, principles of freedom and moral clarity mold their cores," he declared.
During the crowded 2016 presidential primary, Vallee sided with Sen. Marco Rubio (R-Fla.) and raised more than $100,000 for him during a fundraiser at his Shelburne home. "I viewed him as having the most raw political talent," Vallee explained, and, therefore, the best chance to win.
In the general election, he claimed, he wrote in Douglas' name for president because he objected to Trump's "style." He has since come around — inspired, he said, by "derangement on the left" — and says he would now vote for Trump.
Whether Vallee would have become a die-hard Democrat had he joined the other team in 1982 is a question even Leahy has pondered.
"I know that he would have been a great asset to my office, and I cannot help but wonder if perhaps his political life might have tracked in different directions than it has," the senator mused when Vallee was nominated for the ambassadorship. "Ah, but we shall never know."
'A Serious Candidate'?
James Buck
Skip Vallee's home library
The Vallee estate, a vine-covered faux-château on Spear Street in Shelburne, stands at the end of a half-mile driveway on 100 acres of land. Its north wing consists of a two-story library that serves as the ambassador's home office and man cave.
The library's maroon walls feature all the trappings of a red-blooded American alpha male: mounted roebuck, Roosevelt portraits, a photograph of a bloody polar bear and a collection of axes. Vallee reserves a prime set of shelves on the first floor for biographies of Republican presidents.
"The only Democrat that's allowed here is Truman," he said with the air of a boy showing off his toys. "Oh, and Jackson." The rest of the Dems — plus president Richard Nixon — are relegated to a remote shelf on the library's balcony.
One president occupies more wall space than the rest combined: Bush the younger, who appears in half a dozen photos with Vallee and his family.
After raising more than $200,000 for W.'s 2004 reelection campaign, Vallee found himself face-to-face with the president at a White House Christmas party. "He said, 'Vallee, I'm working on something I'd like you to do.'"
Bush's personnel director soon told the Vermonter that an ambassadorship was in the offing and asked where he'd like to serve. "I said it was important for my boys to continue their sports: hockey and soccer," Vallee recalled. A doting father, he rarely misses an opportunity to talk up his sons' athletic exploits.
The family arrived in Slovakia in August 2005 and took up residence on the fourth floor of the American embassy in Bratislava. Fourteen-year-old Teddy and 11-year-old Charlie joined local soccer teams, and Vallee went on the road, meeting with members of parliament and city mayors — and fielding questions from Slovaks about American visas and the National Hockey League.
Classified diplomatic cables, obtained and published by Wikileaks in 2010, show Vallee and his embassy staff adjusting to a newly elected nationalist government and seeking to convince its leaders to remain engaged in the Iraq War. The cables, some of which were written by Vallee and all of which bear his name, capture the Vermonter's sly sense of humor. A sub-headline in one dispatch to the U.S. State Department describes a group of corrupt environmental ministers as "Not a Bunch of Crunchy Tree Huggers."
A couple of years after returning to the U.S. in December 2007, Vallee floated his name for statewide office, as he had done several times before. As usual, he blinked.
"I don't know that a Bush conservative could win in Vermont," he explained. Moreover, a run for higher office would bring unwanted scrutiny to the family business.
Such scrutiny, it seems, was unavoidable. In the summer of 2012, Sanders started beating the drum about northwestern Vermont's comparatively high gasoline prices. He suggested that a lack of competition between the top four gas chains, R.L. Vallee among them, was "ripping off consumers."
Vallee punched back as hard as he could. That winter he commissioned a television advertisement questioning Sanders' commitment to the environment. He followed up with another, accusing the senator of seeking to despoil the state's ridgelines with wind turbines. A third ad, in September 2014, went for the jugular: It slammed his wife, Jane O'Meara Sanders, for taking a $200,000 "golden parachute" when she was forced out as president of Burlington College.
"Vallee clearly doesn't like it that Bernie has exposed his rip-offs," Sanders' then-spokesman, Michael Briggs, said in an unusually harsh response. "So instead of treating his Vermont customers fairly, this junior varsity version of the Koch brothers is dipping into his fortune to bankroll a smear ad campaign. How pathetic."
The spat had consequences. A national law firm filed a $100 million class-action lawsuit against R.L. Vallee and its peers, alleging that the companies had conspired to fix the price of gasoline. O'Meara Sanders, meanwhile, soon faced a federal investigation into her activities at Burlington College.
Despite the headaches and legal bills — nearly three years later, the suit continues to wind its way through the courts — Vallee stubbornly insists it was worth the price to rattle Sanders' cage. "If it takes me running an ad to get interest from the press, so be it," he said. Sanders declined to comment.
Vallee seems to relish the thought of running against Sanders and says "there's always a chance" he will do so when the senator seeks a third Senate term this fall. But even he admits that's unlikely. "If you're serious about the race, you can't sort of show up in April and say, 'I'm gonna run for Senate,'" he conceded. Winning — or even just making a credible showing — requires years of preparation and campaigning, and Vallee hates to lose.
"If you're a serious candidate, you gotta do that — and I've been hooked up to chemo machines," he said.
That doesn't mean potential rivals are resting easy.
"The way he plays the game is extremely aggressive," said Congressman Peter Welch (D-Vt.), who is friendly with Vallee and has dined at his home. "I never forget for a moment that if he thought he could beat Patrick, me or Bernie, he'd be there in a heartbeat."
'Precious Beaches'
Vallee was raised not in the "rugged robustness of the American West," but in the rural Franklin County town of Georgia. There, hunting partridge and collecting sap, he forged an appreciation for the environment and Vermont's bucolic landscape that would seem at odds with a career in oil and development.
"As you can see, the family has a pretty big presence in the town of Georgia," Vallee said as he steered his gray Land Rover past his brother's beef farm and sugarhouse. He shifted uncomfortably in the driver's seat. Two days earlier, his doctors had extracted bone marrow from his hipbone to gauge the effectiveness of his treatment. Now he was nervously waiting to learn his fate.
On the road to Lake Champlain, Vallee pointed out the 500 acres his father owns and conserves, noting that his brother taps some 35,000 maple trees. "All of this woods was my hunting territory," he said.
Vallee is protective of his vision of Vermont — and can't stand the thought of ridgeline wind turbines and large-scale solar. "They destroy the scenic beauty of this great state," he said with a grin.
It's a complaint he's heard about the Maplefields stores that have sprouted up across Vermont.
In recent months, residents of Charlotte have banded together to oppose a 5,000- square-foot Maplefields proposed for the corner of Route 7 and Church Hill Road. In a letter signed by 168 people, they question whether it would impede traffic safety and diminish the town's "rural character."
Vallee doesn't seem worried. His modus operandi is to wear down his opponents and wait them out. In the past 20 years, he claims, he has had to shelve just two proposals due to local opposition: one in Hartland and another on Pine Street in Burlington.
The gasman is more than willing to use Vermont's restrictive environmental rules himself to protect his oil empire. For more than a decade, he has successfully fought Costco Wholesale's efforts to pump gasoline at its Colchester warehouse, a direct threat to a nearby Maplefields. He argues — with a somewhat straight face — that he is motivated by concern for "a sensitive wetland area" and "Lake Champlain's precious beaches."
When he reached the lake, Vallee turned right on Georgia Shore Road. He gestured toward his family's camp across St. Albans Bay and bemoaned the growing prevalence of blue-green algae in the waters of his youth. "I remember it as a child, but it was episodic," he said of the toxic sludge. "Now it seems to be chronic."
Asked how so much bloom-breeding phosphorous had ended up in the lake, Vallee said, "It's a mixture of stuff: farm runoff, parking lot runoff, sewer system runoff."
Had the asphalt expanses at his own gas stations played a role in polluting those "precious beaches"? "I think anybody who owns a parking lot has contributed to what's going in the lake, for sure," he said. "I feel, as you move forward, you've got to do your part to rectify the problem."
Vallee has taken some steps to do so. Four years ago, he approached the Conservation Law Foundation to ask what he could do to reduce pollution in the bay. "He was basically saying, 'We can't use the water, and it's horrifying to me,'" said CLF vice president Chris Kilian.
The conversation prompted Vallee to design a comprehensive — and expensive — wastewater system for his St. Albans gas station. "He didn't have to do it. That was a substantial amount of money," Kilian said. "I think Skip's environmentalism is real."
That doesn't mean he accepts irrefutable evidence that carbon emissions are changing the climate.
"That's speculative science that I am just not qualified to answer," he said, raising the prospect that sunspots might be more dangerous than the carbon spewed by gas-guzzling cars. Asked whether he thought rising global temperatures might cause great suffering in the coming decades, Vallee said, matter-of-factly, "I don't."
Could it be that a man who sells gasoline for a living just can't bring himself to admit that climate change is real?
"No, I think those are completely separate," he insisted. "I don't really conflate the two."
'Always Forecheck'
James Buck
Skip Vallee inside the Colchester Maplefields store
Vallee hopped out of the Land Rover in the parking lot of his newest Maplefields, on a tributary of the Lamoille River in downtown Johnson. Noticing something amiss, he walked to the curb and dusted a sheath of snow off a sandwich board advertising 99-cent coffee.
To Vallee, the Johnson outpost represents the Maplefields of the future. The company is no longer interested in 2,000-square-foot stores and is instead building 5,000-square-foot retail and food-service operations.
It seems that "Gasoline Vallee," as the late Seven Days columnist Peter Freyne dubbed him, is preparing for a post-gasoline world.
"We view ourselves almost more as store people than gas people," he said. "Everything we have done in the last decade and a half has been to create a retail store ... that has a lot of appeal."
Inside the Johnson store, Vallee showed off the chain's latest technology, which he hopes to roll out to all of his Maplefields: a computerized ordering system at the sandwich counter and two self-checkout stations.
The goal of this automation, Vallee argues, is to increase efficiency and improve customer service, not reduce his workforce. "Our biggest challenge now is finding labor for the stores," he said.
On the ride home from Johnson, Vallee was in a feisty mood and again brought up his favorite subject: Sanders.
"As somebody who is basically alive now because of the scientists that work at places like Merck, I'm offended when these politicians seek to blame everything on these drug companies that employ so many Americans and do so much good for the country," he declared.
Asked whether everybody ought to have access to the same health insurance he has, Vallee argued, "No hospital is ever going to turn anybody away." Describing what sounded like trickle-down cancer treatment, he said, "Institutions around the country are the beneficiaries" of the research performed at facilities such as Sloan Kettering.
As for whether his own experience had changed his views about American health care, Vallee still wasn't budging.
"I think our health insurance system is a mess, but I don't know enough about it to give you a solution," he said, appearing to duck the question.
But Sanders is wrong to seek a socialized system?
"If you want to wait nine months to get my treatment, Bernie's is a great answer," he said. "Why are all the Canadians coming down for treatment in the U.S.? It's not because they have this greater system. Look at all the wait times in Britain now for basic kinds of things."
No, he repeated, "Bernie's is not the answer."
Four days later, Vallee returned to Sloan Kettering to meet with his doctor and learn the results of his latest bone marrow tests. The news was not the worst, but it was also not the best. Vallee's doctor had found fewer myeloma cells, but they "continue to be present in detectable numbers," the patient reported.
As long as there's hope, Vallee sounded determined to keep fighting.
"I'll approach this like I have approached this cancer from the beginning, personal attacks by Bernie Sanders, setbacks in my business, challenges as ambassador or being down 3-1 going into the third period against Middlebury," he wrote in an email. "Prepare well, regroup and always forecheck like it's the last minute to play."