Meg BrazilL
Sass highlights the damage to the sculptures
Jeffrey Sass is no Tin Man, but he works in a variety of metals —including steel, bronze, brass and stainless — at his shop near White River Junction. He repairs and restores antiques, fabricates metal, welds high-end stainless steel pieces, and creates his own art. In recent years, Sass, 62, has been lovingly restoring a set of sculptures that are familiar to thousands in Burlington, even if they don't know the works by name: "Lamentations," by the late sculptor Judith Brown (1931-92).
Originally created in 1989, "Lamentations" comprises five larger-than-life female figures in long robes, all made from welded scrap steel and painted flat black. Their seemingly fluid movement and flowing gowns bely the rigidity of their material. Inspired by choreographer Martha Graham's dance of the same title — Brown was also a dancer — the figures can appear mournful, ethereal, mysterious or eerie. Whatever a viewer's response, "Lamentations" is intensely evocative.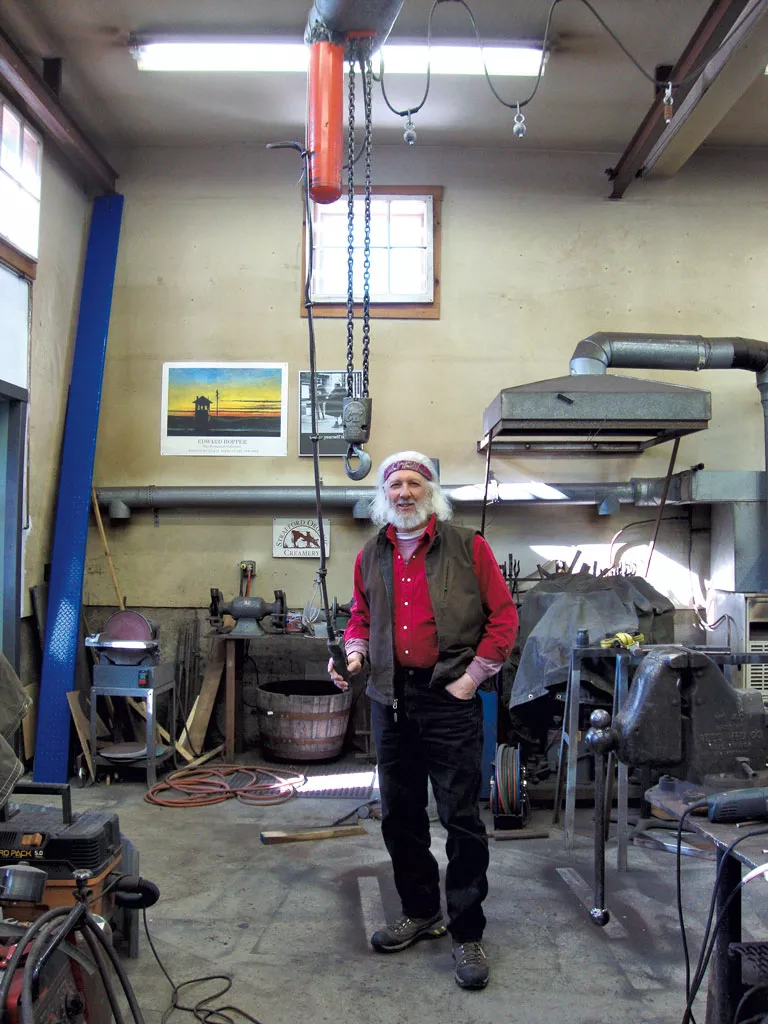 Meg BrazilL
Jeffrey Sass in his studio
In 1993, not long after Brown died from pancreatic cancer, her estate gifted the sculptures to the University of Vermont. Ann Porter, former director of UVM's Fleming Museum of Art, and Peter Stettenheim, Brown's brother and executor of her will, chose the site for "Lamentations": the grove of honey locusts planted by landscape architect Dan Kiley just south of the museum. The figures appeared to be walking through the grove.
But there, like the Tin Man, they began to rust.
Nature oxidizes metal. Junk steel deteriorates over time. These sculptures were headed toward oblivion. The title "Lamentations" took on a new significance when the beloved sculptures were removed.
After residing in storage for some years — and thanks to fundraising by local advocates for their restoration — the ladies eventually made their way to Sass. That is, back to him. Thanks to his efforts, two restored figures are now lamenting in the grove again — with more to come.
For decades, Sass worked with Brown, who is best known for her monumental works in crushed and welded scrap steel, often made from used automobile parts. Brown traveled widely and took inspiration from classical sculptures for works such as "Aegean Trio," now at Johnson State College. Her work is in the collections of the Brooklyn Museum and the Museum of Modern Art, among others.
When Sass moved to Vermont nearly 40 years ago, he was looking for a job working with metal but had limited experience with it. "I really liked working with metal," he explains, "and I had an affinity for art because I grew up in a household filled with it."
When Sass met Brown, she told him she wasn't good at hiring or training. "If I like you, we'll work together," he remembers her saying. And so they did, from October 1976 until she died in 1992.
Despite this long collaboration, Sass said he's largely self-taught. "Judy wasn't able to teach me the structural aspect of welding like stress and torque," he says. "When we started, we were gas welding. I suggested we work with electric welding and brought the studio level up so we could work faster and do more."
Thus equipped, Sass learned oxy and acetylene welding. And, because Brown had poor depth perception and was frequently ill, he says, "I started to do all the gathering of materials." He set up Brown's studio on Hurricane Hill in Reading, Vt., and later in an old bakery on Jane Street in New York City.
About five years into their work together, Sass recalls, "Judy elevated me financially and made me an associate artist." He rummages through a big box of photographs and memorabilia and pulls out a card Brown had printed announcing their association.
Today it's not unusual for an artist to rely on studio assistants to create the work, but it was atypical back then. Brown, indeed, was atypical in many ways, in an era when a prominent female sculptor was a rarity.
As for Sass, while he's self-effacing about his role in creating Brown's works, it shouldn't be understated. Among other things, he helped turn steel into grieving women in billowing skirts. "That being said, this is all junk sculpture, you understand," Sass says modestly.
Indeed, up close, a viewer can see that the magnificent "Lamentations" figures are made from crushed oil tanks, corrugated roofing, Volkswagen fenders and other car parts. Sass' current task is to replace damaged sections of the sculptures and make them weather resistant.
Janie Cohen, now director of the Fleming, was the museum's curator when "Lamentations" first came to campus. She has witnessed the works' saga, from deterioration and removal to gradual repair and return. "When something in the work that is intrinsic to the piece[s] causes them to require conservation, it's called 'inherent vice,'" Cohen says.
Courtesy of Sally McCay/University of Vermont
Original installation of "Lamentations" at the University of Vermont, 1993
In that case, you might call Shirley Fortier UVM's one-person "vice squad." An assistant planner in the Campus Planning Services office, she says that "My involvement in all large sculptures on campus is to get them maintained." As "Lamentations" was "literally rusting into lace," as Fortier puts it, the sculptures' repair became her responsibility.
Initially, UVM hired a contractor, but his efforts were unsuccessful. "I didn't know about Jeff Sass, and I was beside myself," Fortier recalls. Then, as she was going through old files at the Fleming, she ran across an agreement. In it, "Judith Brown was giving acknowledgment and credit to Jeff Sass for all of the pieces," Fortier says. "Come to find out, Judith designed them, but Jeff built them." Fortier located Sass through his metalwork shop in Hartford, Vt.
Sass came to a verbal agreement with UVM that he would restore one figure in "Lamentations" each year, "assuming I could do the first one," he says. When he picked up the first sculpture and sandblasted it, Sass recalls, "I was horrified to see what was left. It was a stick-pipe skeleton."
Burlington architect Bren Alvarez and her then husband, David Farrington, had already spearheaded fundraising efforts to restore "Lamentations." Alvarez exhibited the original sculptures at her Flynndog gallery before putting them in storage; UVM's Dudley H. Davis Center displayed one of Brown's ladies, as well. While the exhibits didn't raise much money, they did bring much-needed attention to the pieces.
"It was a good idea. We've had a long road with these sculptures," says Fortier, who credits university President Tom Sullivan with ultimately making the restoration possible. "He's been very supportive of the sculptural pieces on campus, and his office actually provided the round of funding on the last three pieces," she says. "He appreciates art, so we're very lucky."
Fortier has been involved with "Lamentations" since 2001. At this point, two of the figures have been restored and are back in the grove; another restored sculpture resides in UVM storage awaiting better weather for installation. Sass has a fourth; he'll tackle the fifth over the next year and a half.
Back in his workshop, Sass tells Seven Days, "When I do the restoration, I remember where I got it." Gesturing to his current "Lamentations" lady, he says, "That came from a 275-gallon oil tank from a Mount Ascutney salvage yard. [The tanks would] be cut into pieces, then run through the crusher. They'd get these beautiful folds in them."
But the salvage industry has changed enormously, Sass notes. "One of the hardest parts is looking to see who has Volkswagen fenders," he says. "I've been buying them where I can, including eBay. I'm trying, and succeeding, to use the original materials for the sculptures."
Sass dismantles the sculptures and makes welding repairs where possible, often filling hundreds of tiny holes. Where the work is rusted beyond repair, he uses salvaged replacement parts. He had to find a company that could galvanize the artwork — these sculptures are more than eight feet tall — and would agree to do so. Sass notes that galvanizers are often unwilling to work with artworks because the process can destroy them. But he found "one of several places in Massachusetts" that would undertake the risk.
Galvanizing is an involved process. In brief: The sculpture is dipped in hydrochloric acid, which eats rust and cleans the metal. Its next stop is a neutralizing solution to stop the acid, followed by a flux. After the flux bath, the work goes into 850-degree molten zinc.
Using the same techniques, Sass has also restored two of the figures in Brown's "Aegean Trio" at JSC — headless females each weighing about 500 pounds. Leila Bandar, gallery director of the college's Dibden Center for the Arts, notes of the work: "It makes us look at the classical work in a contemporary context, transforming the everyday into something extraordinary."
The third piece in "Aegean Trio" and the two remaining "Lamentations" ladies have yet to be restored. Other collectors have sought out Sass for similar projects, and he wonders how much longer he'll want to continue doing what he calls "really hard, gritty work." But it's clear he still sees it as a labor of love, as well as a connection to his own history.
At UVM, Fortier hopes that all five "Lamentations" figures will return to their original places. Multiple building projects are currently under way near the grove, and she notes that the pieces must be well cared for during construction. "It's been a phased restoration project," Fortier says. "I have a lot to think about when I put them back."
When all the work is done — on campus and in Sass' studio — the space where "Lamentations" will reside "will be even more central," says Cohen. With a new residence hall and the expanded medical center nearby, even more people will see the works.
"A lot of people loved [the sculptures], and they have been missed," Cohen adds. "That green will be unrecognizable in a few years, and to have them as a centerpiece will be really great."