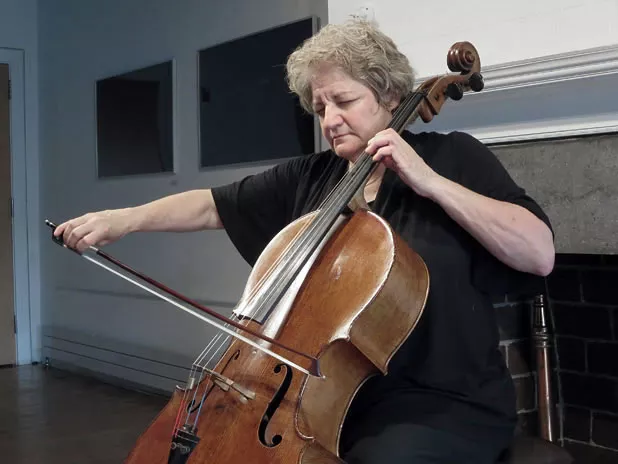 The line of classical-music fans filing into Burlington City Arts for the free "Bach on Church" concert last Thursday was so long it had to be cut off. Heading gratefully for the stairs, I glanced back at a sizable group of disappointed faces. BCA's small second-floor front room is perfect for experiencing chamber music — especially the consistently excellent concerts of the Lake Champlain Chamber Music Festival — but its fire-code limit is 60.
"You're causing problems by being too enthusiastic about coming," LCCMF's founding artistic director, Soovin Kim, chided the audience with a smile. Tall and effortlessly friendly, the violinist is known locally by his first name. ("Oh, here comes Soovin," former Vermont governor Madeleine Kunin, seated to my right, remarked as he entered.)
Kim is also known for populating his festival with world-class musicians fresh from Marlboro — the summer chamber-music festival ne plus ultra based in the southern Vermont town. Today's concert was a solo program by cellist Marcy Rosen, a 20-year Marlboro veteran who is on the faculty at the awkwardly named Mannes College The New School for Music in New York City. Rosen played Dvo?ák's piano trio in E minor at Marlboro's opening concert this year.
LCCMF concerts tend to draw audiences comprising every generation, and today's was no exception. I counted eight children who looked to be between 8 and 12 years old among the moms, college students, boomers and elderly. On the windowsill behind me perched Bodhi Kamitses, 9, of Burlington, who began studying cello last year at the Waldorf School in Shelburne. He and his younger brother were accompanied by their grandmother, Lori Keene, a violinist who gives lessons in her Shelburne studio and at students' homes. I asked Kamitses if he would give me his assessment of Rosen after the concert, and he agreed with a decisive nod.
The cellist began by explaining her "sort of eclectic" program, which finished with Bach's first cello suite after pieces by Georg Philipp Telemann, George Crumb, Domenico Gabrielli (practically the only composer writing for solo cello in the late 1600s) and John Corigliano (his 1996 "Fancy on a Bach Air"). Then she positioned her bow and exhaled.
It is an extraordinary thing to sit 10 feet from a master cellist and her instrument. That enormous wood resonating chamber with its scroll-shaped cutouts, and Rosen's powerfully muscled arms and hands working the bow with every variation of pressure, created a sound so dramatically alive, it put the idea of recordings to shame.
Rosen had the striking ability to modulate from deeply resonant to light and bouncy in a single, brief phrase. Crumb's 1955 Sonata for Solo Cello seemed tailor-made to show off the range of sounds she could attain, and these covered the Crumb acoustic map from eerie scale sliding to furious pizzicato. In the Corigliano, Rosen's range and sound were more like those of a violin.
Rosen improvised much of Gabrielli's ricercari, as his church compositions are called. As she noted in her introduction, the composer left no dynamics markings (which were not yet standard) and quite a few blank measures to be filled in at the musician's discretion.
The cellist requested the audience hold its applause between Corigliano's homage and Bach's suite, and the segue had the uncanny effect of making Bach seem as recent as the Italian American composer (born 1938) — among whose former students is David Ludwig, the LCCMF composer-in-residence.
"Awesome!" was Kamitses' response after Rosen had finished the lively last movement of Bach's suite, the gigue (jig). "A lot of times it was like she was playing a guitar," he adds.
"It blew me away," agreed the boy's grandmother. "Her ability to change tenor within a measure was amazing. And I loved the endings of phrases where she would almost paint the last note. It was very visual."
As the audience filed out to shake the hands of Rosen, Kim and LCCMF's new executive director, Jody Woos, we considered with regret that — as Kim suggested in his opening remarks — the festival may have outgrown its most intimate venue. To sit eye to eye with one of the most accomplished and thoughtful musicians of our time is an opportunity worth preserving.
Violinist Woos took over for Martha Ming Whitfield this year as executive director of the 5-year-old LCCMF. Woos previously served 10 years as executive director of the Green Mountain Suzuki Institute, a one-week summer camp in Rochester for strings and other players and their families. The Institute is the educational arm of the Rochester Chamber Music Society, the summer festival started by Middlebury College pianist Cynthia Huard. Over the course of Woos' tenure, the Institute grew to 120 students. Approximately 250 people now take over the tiny town for the week.
Yet directing LCCMF is on a different level, Woos says: "We have four times the budget, and the scale in terms of logistics is huge." Those logistics include finding housing for visiting musicians and composers. Woos, a resident of New Haven, has had to stay at the Sheraton Burlington Hotel during the nine-day festival. Still, she says, "I want to pinch myself that I have this job."
Woos first met Kim in 2003 when he performed in the Rochester Chamber Music Society. Her son, Tim Woos, was selected as one of the LCCMF's first Young Composers during its founding year, 2009. The program puts promising composers under the mentorship of composer-in-residence David Ludwig.
Since then, says Woos, "Martha and everyone laid an immense foundation here" and essentially attained the festival's initial goals. These included "setting the bar very, very high in terms of quality," presenting contemporary works regularly and "creating a community around chamber music."
Woos' job now is to shape the next five years, plans for which include expanding the ONE (Old North End) Strings program at the Integrated Arts Academy at H.O. Wheeler School in Burlington. Partnering with several area organizations, LCCMF introduced a pilot program last spring to start all fourth graders on violin at the school. The program integrated lessons into the school day, eliminating a major barrier to access for many students. Thanks to the Vermont Community Foundation and donors, the program will now operate during two of the school's trimesters.
Woos will likely oversee an expansion of the LCCMC, too. That shouldn't be a problem. How often do audiences have to be turned away from concerts such as "Bach on Church"? "Oh, every time," she declares.
The 2013 Lake Champlain Chamber Music Festival in Burlington took place from August 17 to 24. lccmf.org