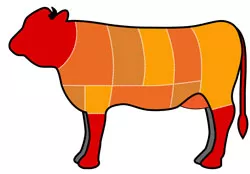 "It's going to be a culinary mecca," Jeff Lynn says of Bridge Street in Waitsfield.
He's not wrong. The complex straddling Bridge and Main streets was already shaping up to be a miniature version of Mario Batali's Eataly, with vegetarian MINT Restaurant and Tea Lounge; Italian comfort-food eatery Peasant; bakery and ice cream shop the Sweet Spot; and Waitsfield Wine Shoppe just across the street. With the addition of Bridge Street Butchery in the first week in December, the effect will be complete.
The butcher shop will be located at 40 Bridge Street, next door to Peasant, the former home of chef Jason Gulisano's Green Cup Café. Gulisano, who has moved on to meat cutting at the Royal Butcher in Randolph, is not affiliated with Bridge Street Butchery. However, he and his parents, Sam and Barbara Gulisano, are Lynn's landlords.
Lynn, the former chef-owner of Sweet Wood Grill & Bar at Powder Hound in Warren, is impressed with the work the couple did to restore the complex following its near-destruction by the wrath of Irene. "The Gulisanos probably should have had the building condemned," Lynn says. "But they've been working tirelessly to restore it to its former glory. [The space] is beautiful and pristine."
Most likely, the meat will be, too. Lynn says his focus will be on local cuts from growers, including Boyden Farm in Cambridge and Neill Farm in Waitsfield, which made the transition from dairy to meat earlier this year. The meatcutter also expects to use high-quality, sustainable flesh from a few nonlocal companies such as Niman Ranch.
Seafood will come exclusively from Wood Mountain Fish. "It's the nicest stuff you can get anywhere in Vermont, and [Ethan Wood] works with producers and fishermen who are responsible," says Lynn. The chef will make six to eight different homemade sushi rolls every day — currently available nowhere else in the Mad River Valley — as well as nigiri sushi and sashimi. In summer, Lynn will have a full raw bar; he envisions customers taking their seafood to picnic outside by the Mad River.
Other prepared foods will include sandwiches made from Boar's Head, house-roasted and imported specialty meats. Cheeses, most of them local, will be available on sandwiches or sliced to take home. It's just one more delicious sign that post-Irene Waitsfield is rebounding.