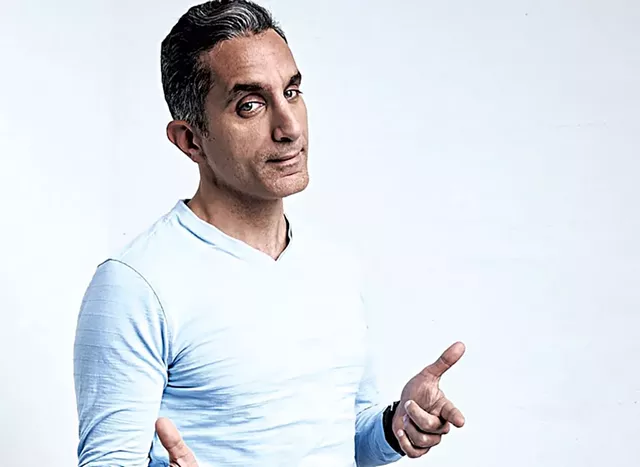 Courtesy Photo
Bassem Youssef
Bassem Youssef was having a bad day.
"It's a mess here. We have a teachers' strike, and I'm running around because of my daughter," explained Youssef, reached by cellphone last week while stuck in traffic on a Los Angeles freeway. "For us, public school is our cheap babysitting option. It's hell, it's horrible and it's raining. Of course, in Los Angeles everyone freaks out when it rains." After apologizing profusely, the comedian, who will perform in Burlington this week, rescheduled the interview for later that night.
As hellish days go, Youssef has endured much worse — such as the day in March 2013 when a warrant was issued in Cairo for his arrest. He was charged with "insulting Islam" after mocking Egypt's then-president Mohamed Morsi and his ridiculous-looking hat.
Then there was the time when religious extremists protested outside Youssef's television studio and called for his death. And the day in November 2014 when Youssef, fearing imminent arrest by Egypt's oppressive military regime, fled his native country in hours with only two suitcases in hand.
In 2011, when the Arab Spring revolutions swept the Middle East, Youssef was a cardiothoracic surgeon working in Cairo. He took to the streets to treat injured protesters in Tahrir Square. Soon, though, he found a more powerful way to support Egypt's revolution. Turning Youssef's laundry room into a makeshift TV studio, he and a friend created an Arabic political satire program modeled on Comedy Central's "The Daily Show With Jon Stewart."
Youssef called the show "The B+ Show," after his blood type, and posted it on YouTube. He hoped for 10,000 views in a week — and got 35,000 the first night alone.
When the show took off, an Egyptian TV network picked it up and renamed it "Al-Bernameg" ("The Show"). At its height, "Al-Bernameg" drew 40 million viewers per episode. Youssef appeared on "The Daily Show" in June 2012, and Stewart reciprocated as a surprise guest on "Al-Bernameg" one year later.
In her 2016 documentary Tickling Giants, "The Daily Show" producer Sara Taksler chronicled four years of following Youssef's rise as "Egypt's Jon Stewart." Though his show enjoyed only a three-season run, it broke new ground in the Middle East, where political satire was as unfamiliar and disruptive as democracy itself. A sign posted in the "Al-Bernameg" writers' room summed up the show's mission: "Satire: because beating the shit out of people is illegal."
In Tickling Giants, Youssef laments his ouster from television, and from Egypt, but suggests that the show's impact will endure.
"They used the best weapon known to man: fear. Fear works. Fear wins. Fear is the perfect weapon," Youssef says, referring to the Egyptian government. "Sarcasm is the perfect remedy to fear. When you laugh, you're not afraid anymore."
Now settled in southern California with his wife and two young children, Youssef, 44, is trying to rekindle his comedy career in the U.S. with a one-man standup performance, which he brings to the Flynn MainStage on Friday night. This will be his first visit to Vermont.
When Youssef called back several hours later for the interview, he sounded exhausted and distracted. His answers were curt and serious, and he seemed disinclined to make jokes.
I cut him a mile of slack. After all, it was raining in LA.
SEVEN DAYS: You're living in LA now. Any similarities to Cairo?
BASSEM YOUSSEF: Traffic and heat. That's it.
SD: Tell me about the show you'll be doing in Burlington.
BY: It's a one-man show. It's a combination of standup and storytelling and theatrics. It's a different concept, and I'm developing it as I go. It's been very well received.
SD: Is it difficult doing comedy in a non-native language, and in a country where you didn't grow up?
BY: Oh, absolutely. I grew up with English as a second language. It was taught in school. Even as my English was getting better, having to do comedy and perform in English is a totally different animal. You have to retrain and rewire your brain. It's not just writing the material and the cultural references. It's also about the pacing, the speed, the delivery.
SD: What's been the most challenging thing to get used to, living and working in the United States?
BY: Basically, trying to reset your career from the beginning. That has been difficult. And I think that's difficult for everybody. Now you're coming in and competing with people who are already here, who grew up here, who do open mics here. So it's not easy at all. And you're trying to carve your own space out of a very competitive space.
SD: Considering what the Egyptian people endured under truly oppressive regimes, do you find Americans' anger about President Donald Trump quaint by comparison?
BY: Well, we can make all sorts of jokes about it. But, joking aside, the reality is, you have the right to be pissed off and angry at Trump, although he is nowhere near [as bad as] the rulers you see in the Middle East.
You have paid for this kind of democracy. I always use the analogy that you have worked all your life to go to a five-star restaurant. And then the food comes out, and it's horrible. You would not be happy if somebody says, "You should be grateful. There are some people in Africa who can't find food." You don't have to be thankful because there's North Korea and Egypt and Syria. No. America is a democracy that you paid for, and you can't take whatever bad governance is handed to you just because there are worse places in the world.
SD: Are you shocked that more Americans aren't protesting in the streets the way people did during the Arab Spring?
BY: The reason more people aren't protesting is that you have mechanisms every two years. You can flip the House, you can flip the Senate, you can flip the presidency every four years. In America, most of the polices are done through local government, not like a very centralized government like Egypt.
SD: Is there anything Americans can learn from the Egyptian experience with authoritarian rulers?
BY: Well, basically, don't vote for the right wing! And, I think, the biggest lesson is: Don't take your democracy for granted, because it can be ruined very easily if you look the other way.
SD: Do you stay in touch with political activists back in Egypt?
BY: Many of them are my friends, and we still speak. And, of course, I am aware of what's happening there because Facebook keeps everyone connected. But I don't really take part.
SD: Is there any resentment from people in Egypt that you moved on?
BY: Yeah, [some people] are like, "We have to deal with this shit alone." But the thing is, nobody helped me when I got my show canceled. Nobody stood [up] for me, other than a few tweets and hashtags. And you cannot just continue fighting alone. And those people who resent you, they resent you because you left, because they cannot leave themselves. There are some people who like to continue living in misery, and they're upset that other people are not living in misery.
Look, I'm married. I have a wife and two kids, and I need to live for them. Me coming here and telling my story is a way to show Americans what it is truly like in the Middle East, [just as I did] when I wrote that book [Revolution for Dummies: Laughing Through the Arab Spring] and when I did that movie [Tickling Giants]. It's the way of the world. It's not like I've given up. I don't believe we can win [in Egypt] with the same tools that were available in 2011. We cannot go down and shout in the streets at the military. You need to be smart about it.
SD: Was no one able to take your place when you left Egypt?
BY: It wasn't because of any lack of talent. The playground itself has basically been washed out. It's very difficult for people to speak up. It's become very dangerous.
SD: What do you miss most about doing "Al-Bernameg"?
BY: I miss the day-to-day life, getting together with my team and creating something new every time. I think it was a blessing: Creating something that entertained people and kept people engaged is very, very important.
SD: You're scheduled to speak at the University of Vermont College of Medicine. What are you going to talk about?
BY: I have no idea! [Laughs] Well, I can speak about my experiences as a doctor, but also I can speak about how I shifted not just to entertainment, but how I [now] look to medicine in a different way, from a nutrition point of view. I'm a vegan and a big advocate for veganism and a whole-food diet. I am very sad that many physicians, including me, don't have training on nutrition. And that's a huge thing.
SD: Do you miss medicine and surgery?
BY: No. It's the honest truth.