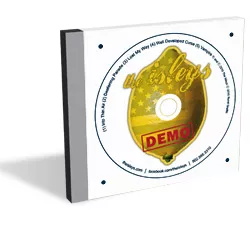 (Self-released, CD)
Waterbury will likely never be known as an indie-rock hot spot. But the sleepy central Vermont hamlet is not completely lacking in skinny-jean cred. With their debut offering, Demo, Waterbury's Isleys deliver a promising, if at times predictable, EP that suggests the more bustling scenes of Burlington and Montpelier haven't cornered the market on the genre.
"Into Thin Air" introduces the EP with a laid-back, arpeggiated guitar line before developing into a sturdy, mid-tempo rocker. Lead vocalist Jeremy Jorgenson proves a capable front man. His reedy tone can be thin and nasal in the upper register, but his impassioned delivery goes a long way toward offsetting any technical flaws.
The Isleys seem as informed by classic indie and alt-rock as by the more anthemic bar-band oeuvre heard in many a local blue-collar watering hole. That's a precarious balancing act. But the band generally walks the line without leaning too far into radio-rock schmaltz. "Deafening Harbor" is a good example. Centered around a fist-pumping chorus, the song boasts a fine mix of challenging composition and arrangement, and pure, visceral rock bombast.
Not all of the Isleys' tunes fare quite so well, however. Acoustic power ballad "Lost My Way" veers a little too close to lighter-waving cock-rock for comfort. Fortunately, the band returns to form on "Well Developed Curse," a scorching cut that features a downright filthy halftime break at the chorus, and melodic themes that owe notable debts to alt-rock greats of the 1980s and '90s, especially the Pixies and Dinosaur Jr.
Of course, a little hero worship goes a long way, and it's all too easy to overindulge. Demo ends on a sour note with a souped-up version of Lou Barlow's "Vampire." The Isleys' reimagine the Sebadoh classic as a radio-rock anthem, stripping away the dark, cold-blooded intensity that made the original great. It's an unfortunate close to an otherwise solid debut. If the Isleys can fine-tune their sound and reconcile their sometimes competing influences, they'll be a welcome addition to the state's vital indie-rock scene.
The Isleys play the Reservoir Restaurant & Tap Room in Waterbury on Saturday, January 22.