Oliver Parini
A plate of Ethiopian food at ¡Duino! (Duende)
"Injera is so funny," says Alganesh Michael. "It has to be the right time, the right mix, the right temperature. When you make it, so many things have to go right." She's talking about the sourdough flatbread that serves as both a base and a utensil for most special Ethiopian meals. A layer goes under spicy stewed meats and veggies to soak up their flavors; then diners tear off small pieces and use them to pick up the food.
Injera is essential to Ethiopian cuisine, but it's a fickle mistress. "Even if you are the best at making it, sometimes it can go wrong," says Mulu Tewelde in a purr that recalls Eartha Kitt. And Vermont's mercurial weather only complicates the process.
Tewelde and Michael have plenty of experience preparing injera in all seasons: They're the forces behind ArtsRiot's Authentic Ethiopian Nights. Once a month, the South Burlington moms, both natives of Ethiopia's neighbor Eritrea, produce close to 100 pounds of injera for their public dinners at the Burlington event space. To make sure they can serve all 200-odd diners, they get help from their friend Atnaf Tadesse. But Michael and Tewelde alone produce the sauces and stews that cover the big platters of bread in the ArtsRiot kitchen.
Chilly Burlington may not seem like the natural place to foster an African food scene, but just below the surface, a revolution is bubbling. Since it opened in 2009, North Winooski Avenue's ¡Duino! (Duende) has hosted a Tuesday night Ethiopian menu. And ArtsRiot has been holding Authentic Ethiopian Nights for nearly a year.
Now, with the September debut of caterer Biyokuri Bidameri, perhaps it's time to call Ethiopian food in the Queen City a trend. Still, with no dedicated restaurant, finding one of these spicy meals takes forethought.
Duino's Tuesday dinners are the granddaddy of Burlington's Ethiopian movement. Owner Lee Anderson recalls that the restaurant's original chef, Richard Witting, wanted to serve ethnic eats he couldn't find in Burlington. Recreating Ethiopia's unique cuisine took extra study. But once Witting was comfortable fermenting injera batter and slow-cooking the chicken stew called doro wat, crowds quickly found the dinners.
"People were really excited — there was a void, for sure," recalls Anderson. "Word spread pretty quick about it, and it became pretty popular off the bat."
Witting left his full-time job at Duino in 2010, but he continued to prepare the idiosyncratic Ethiopian fare there until 2012, when he turned those duties over to the restaurant's current sous-chef, James Owens.
Duino's Ethiopian menu has changed little since the early days, but a recent visit revealed that the flavors have aged nicely. The $15 Sheba plate is a little bit of everything served on a mild injera base. The doro wat is still a fixture, but spicier than it once was. Homemade farmer's cheese and an exceptionally crisp, piquant sambusa have joined basics such as a pair of lentil stews and braised cabbage. Anderson says that dinners usually sell out, and what the spice-seeking public doesn't consume is combined and served on Wednesday as "Ethiopian stew."
Burlington added its second Ethiopian food option early this year. When ArtsRiot debuted its now-defunct Kitchen Collective, Michael's friend Joan Shannon suggested that Michael and Tewelde try their hand at a pop-up restaurant. Both women are busy, with two kids apiece. Tewelde also has a day job as a nurse's aid, while former nurse Michael holds multiple volunteer positions. At least to start, they agreed, they wouldn't commit to more than one day a month.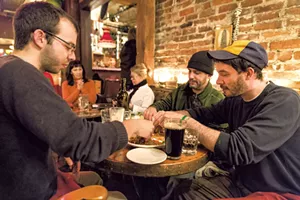 Oliver Parini
Diners at ¡Duino! (Duende)
Despite little advertising, the women's first dinner, served on February 16, attracted about 200 diners. "At some times, it was crazy in the kitchen," Michael remembers of the first few dinners. "It was unbearable at some points."
ArtsRiot's management has adopted a policy of keeping both its rooms open to accommodate the crowd. Taking reservations has made life easier for both the cooks and guests. Now Michael and Tewelde know to bring all 100 pounds of injera from their home to ArtsRiot so they don't run out.
But the long waits and low inventory of the early days didn't deter diners. One look at the women's sought-after dishes shows why.
Five dishes go into the veggie lovers' combo, with two different lentil stews as the meal's backbone. Duino offers a similar combination, but while that restaurant's lentils have a thick, Play-Doh-like texture, Michael and Tewelde's are moist and meaty. Their yellow yemesser alicha is curry-flavored, while the yemesser wat gets its dose of spice and darker color from the Ethiopian holy grail of spice mixes, berbere.
The two women's meat dishes include the standard doro wat, a berbere-braised beef known as yesiga wat and mild chunks of juicy, marinated lamb called yebeg tibbs.
Parties share meals on silver platters lined with terry-cloth-textured injera that has the bite of a San Francisco sourdough. Each diner gets a small plate of two rolled pieces of injera on the side. More can be purchased for an additional $2.
The dinners themselves may sound pricy at $16 to $20 per person, but even resolute trenchermen will have leftovers to take home.
Tewelde has previous catering experience, which shows in the meals' expert preparation. She moved with her husband to the Burlington area in 2006 and met Michael at a viewing party the latter hosted for that year's World Cup. Michael had lived in Vermont since 2000. The women are not the only Eritreans in the area, and there's also a small Ethiopian population, they note. But their mutual love of cooking quickly bonded them.
During the holidays, Michael and Tewelde spend marathon time in the kitchen together preparing meals for their Habesha (Abyssinian) community. Right now they're already discussing plans for Habesha Christmas, which occurs two weeks after the Western holiday.
A guest at one such festive event, Burlington native Will Hurd, was the impetus behind Tewelde's catering business. And now Hurd's wife, Mursi tribeswoman Biyokuri Bidameri, is starting one of her own.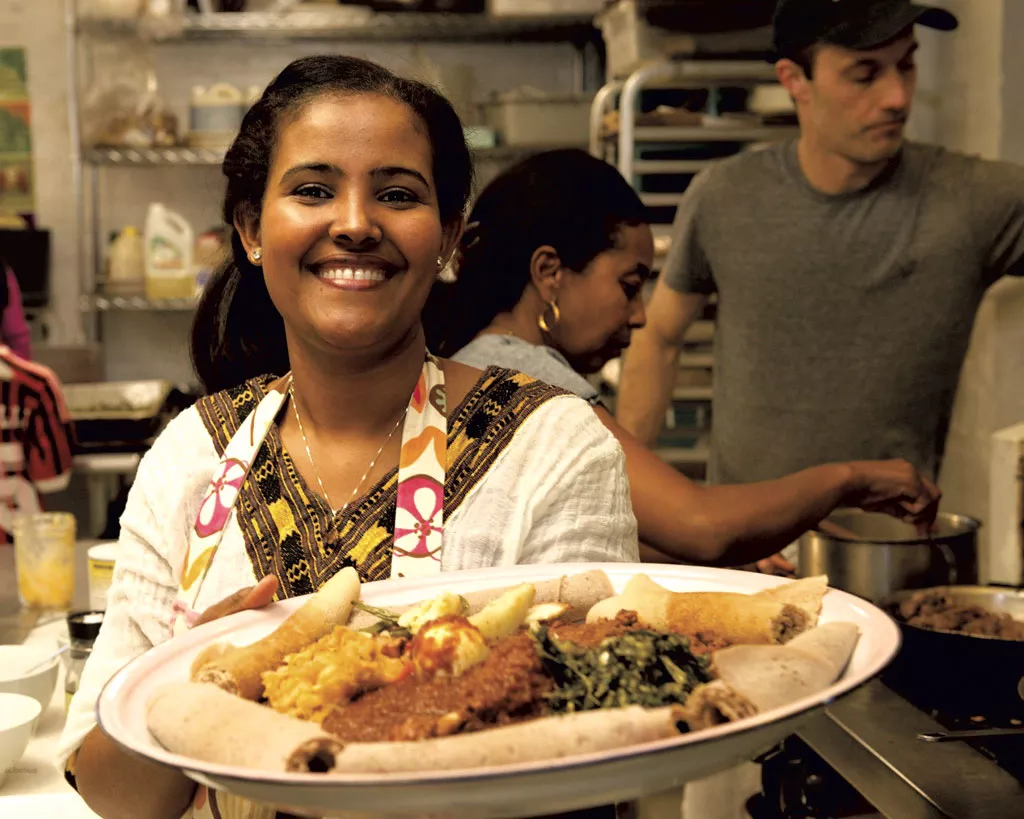 Courtesy Of Authentic Ethiopian Nights
Mulu Tewelde
A longtime activist, Hurd first journeyed to Ethiopia in 2000 and became deeply entrenched in the cause of the Mursi people. Back home in the States, he sought out people with whom he could practice his Amharic and remain involved in Ethiopian culture. After trying Tewelde's cooking for the first time in 2007, Hurd asked her to cater a party for him.
"I did it accidentally. I didn't plan it or organize things," Tewelde remembers. But Hurd was so impressed with the results that he asked for Tewelde's phone number to pass to other friends.
From there, a business was born. Tewelde and Michael now use the ArtsRiot kitchen to cater parties, juggling their two schedules to prepare their delicacies for special events.
Hurd has remained committed to Ethiopian affairs; he's now the executive director of Cool Ground, a nonprofit dedicated to protecting that nation's Omo Valley from development. Last year another talented chef joined the local scene when Hurd married Bidameri; she began a monthly series of dinners at Burlington's Psychedelicatessen late last summer.
Bidameri's native pastoralist cuisine doesn't have much in common with Michael and Tewelde's food. "It was different. Our food is porridge, milk, yogurt," she explains in faltering English, which she's studying at South Burlington High School.
Hurd, 37, isn't certain how old his wife is, since the Mursi don't measure years the way Westerners do. Her passport says she's 22. While the couple is married in the States, Hurd still owes Bidameri's father several head of cattle to fulfill her dowry of 38 cows before her family will recognize their marriage.
Based in the threatened Omo Valley, the Mursi don't rely entirely on dairy; they also drink sorghum beer and eat a great deal of meat, including buffalo, kudu, hartebeest and hippopotamus, says Hurd. When a man is out with his cattle, he may sustain himself by piercing a vein in a cow's neck and drinking the blood like a man-size mosquito. "It's very acidic. It tastes good, but it coagulates quickly," Hurd says.
When Bidameri first met Hurd, she was a child, she says, and she thought he was a "hyena." But travel in her homeland broadened her experience. When she was an adolescent, Bidameri's progressive father chose not only to refrain from giving his daughter a traditional lip plate but also to send her to the capital, Addis Ababa, for a grade school education. The big city posed a steep learning curve, but Bidameri developed a close relationship with the maid at her residence, who taught her to cook what she calls "city food."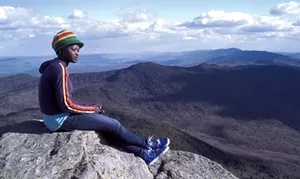 Courtesy Of Will Hurd
Biyokuri Bidameri
Now in an even more foreign land, Bidameri is beginning to make a name for herself with that style of cooking. She's currently taking a break from dinners at Psychedelicatessen to focus on her studies and private catering. But we tasted her cuisine at a recent dinner at the home of Hurd's mother, where Bidameri currently resides.
Guests at the meal each put in $15 for a family-style feast. Lacking the clay griddle required for making traditional injera, Bidameri purchased the bread from a friend in Williston. The exceptionally fluffy pancake pinched the palate with acid. A chubby loaf of moist, yeasted bread, another Ethiopian recipe, served as sweet contrast.
Paired with the powerful tang of the injera, everything tasted super-size. Compared with Michael and Tewelde's dishes, Bidameri's stews and salads were more rustic — less polished in appearance but boasting big flavor. Berbere dominated a dark-brown doro wat that pulled apart into strands of tender meat. The spice also bloomed in Bidameri's lentils and a bright-yellow stew of potato and squash. In the center of the injera-lined plate, a fresh salad of raw tomato, onion and jalapeño refreshed like an Ethiopian pico de gallo.
Many of the assembled guests discussed the possibility of hiring Bidameri for parties of their own. She says she hopes to fill the coming weeks with cooking for office parties and private events — perhaps leaving time to prepare a meal for her own friends.
One thing is for sure: While Burlington still has no Ethiopian restaurant, diners craving authentic tastes of injera, and more, will find them this winter without leaving the Queen City.
INFO
Authentic Ethiopian Nights, served monthly at ArtsRiot in Burlington; the next event is in January. Call 324-3300 for information, or follow BTVethiopian on Facebook, or @BTVethiopian on Twitter.
¡Duino! (Duende) serves Ethiopian meals every Tuesday evening at 10 North Winooski Avenue in Burlington, 660-9346.
Biyokuri Bidameri can be contacted at biyokuri@gmail.com.
The original print version of this article was headlined "The In-jera Crowd"