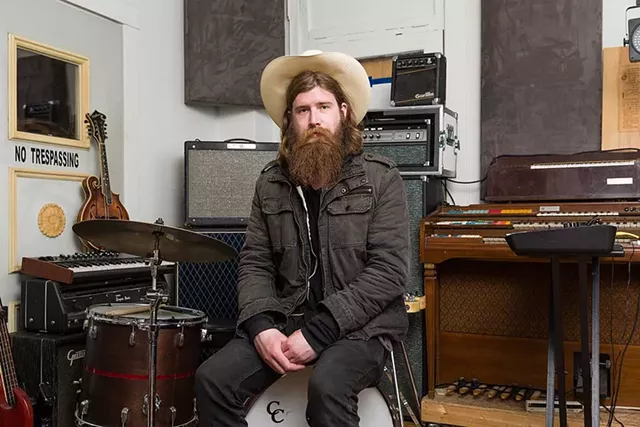 Oliver Parini
Jer Coon at his studio in Burlington
The Burlington music scene has an ebb and flow. It's cyclical, marked by vibrant high points among periods of relative quiet. The early 1980s was one such fertile era, thanks to bands such as Pinhead and the Decentz. The Phish boom of the late '80s was another, as was the mid-1990s alt-rock scene that orbited the late, great Club Toast. And there have many other similarly exciting peaks throughout the years.
Today, Burlington is approaching yet another scene crest. The past few years have brought an explosion of talent in and around the Queen City, resulting in some of the finest music ever to claim Vermont roots. To wit: In 2014, twangy badass Caroline Rose broke out on the national stage with her widely acclaimed record I Will Not Be Afraid. In 2015, Maryse Smith produced one of the most beautifully affecting local albums in recent memory: her collaboration with Michael Chorney, The Way It Is. Building on the strength of their own 2015 record, The Dance, pop phenoms Madaila seem poised to join Rose as Vermont's next breakout stars.

Those three records might not appear to have much in common, aside from being made in Vermont. But dig beneath the surface, and you'll notice a thread that ties them, and an increasing number of other local albums, together. His name is Jer Coons.
Middlebury native Coons, 27, is a founding member and bass player of Madaila. It's not quite accurate to say he discovered Rose. But she'll be the first to tell you that he played a crucial role in helping others discover her.
Coons didn't discover Smith, either, nor did he have a direct hand in producing her latest gem. But that album was released on the local label Future Fields, which Coons runs with his Madaila bandmates Eric Maier and Willoughby Morse.
When it comes to the local music scene, Coons is the human equivalent of the image in a Magic Eye poster. You might not see him at first. But once you do, you can't unsee him.
Start looking at the liner notes for several other great recent local records, and you'll find Coons credited as a sideman, engineer or producer — sometimes all three. For example, take the Precepts' 2014 album This Is How It Must Be, a collaboration of Coons, Maier and local rapper Learic. Or County Tracks, the 2015 solo record from Waylon Speed front man and guitarist Kelly Ravin, engineered by Coons, Maier and Morse. That trio will also figure prominently on Ravin's next record, due out later this year. Coons and Maier were instrumental in engineering Gratified Existence, the recently released live band record from local hip-hop stars the Lynguistic Civilians. And the list goes on.

In his 2000 book The Tipping Point: How Little Things Can Make a Big Difference, Malcolm Gladwell explored the phenomenon of phenomena — big ones, that is — and how they come to be. "The success of any kind of social epidemic is heavily dependent on the involvement of people with a particular and rare set of social gifts," he writes.
Three types of people play critical roles in social trends, Gladwell explains: connectors, mavens and salesmen. Connectors serve as a sort of human networking hub, "a handful of people with a truly extraordinary knack [for] making friends and acquaintances." Mavens are "information brokers," people who accumulate and share knowledge. Gladwell describes salesmen as "persuaders," people who are so good at negotiation that they don't just convince others to share their way of thinking, they make others want to agree.
Looking at the current music boom in Burlington as a social trend, Coons can be seen as connector, maven and salesman all rolled into one.
Sure, his is not the biggest name in local music. Coons is not a front man or even a lead guitarist — though he's capable of being either. He seems to prefer leaving the spotlight to others, while his contributions are more often heard than seen. Coons is not a "star" in the traditional sense of the word — though he almost was one.
Oliver Parini
Coons at peak teen idol, 2010
Not that long ago, if you asked someone in the know which Vermont songwriter was most likely to break out nationally, Coons would have been on the short list. For two or three years in the late aughts, few local acts could match his touring schedule. And he was almost certainly the only Vermonter whose music was in regular rotation at the national clothing chain Hollister.
Coons was an acoustic-pop troubadour and teen heartthrob cut from a cloth similar to that of cheese merchants John Mayer, Jason Mraz and Howie Day. He was blessed with a sweet and expressive voice that politely melted hearts from Maine to Montana and beyond.
And he had the classic matinée-idol looks to match. Coons is tall, lean and handsome. Back in the day, he sported a tousled mop of hair that framed high cheekbones, bright eyes and an easy, boyish smile. If you know him only as the wolfman-like bassist from Madaila, or if you've seen him around town clad in his current uniform of tattered black, you may have a hard time believing he's the same guy.
Coons' 2008 solo record, Speak, says all you need to know about that period of his life. It was an impressive debut, littered with the kind of breezy, winsome, hyper-melodic fare that wouldn't seem out of place in an earnest TV commercial. And on the cover, a very young Jer holds an acoustic guitar and gazes into the distance, a goofy aw-shucks grin on his face.
"It was straight-down-the-middle pop songwriting stuff," says Coons about that record now. We're talking over coffee at Muddy Waters, just a few doors down from his and Maier's studio on Main Street in Burlington.

Coons recorded Speak in Rhode Island with engineer Mike Poorman, formerly a co-owner of Strangeways Recording in Burlington (which occupied the space that is now studio/venue Signal Kitchen). Initially, Coons says, labels didn't quite know what to do with his album. Though undeniably catchy and saccharine, his music was also subtly quirky and funny — qualities that have remained intact in his later output with the Precepts, Madaila and others.
Eventually, a scout from the Canadian jukebox company TouchTunes — you've seen their machines in bars and retail stores — heard Coons and signed him. That led to his music being played in trendy clothing stores — which, in a sign of the times, led to increased Myspace traffic, which in turn led to several tours around the U.S.
"I was, like, 19, 20," says Coons. "I had my 21st birthday at a show in Chicago. It was a crazy time."
Also in 2008, Coons had a chance encounter that would change the course of his life. Just before a show at Wesleyan University, he was told he had an opening act.
"I was a cocky bastard and just assumed she would suck," he recalls.
That opener was Caroline Rose. Coons is the first to admit she blew him off the stage.
"Two seconds into her first song, I was like, 'Fuuuck,'" he says.
The next day, Rose emailed Coons.
"She said, 'I thought you were gonna suck, but you were awesome,'" recalls Coons, chuckling.
The two continued corresponding through email but didn't see each other again for close to a year. In 2009, Rose landed in Burlington for a class at the University of Vermont. She soon withdrew from the class but never told the housing department, and she stayed in her dorm room for the semester. Meanwhile, she and Coons began working on demos that would lead to her 2013 debut, America Religious.

Coons had a long-standing interest in producing — he'd started using the music-production software ProTools as a teenager growing up in Middlebury. His work with Rose coincided with a personal sea change as he grappled with what, exactly, he wanted out of a career in music.
"People see a lot of glitter in the music industry," says Rose by phone. "But there's an ugly side, too, the farther you climb. That started to wear on Jer."
"I was playing for screaming teenage girls and started asking myself if this was really what I wanted to be doing," Coons says. "I started to get sick of myself. I wasn't interested in what I had to say."
To paraphrase: Coons decided the world didn't really need another dude with an acoustic guitar crooning love songs, so he quit and started growing a beard. Cultivating Rose was satisfying his creative streak, he found, and he wanted to pursue that.
"I'm really fascinated with the intersection of art and technology," he says. "I love taking an intangible idea and making it real."
Working with Rose also laid the foundation for Coons' unconventional approach to producing. As they mixed America Religious, he and Rose would pack up gear and drive to scenic locations in Vermont, using his Honda Element as a mobile studio.
"I remember one day we drove out to the [Colchester] Causeway and sat in the back of the car with the doors open, mixing and editing," he says. "We'd take breaks and go swimming."
Coons and Rose toured that record extensively and soon began work on the follow-up, I Will Not Be Afraid. That album introduced Rose to national audiences, leading to bigger and more extensive touring. Coons continued touring with Rose, serving as a versatile sideman who played everything from drums to lap steel guitar to mandolin. Leaning on his own experiences and a stint studying music business at Manhattanville College, he also helped Rose navigate the pitfalls of the industry.
"Caroline always said she didn't want to make a living playing music," says Coons. "But I decided that was a disservice to the world."
The world agreed. By most accounts, Rose is now on the cusp of stardom. Yet, rather than tagging along as one might expect, Coons has stepped aside to focus on other projects. His work with Rose, he suggests, is done.
"I just wanted the world to hear her music," says Coons. "Because it validates to me that I'm not crazy." He pauses, then adds, "Well, I'm crazy in lots of other ways. But on this one thing I was right."
Coons is very often right. Rose may be the best example, but there are many others. Ben Donovan, for instance.
A couple of years ago, Coons caught Donovan busking on the Church Street Marketplace. He stopped to chat with the country songwriter and invited him to beers at Finnigan's Pub on College Street, where Coons suggested they make a record together.
"At that point we were really just a bar band," says Donovan by phone from Pittsburgh, where he now lives. "We had never really thought about recording."
Coons and Donovan holed up in the studio with Donovan's backing band, the Congregation. They tracked 20 songs in 36 hours, fueled by beer and cigarettes.
The resulting record, Reverend Ben Donovan & the Congregation, was a sterling collection of classically styled country, not unlike the recent output of Sturgill Simpson or Chris Stapleton. Donovan resembles those artists in the modern edge to his tunes, too. The record's strongest cut, "If There's DJs in Heaven," is a sarcastic rebuke to the increasingly pervasive DJ culture. It includes this searing line: "If there's DJs in heaven, I don't wanna go / I'll take Satan's breath over goin' deaf because of some hipster with a MacBook Pro."
Donovan recalls playing that song at Burlington's Red Square one night before the recording sessions. It was close to 10 p.m., right when the Church Street bar transforms from a live music venue to a dance club. As the night's DJ set up in the nearby booth, Coons stood by the bar, laughing hysterically.
"He told me it was his new favorite song," says Donovan.
"Jer has a great ear for talent," says Maier, who grew up with Coons and Madaila's Mark Daly in Middlebury. "He also works really, really hard. And he just has a knack for putting himself in the right situations."
Those situations include Future Fields and Madaila. In both of those realms, Maier and Coons are a dynamic team, if something of an odd couple.
"I'm pretty reckless and adventurous. And he's very methodical and organized," says Coons of their producing and writing collaborations. "I'll get excited and want to add all sorts of crazy delay or something. And he'll be like, 'What about 30 percent less?' And he always hits the sweet spot, which applies in most aspects of our lives."
John James
Coons performing with Madaila at the Champlain Valley Exposition last Friday
Indeed, Future Fields and Madaila are both finding sweet spots in the market at present — a success for which Maier deserves as much credit as Coons. Future Fields has become one of the area's go-to recording shops and labels. Its reputation should only increase with the volume and variety of releases due to emerge from the studio in coming months — from rap to rock to jam to folk. And Madaila, already among Burlington's elite bands, are primed for even greater success with the release of their sophomore record this summer, to be followed by a lengthy tour.
Coons' circuitous path to a unique form of low-key success doesn't surprise those who've known him the longest. The Grift's Peter Day, for instance, who gave a teenage Coons his first shot onstage when Day and bandmate Clint Bierman ran an open mic at a Middlebury restaurant. (Coons played "Tribute," by Jack Black's musical-comedy duo Tenacious D.)
"At every stage, what has consistently struck me about Jer is his ear — for what works, for hooks, for what's just effing hilarious," writes Day in a recent email. "And his passion, bordering on obsession, with improving, with stepping up his game."
Day and Bierman played on Coons' debut record, and the Grift often served as his live backing band. So Day has had a unique window on Coons' evolution.
"He is always reading and learning, trying new shit out and getting better, learning a new instrument and taking risks and finding cool sounds or new musical ideas," Day continues. "And those attributes makes for a mightily musical combination."
Coons is more direct when summarizing his approach to his myriad musical interests — which are likely to include a new solo effort before too long.
"I just love making records," Coons says. "Because that word is exactly what it is — a record. You're making a document, capturing a moment."
Then, with that still-boyish grin widening beneath his frock of beard, he adds, "I guess my overriding philosophy is this: Don't fuck it up."