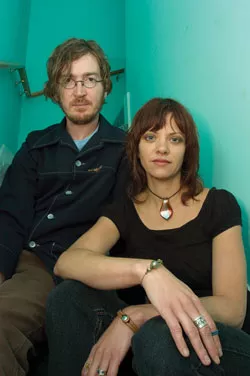 Matthew Thorsen
The Cush
There's been a noticeable void in the Burlington music scene for the last six months or so, as Gabrielle and Burette Douglas of psychedelic rockers The Cush retreated to the sunny climes of their home state of Texas for the winter. These particular snowbirds have long been one of the area's most revered acts, so their return is welcome after yet another long, cold, eerily quiet Vermont winter.
Seven Days recently caught up with the husband-and-wife duo at Muddy Waters Café in Burlington in advance of their homecoming gig this Thursday at Higher Ground. What follows is an excerpt of that conversation. A full transcription can be found online at Seven Days music blog Solid State.
SEVEN DAYS: You guys were doing a lot of recording in Texas, so when can we expect the new album?
BURETTE DOUGLAS: We don't know. If we get set up here [Burlington] in time . . . it just depends on how much we get done. If we get enough done, it might be a full record. Or we might do an EP and hold on to the rest.
We have a residency tour next month; we're doing every Tuesday at Pete's Candy Store in New York City and every Wednesday at The Fire in Philadelphia. And we have some fill-in dates in between.
So, we're gonna do that next month and then . . . concentrate on [the recording] and have something by the fall. We have about 30 minutes of music right now.
SD: What's the lineup nowadays?
GABRIELLE DOUGLAS: Our friend Cody Lee is playing drums with us. He's from Texas. He played in our old band for about seven years and went over to England with us. It's been going great. It's a three-piece so far.
BD: The band's been morphing for the last few years, it seems like. But it's always like that.
SD: That must have quite an effect on your music.
BD: A little bit, you know. At first we were real worried about it. We used to be a five-piece. And then we were a four-piece with keyboards and stuff. The biggest thing was playing as a three-piece without the keyboard parts.
The first time we did it, it was for people who had seen us, like, a million times and they were, like, "Oh, man, the three-piece is my favorite." So that was reassuring.
GB: Especially in Dallas-Fort Worth, our friends there have been with us through so many different phases and they were, like, "With the three-piece there's nothing missing. It sounds just as full." Any time you have more members and then break it down, it pushes you in a creative way to figure out how you can play the melody that might be missing.
BD: It puts the songs across in their most basic form. Which is good. You can definitely hear the singing better. We're trying to concentrate a little bit more on creating sounds with harmonies.SD: So, are the recordings in that stripped-down kind of vein?
BD: A little bit. While we were there [Texas], we recorded drum tracks and they had a piano. So anything we wanted piano on . . . right now it's kind of piano heavy.
We have other songs that we'd never recorded with The Cush that we're going to do up here. We'd like to record Steve [Hadeka] on some stuff because he's never been on one of our records, and he was with us for a couple of years.
I don't think it'll be "stripped down." I don't know, there'll probably be some stuff that'll still be —
GD: It'll still have all the ear candy.
SD: How does the scene in Dallas-Fort Worth differ from Burlington?
GD: Well, one thing is that everything is really big there. We came from Dallas, and there was definitely a big music scene there, at the time. But it's real spread out.
Here, you'll walk down the street and you'll be, like, "Oh, I saw that guy playing at the Radio Bean last night." You kind of know who does what and it's a small enough place where you could go up to someone and say, "Hey, do you want come over and do some recording?" It's really cool.
There, not really so much. It's more clique-ish.
BD: There's not a community there, like there is here, the overall support. You have that in cliques and certain groups. But it's such a big place, it's hard for people to come together.