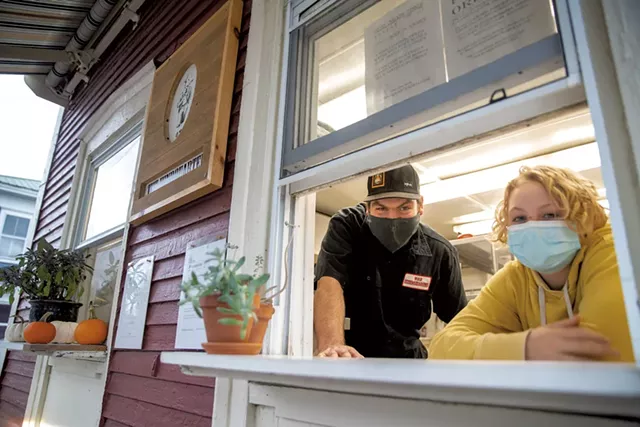 James Buck
Luke and Everly Stone at the Hindquarter
The first time I drove to the Hindquarter in Huntington to pick up the shop's weekly Wednesday pop-up dinner, the menu was smoked chicken, mac and cheese, and a crunchy, lightly pickled fall salad.
I pulled in to find that the customer ahead of me at the outdoor window was the very farmer who'd raised the chicken I would soon eat — Beth Whiting of Maple Wind Farm in Richmond.
There couldn't have been a better illustration of how closely linked the Hindquarter is to the source of its meat, which chef and co-owner Luke Stone buys exclusively from Vermont farms, mostly as whole animals.
The Hindquarter opened in mid-June at Beaudry's Store, a fixture in Huntington. Besides serving the pop-up takeout dinners, it's a sandwich and butcher shop and just wound down a series of weekly outdoor pizza nights.
Stone, who co-owns the Hindquarter with his wife, Braeden, leases space from the store for what he calls their "COVID business." The couple lives with their three children in Huntington. Before opening the pandemic version of the Hindquarter, they operated a catering business of the same name specializing in wood grilling.
I love a good bowl of chili mac from a Vermont country store as much as the next person, but meals from the Hindquarter are a different thing altogether.
Since that smoked-chicken dinner night, I have driven the scenic 30-mile round trip to Huntington on two more occasions, once for Vietnamese-style beef-and-carrot stew over rice noodles and once for beef empanadas with roasted sweet potatoes, rice and beans. At $15 to $25 for a generous adult-size serving, each meal delivered its value, both in flavor and in support of local meat and vegetable farmers.
James Buck
Beef empanadas
The smoked chicken was moist and spicy-skinned, thanks to an espresso-chile pepper rub. Luke Stone's macaroni and cheese balanced cozy familiarity with sophisticated flavors that came, he later informed me, from a blend of cheeses including curds and Gruyère. The crunchy salad of cauliflower florets, peppers and thinly sliced carrots provided a fresh, acidic counterpoint.
Vietnamese bo kho, the beef stew, was rich with aromatics such as star anise, lemongrass and ginger, its housemade stock base deepened with both fish and soy sauces. The beef itself was fall-apart tender, while the carrots retained some resistance to the tooth.
Each order of empanadas starred three plump pastry half-moons encasing spiced ground beef and golden raisins. The beans were flecked with morsels of ham, and the sweet potato slices were caramelized almost black, reminiscent of the plantains that might accompany empanadas in their region of origin. I'm pretty sure I would happily eat a boiled shoe if it were slathered with the bright, herby green sauce that came with the meal.
The Hindquarter originated from Stone's previous job as executive chef at Cloud 9 Caterers in Colchester. He and Cloud 9 owner Sarah Moran started the Hindquarter as a food truck in 2013; in 2016, they retired the truck and devoted the business to wood-grilled catering.
Stone, 40, bought Moran's share of the Hindquarter in 2018 and went out on his own in partnership with his wife, leveraging the experience he had amassed over years of working at Cloud 9 and other local kitchens. Those eateries include Burlington's Penny Cluse Café and two late lamented restaurants: Smokejacks in Burlington and Christophe's on the Green in Vergennes.
When COVID-19 hit, the Hindquarter was almost fully booked for the 2020 wedding season; from Memorial Day to Christmas, the business would have catered 50 to 60 events all over the state, Stone said.
"We had our normal load of two to three a weekend," he said. "Then they just started to disappear."
In May, Stone drove down to South Carolina to pick up a mobile bread oven that his dad, also a chef and baker, was no longer using. "I have five main employees I wanted to try to keep," he said.
The team used the oven to do pizza nights in Lincoln and at Beaudry's. "Then, the deli that was leasing the space there left," Stone said of Beaudry's. "I'd always had a butcher shop on my mind, but as a retirement project."
Not knowing when their catering business would return, the Stones decided to take a leap. They gutted the old deli and opened it anew with a rotating menu of sandwiches, a butcher case, and weekly pizza nights and meals to-go.
Although the couple initially called their new version of the Hindquarter a deli, "That's a little misleading. We don't sell pounds of sliced ham," Stone acknowledged. "That's an offshoot of trying to open a business in three weeks."
During the summer, he said, "We were scooping ice cream, started the Wednesday night dinners and did pizzas on Friday — anything to make money." Though the Hindquarter's catering business has crept back, Stone noted, events are far smaller these days.
James Buck
Roasted sweet potatoes with poblanos, crème fraîche, pumpkin seeds, cilantro, rice and beans
Now that the season for cooking pizza outside is over, the Stones will start serving pop-up dinners twice weekly, on Wednesdays and Fridays. In addition, they'll offer a limited number of fried chicken dinners most Sundays.
The dinners not only generate business but complement the sandwich menu and the butcher case from a meat-utility perspective, Stone said. Those three outlets give him opportunities to use every part of the animal — a challenge that he relishes, knowing that it also helps the farmers.
"The dinners kind of complete the circle," he said.
For the Vietnamese beef stew, for example, Stone turned beef shanks and knuckles — the kind of cuts that most home cooks find a hard sell — into tender, braised morsels. The beef empanadas used up extra chuck from the under blade that Stone might otherwise blend into his fresh-ground burger.
Earlier this summer, he marinated pork shoulder with cilantro, chiles and ginger and roasted it for Korean-style lettuce wraps. This week, Stone's moving into fall with smoked and chopped shoulder served with housemade bratwurst, sauerkraut and potatoes.
It appears I will make the drive to Huntington a few more times.