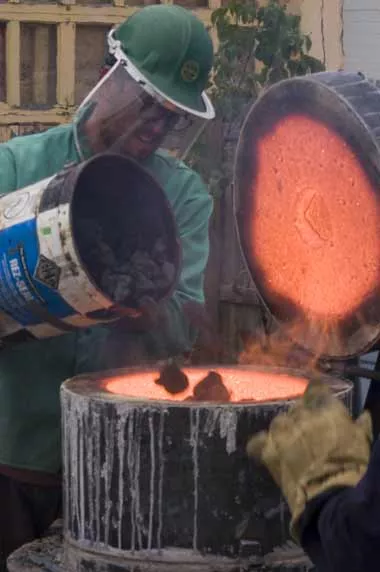 Artists strike while the iron is hot
It's barely noon on Saturday, and already temperatures have reached record heights in the parking lot at Pine Street Studios in Burlington. It's the sort of heat that pops thermometers and, according to Elijah Sproles, would make a pack of matches spontaneously combust in your pocket. In degrees Fahrenheit, you're talking easily over 2000. That's about what it takes to melt iron, and that's what today is all about: an iron pour that's the culmination of a weeklong iron-casting workshop.
This is the second year the workshop has taken over Pine Street Studios. Organized by Burlington artist John "Yolk" Marius, the workshop was originally intended to aide Sproles during a difficult period, personally and artistically. Around this time last year, Sproles, a New Orleans resident, was still reeling from the devastation caused by Hurricane Katrina: In that disaster, flooding destroyed his shop. The two artists had met previously at a Minnesota sculpture park. When Marius heard what had happened, he reached out to help by letting Sproles do what he does best. Thus the workshop was conceived, and arrangements were made to get Sproles to Vermont to teach it.
Now, despite his own warning, Sproles stands poised over the heat's source, a makeshift furnace positioned on one side of the lot. He wears a face shield reminiscent of riot gear and holds a sharp metal poker about as long as his arm. The furnace is a short, stout metal cylinder; except for the flames shooting from the top, it looks like a keg with a waterslide-like spout branching off its base. The spout is plugged with a lump of clay and sand called a bott. That's Sproles' target.
He takes aim and stabs the poker home. Molten iron comes gushing down the chute into a metal bucket, or ladle, which is held by two intrepid workshop participants. The molten metal is so hot that it glows a brilliant, Nickelodeon-orange shade. On the other side of the lot, an eager audience of about 20 crowds behind a line of bright-pink caution tape trying to get a good view, exclaiming with oohs and aahs. As soon as the ladle is full, Sproles uses a different poker, this one topped with a fresh bott, and plugs the spout like he's serving an underhand pitch.
The students carry the ladle to a nearby line of cone-topped boxes that resembles a chain of science-fair volcanoes. These are the casting molds that the workshop participants spent a week creating for today's pour, when their imagined forms will become hard iron. Sproles guides the ladle's carriers, offering suggestions and encouragement. "Good pour, good pour!" he says, as the contents of the ladle are tipped until each cone is brimming. The process is repeated many times over the next four hours, as more iron is melted to fill the dozen completed molds waiting inside the shop.
Between pours, teacher and students chat and swig lots of water. Sproles takes time to talk about the welcome he received when he made his first trek to Burlington last year. "People here were so understanding. What I found most amazing was the sense of awareness," he says. "There were other places I'd visit where people just didn't have any idea." Hard to believe anyone in America could not be aware of the extent of destruction in New Orleans.
Sproles returned because of his positive experience in Vermont. Many of the participants have come back, too - there are 18 in all, with just a few first-timers. The bond the students have forged seems as ironclad as their sculptures, as they joke around and bet post-pour pints on which molds will leak.
********
All week, Sproles has put the power of creation directly in the hands of participants. Imagination and time were the only constraints on creating their molds, and it's clearly important to Sproles that their visions take shape when all is said and poured. As they wait their turn to hold the ladle, the students enthusiastically describe to onlookers what lies beneath the mostly drab exterior of their molds. Not so dull, though, is the one bearing the logo "Pour free or die."
Some participants have taken material directly from the garden, making casts of garlic bulbs or ears of corn, while others chose objects for their interesting textures, such as Marius' corduroy hat, or the glass beer jug sand-blasted with the Magic Hat logo. Artist Sara Nesson married novelty and texture by picking up a red snapper at Price Chopper for one of her molds. And a few brave souls ventured into riskier territory by creating original works of art for casting. Burlington artist Diane Gabriel made one with a political message. "I'm making a black heart for our president," she explains.
One thing that elevates this workshop above the mundane, according to Sproles, is the freedom he allows participants to follow their artistic inclinations. "If you went into a regular foundry with some of these things, they'd look at you like you were crazy," he suggests.
Another reason for Sproles' popularity in Burlington could be his tendency to use recycled materials - a match for Vermont's green consciousness. The piles of iron flakes waiting to be melted actually came from old radiators, which workshop participants pulverized with sledgehammers. The great thing about iron, Sproles explains, is that it can withstand repeated shaping. "It's interesting to think that [the radiators] might have been anything before," he says. "Maybe it was a Soviet tank, and they busted it down to make a radiator. That sat in a person's house for 50 years until they switched to a different form of heat. Now, we're breaking it down and making art out of it."
As 5 o'clock rolls around, and the last of the iron is tapped and poured, the remaining audience begins to depart. David Frey of Montpelier, who's only 8, has just witnessed his second iron pour. He notes some improvements over last year's: "It seemed better organized," David opines as he and his father head home.
But while the day is over for the sightseers, the best part is yet to come for those who have toiled all week. Most of the molds are ready to open after only an hour, so the artists arm themselves with pick-axes, power drills, chisels and beer, and set to work excavating their creations. "It's like Christmas!" one participant shouts over the noise.
"No, it's better than Christmas," clarifies another, "because you're getting exactly what you want."