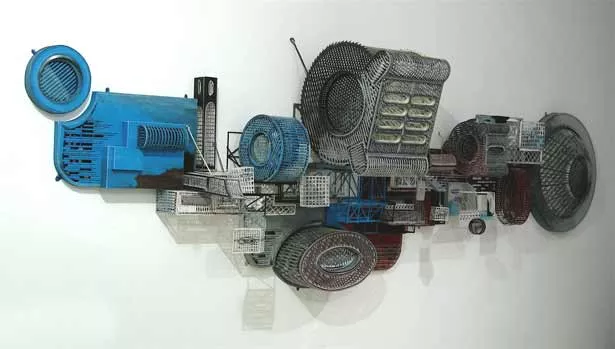 Curator Evelyn Hankins uses the word "painterly" to describe the 14 selected works in the new fall exhibition at the University of Vermont's Fleming Museum. But a stroll through "Material Pursuits" won't turn up a single canvas.
The show, which is on view through December 14, thrives on that very contradiction. In one sense, its contributors are all sophisticated artistes - many of them live in New York City and show at highbrow galleries around the country. But despite their impressive visual-art cred, these artists are working in humble mediums, including thread, embroidery and the polymer clay called Sculpey.
The result is a whimsical show that packs a surprisingly hard cultural punch.
On a recent morning, Hankins, 39, meets a reporter in the lobby of the Fleming. Before entering the exhibition's main gallery, she pauses in the museum's Marble Court to explain why all the ornate balconies have been covered in yarn, tulle, nautical towline and shoelaces: It's an installation by the Brooklyn-based artist Sheila Pepe. Titled "Silk Purse," Pepe's is one of three commissioned site-specific installations for "Material Pursuits"; another is a group of surreal, jumbo-sized crocheted sleeves that hug several trees on the north lawn. The latter, which could be leggings for a Cyclops, were stitched by Tunbridge resident Alisa Dworsky.
It's funny to hear Hankins, dressed in art-chic black, talk about Pepe's stringy affair as if it were a Cézanne. "What's really interesting [about this piece] is it has this everyday, common sensibility," she observes. "And to do that in a neoclassical setting is . . ." Hankins trails off, then adds, "It says, 'Let's transform this space.'"
Strolling into the gallery proper, Hankins cautions that the creations in this show shouldn't be confused with average "arts and crafts." Rather, she chose pieces with strong "conceptual underpinnings." In 2005, the curator took a similar approach with her exhibit "New Turf" - a collection of conceptually innovative representations of landscape. By spotlighting familiar terms such as "craft" and "landscape," she attempts to attract Vermonters who might not go out of their way to look at contemporary art. But she's not talking down to her audience, Hankins notes. "I'm really conscious of the fact that bringing contemporary art to Vermont doesn't make sense."
True to her intent, the pieces in "Material Pursuits" embody both folksiness and intellectual rigor. Jane South's "Untitled (Paralleling)," for example, is a three-dimensional labyrinth of paper-and-balsa-wood cages, spokes and machine gears. It's as if Charlie Chaplin's seminal film, Modern Times, had been converted into a hobby-store window display. Hankins says she appreciates the way South offsets an "industrial aesthetic" with "cartoonish humor."
Other works explore different, but related, social themes. One notable example is James Esber's portrait series of Abe Lincoln. Just like Van Gogh portraits, all three Lincolns have been distorted through rich swirls of red, blue and mustard yellow. The catch? They were made with raw, unfired plasticine instead of paint. As with South's industrial-looking labyrinth, Esber's thematic commentary is whimsical but assertive. By making Lincoln "malleable," Hankins suggests, the Brooklyn-based artist subtly questions how representations are influenced by history and temporality.
For visitors without any art-history credentials, this exhibition might seem like wild innovation. But, as Hankins points out, the use of common objects in "high" art goes back to the early 20th century. Picasso affixed "found objects" such as rope and newspapers to his canvases as early as 1912; in 1917, Duchamp exhibited a urinal and called it art. The impulse to re-cast everyday materials was also explored in the 1960s by such artists as minimalist sculptor Robert Morris and fiber artist Sheila Hicks.
If "Material Pursuits" harkens back to at least the mid-20th century, then perhaps it's no surprise that most of the show's artists are middle-aged or approaching it - all but one over 30. Many of them, such as 59-year-old art professor Kathleen Schneider, have been straddling the line between "art" and "craft" for decades. "In terms of that dichotomy between the craft aesthetic and the conceptual, the meaning for me in my work has always come from a synthesis between what the object looks like and how it's made," Schneider says in a phone interview. "So the show really suited my aesthetic at heart."
Just like Hicks' creative textiles, Schneider's piece, called "Bouquet," conveys powerful "conceptual underpinnings" through low-tech materials. The sculpture, a hanging ball of fabric flowers containing foot-long wire helicopters, was inspired by the 9th-century bas-relief from Assyria - a.k.a., present-day Iraq - on display in the adjacent Marble Court. All the flowers in Schneider's work are native to Mesopotamia. Hence, while "Bouquet" could be mistaken for the centerpiece in a florist's shop, it's also a complex reference to Middle Eastern history and American imperialism.
Though "Material Pursuits" showcases a host of mid-career artists, it offers glimpses of a younger generation as well. One of them is Sabrina Gschwandtner, 30, of Brooklyn, a knitting maven, filmmaker, performance artist and writer. Her "Phototactic Behavior in Sewn Slides" is a procession of ethereal photographs that have been mutilated by a sewing machine.
Gschwandtner's piece is the latest move in an audaciously homey counter-countercultural career. In 2002 she founded KnitKnit magazine, a publication "dedicated to the intersection of traditional craft and contemporary art." Earlier this year, her installation "Wartime Knitting Circle" was featured in an exhibition entitled "Radical Lace and Subversive Knitting" at the Museum of Arts and Design in New York City. And just last week her first book, KnitKnit: Profiles and Projects from Knitting's New Wave, was published by Stewart, Tabori & Chang.
Speaking with Seven Days by cellphone while walking the sidewalks of New York, Gschwandtner admits that her art is, in some respects, a throwback. She used leftover slides in this exhibition partly to honor the knitter's credo of mending and reuse. "In the '70s, which was the generation where women rejected handcraft as a form of domestic activity, textiles exploded," Gschwandtner explains. "That was a similar time where there were big shows which included artists and crafters together."
According to Gschwandtner, younger artists are making headway in today's art world by juxtaposing craft with unusual forms of media. Knitting, for example, has become a useful medium for commenting on "hyper-consumerism." In "Material Pursuits," her abstract knit-slideshow sits next to a digitally savvy "abstract quilt" wordily titled "December 29, 1890, Wounded Knee Creek, South Dakota, the Seven Stars of the Big Dipper in the Final Hour before Dawn." Created by the second-youngest contributor to the show, 34-year-old New Hampshire artist Anna Von Mertens, the work represents a precise image of the night sky on the day American forces massacred Native Americans on a Sioux reservation. Hankins praises Von Mertens for her ability to blend "high" and "low" technologies.
That's one way to put it. According to the curator, a sub-theme of "Material Pursuits" is the celebration of, well, obsessive compulsion. Vermont artist Kathleen Schneider isn't offended by that suggestion - her works exude a meticulous attention to detail. She thinks Hankins' curatorial effort "exemplifies a turn in younger artists - although I'm not a younger artist - back to . . . working with their hands and working with less heroic, less formal, materials." That's increasingly important, Schneider adds, in an art world where some artists aren't directly involved in the creation of their own works.
For her part, Hankins concedes she had trouble coming up with a name for this show. Before "Material Pursuits," she had toyed with such names as "The Craft Show" or "Co-opting Craft." According to Gschwandtner, the latter wouldn't have worked. Why? She insists that, today, the distinction between "art" and "craft" is being upended not just by fancy artists but also by hordes of twenty- and thirtysomething knitters and crocheters - men and women alike.
"There's a huge audience of young people who've embraced knitting and crocheting and sewing as a creative activity in response, I think, to a different culture," notes the artist. "I think it has to do with . . . the increasingly technologically based society and people who are increasingly involved in work where they don't see the end result of what they do."
In "Material Pursuits," Devorah Sperber's piece "After van Eyck" throws Gschwandtner's comments into ironic relief. Hanging from a 10-foot-high silver bar is a perfect circle composed of maroon and yellow thread spools. At first glance, the spools don't appear to conform to a recognizable pattern. But, as Hankins explains, each spool represents a pixel of a large, computerized image of "Portrait of a Man" by the 15th-century Dutch painter Jan van Eyck. By peering through a nearby acrylic sphere, a viewer realizes that the high-techiness of Sperber's creation simply helps reconstruct an antiquated image. Where does the art of her piece lie, then? In the spools themselves, the shades of van Eyck's portrait, or the process by which the two intersect? These are questions for viewers to ponder.
Curator Hankins herself isn't looking for definitive answers. When she first started contacting artists about the exhibition, Hankins recalls, "Co-opting Craft" seemed like a suitable working title. "But once I finalized the list of artists and objects," she says, "I realized it was about a lot more than that. I think 'Co-opting Craft' suggests a division between art and craft, and the show moved to the point where the artists didn't really see the division. So why use that word?"
This week, Hankins starts a new job as associate curator of modern art at the Hirschhorn Museum and Sculpture Garden in Washington, D.C. - an institution specializing in 20th- and 21st-century American and European art. So it makes sense that when she discusses her UVM show, she plays the art-historian card by asserting that "Material Pursuits" isn't about the age-old "Is it art or is it craft?" debate. "Somehow," Hankins muses with an elusive smile, "it's more back to Duchamp's idea that art is everything."