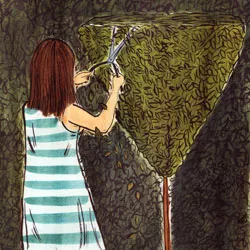 Pubes. Unless you are blessed with the genes of a hairless cat, you've got 'em. Some of us have a more bountiful patch than others — more forest than meadow. Some of us have less — more bath mat than shag carpet.
But whatever hair you have down there, chances are, you do something about it. Whether that's a quick trim when you know you're getting some or a regular waxing appointment at the salon, most of us pay some attention to the thicket between our legs.
In the past decade or so, that attention has become more intense, and this country's habits of pube grooming — particularly hair removal — have gone to extremes. People flashed the full bush in the free-love era of the 1970s. But today's pop-culture-obsessed America has trimmed prolific pubic hair from the mainstream.
We have the Brazilians to thank for that. In particular, seven Brazilian sisters who, in 1987, opened a salon in Manhattan that offered bikini waxes. Because bikinis in Brazil and much of South America are made from some dental floss and a swatch of fabric the size of a stick of gum, the sisters' services entailed removing a whole lot more hair than the standard American bikini wax — namely, all of it. From stem to stern, completely bare.
Women who requested a bikini wax from the celebrated J. Sisters were treated not just to some hot wax at the top of their thighs but to a slathering from the tip of their pubic bones to the base of their tailbones. The original notion of "bikini wax" got lost in translation.
While the results were startling to American women (and, no doubt, to their sexual partners), the sisters' clients stuck with it and helped elevate the "Brazilian" to the status of a bona fide trend. Soon legions of starlets were sashaying to midtown to get a Brazilian of their own. The J. Sisters now count scores of A-listers as clients, including Cameron Diaz, Gwyneth Paltrow, Uma Thurman and the women of "Sex and the City."
Like sky-high stilettos, the Brazilian seems like a trend that could easily pass Vermont by. Where winter reigns for nearly half the year, we don't have much need for string bikinis or the pube maintenance required to pull them off. But, say local grooming professionals, Brazilian waxes have plenty of fans here. As popular treatments in the state, they outstrip other, less drastic types of genital waxing.
What big-city pseudo-trend hasn't caught on here yet? Vajazzling — the act of bedazzling your vagina with adhesive crystals. Also not happening here? Vattooing. Yes, that's getting an airbrushed tattoo on your no-longer-bearded clam. Though one guesses it's only a matter of time till Vermonters take up these practices.
At Cynthea's Spa in Burlington, Brazilians are by far the most popular option — and salon owner Cynthea Hausman says interest in them continues to grow. Hausman used to believe that, over time, interest in full pubic hair removal would wane, she says — especially as some feminists sounded the alarm about the implications of proffering a prepubescent look. On the contrary, the Brazilian biz is up.
But why? What is it about having bits that resemble a mole rat — or, worse, those of a teenager — that makes women (and, increasingly, men) drop upward of $75 a pop on pube removal?
Maggie Hazard, an aesthetician at Fontana & Company Salon Boutique in South Burlington, thinks she might have some answers. Those are, in no particular order, body-hair issues, sex and porn.
In the years that Hazard has been doing Brazilians and other kinds of festive wax jobs — landing strips, triangles, etc. — she's seen interest in such treatments spike. "Everybody just thinks it's sexier," she says.
Some of her clients say they're grossed out by body hair. Others find that being bald down there feels better in the sack. And still others want to look like porn stars, if only in the genital region. Hazard guesses that the abundance of porn on the Internet has at least something to do with the hair-free trend.
Indeed, most female porn stars boast vaginas that look like they came straight from Mattel's Barbie factory. In the Internet era, they and their look are no longer consigned to the dusty back corners of seedy sex shops. As porn queens such as Jenna Jameson — who's been featured on billboards in Times Square and voiced an animated version of herself in an episode of "Family Guy" — join the mainstream, young pop-culture consumers emulate their personal style, or at least that of their cooters.
While shorn porn stars may serve as inspiration to some, the aestheticians say most salon regulars don't get Brazilians because their partners want them to look like they shine knobs for a living. "Rarely do I have people come in here and say, 'I want to do this for my boyfriend.' They always say they want to try it for themselves," Hausman says.
Once they try it, they typically come back. After the hair has been waxed, it grows back finer and downier than before. Unlike shaving, the process produces no angry red bumps or ingrown hairs to suffer through. Clients feel neat and tidy and get a thrill from having a little secret between their legs, say the professionals. As a result, Brazilians have become commonplace in even the most basic salons.
"It's like getting highlights in your hair," Hazard suggests.
Sure — but getting highlights doesn't involve spreading your naked legs in front of a stranger while she presses hot-wax strips into your hair pie and rips out the contents. Are Brazilians and more basic waxing procedures as common around here as aestheticians suggest? To find out, we consulted our fine friends in the outside world.
Knowing there's nothing people would rather do with their day than answer queries about their pube grooming habits, we drafted a little 15-question survey and sent it to people with pubic hair (we weren't picky).
The bulk of the nearly 100 respondents identified as women — about 76 percent. Most fell between the ages of 26 and 35. The overwhelming majority of those surveyed — 90 percent — did some sort of pubic-hair maintenance.
Were I a betting gal, I'd have put my money on a much lower percentage of waxers and trimmers. It's Vermont, after all, and it's cold. Body hair is an advantage. But the results suggest otherwise.
Most of the survey respondents say they like to keep themselves tidy year-round with some light trimming. Winter is no deterrent. The majority groom their pubes between once a week and once amonth, regardless of whether they think they're likely to get laid. And most — 75 percent — say they do it because they like how it looks.
Some respondents say they groom because they or their partners find trimmed boxes and balls a turn-on. Just a handful say they do it because they're conditioned to feel like pubes are offensive. Both my survey and the Seven Days sex survey suggest that grooming and waxing tend to be more pressing concerns for Generations X and Y than for their elders — though there are always outliers.
Here's the kicker: Unlike the aestheticians' clients, few survey respondents say they feel a need to go Brazilian (or Bro-zilian, if they happen to have wieners). They're happy with regular light trimming or occasional more aggressive weed whacking. Only six people admit to going fully sans hair.
What our highly unscientific survey shows is that people care what's going on down there. Whether they're going hairless or just doing some high mowing, the region commands their attention.
But hopefully not too much. It's only hair. And we've all got it.