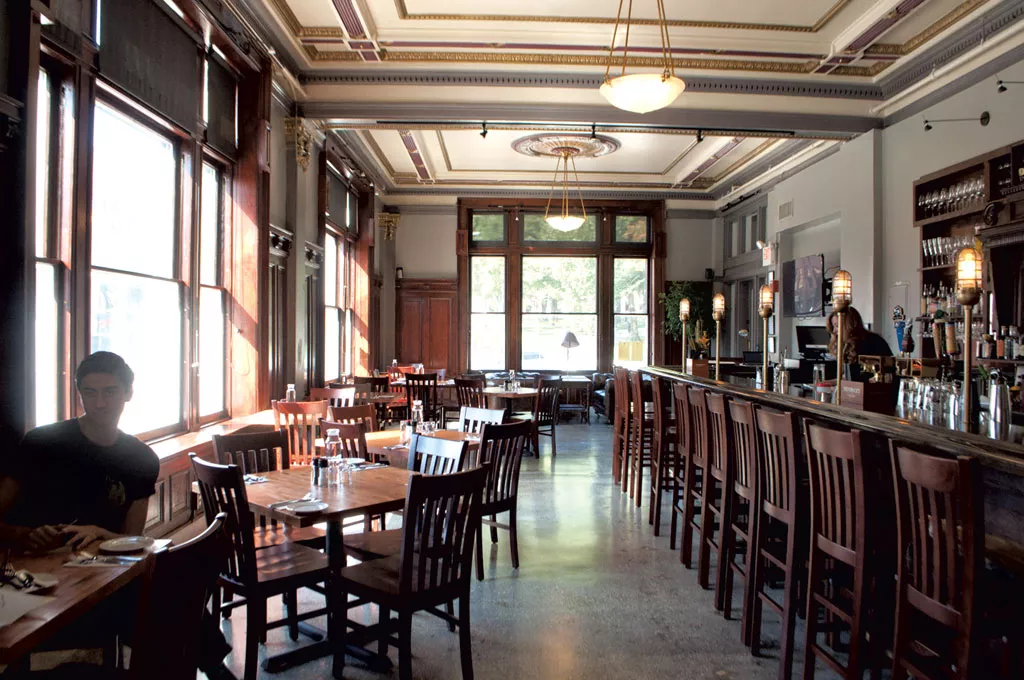 After two nights of soft opening, the Gryphon officially opened its doors on Sunday, September 14. Located in the Vermont House (in the old Ramen space) at St. Paul and Main streets in downtown Burlington, the Gryphon is open from 11 a.m. to 11 p.m. daily, serving upscale but homey farm-to-table dishes with a slight Southern inflection.
"It's a work in progress," says owner Paige Gross, who hails from Alabama but made a home in New England years ago. Gross opened the restaurant with her husband, Tom Chadwick; her ex-husband, Andrea Gross, helms the burners. His menu includes cozy dishes for fall — gnocchi with gorgonzola mushroom-cream sauce, grits and shellfish in buttered lobster sauce, and a bison hangar steak. Among the lighter dishes are a fried-green-tomato BLT, rare-cooked tuna steak over arugula, and grilled rainbow trout. Paige Gross says it's a seasonal spread that will rotate with the harvest.
Behind the bar, Niall McMahon mixes inspired cocktails featuring local spirits, such as a Tom Cat Martini with Barr Hill barrel-aged gin, and a Siren's Call with house-infused blueberry vodka.
In a couple of weeks, Gross says, Gryphon will launch a brunch menu. In addition, "We'll be experimenting with later hours on weekends," she says, "maybe going until 2 a.m. and bringing the lunch menu back after 11" — to accommodate people finishing shifts at neighboring restaurants. "They need time to wind down after work, too," Gross says.
Gross is even toying with the idea of ambient live music. "I have a musician in the kitchen," she says. "I can't have large bands, but we can do a little acoustic. My host is an opera singer! He was like, 'What if I sang "Happy Birthday" to people?'"
What if? Only time will tell. For now, Gross says, she's focused on getting her team shipshape and giving her guests the best experience possible. "I want to keep everything really high quality but very affordable," she says. "I just like to feed people. I like to entertain people, and we're not planning on expanding. This will be my one and only."
The original print version of this article was headlined "The Gryphon Takes Flight"