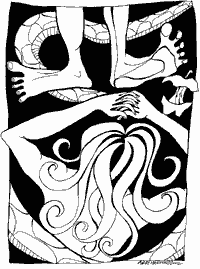 Abby Manock
2002
Love hurts. For "Nadine," a Winooski graduate student who wants to remain anonymous, it even howls with pain. "I went ballistic after I walked in on my boyfriend with another girl, who had her legs in the air," she says, retelling a tale of justifiable fury that became "a grievance story" she has repeated over and over during the last few years.
Eventually, enough was enough. "I had to ask myself, 'How many times have I told this story beyond the initial catharsis?'" says Nadine, sounding a bit older and wiser than her 29 years. "I just didn't feel like being stuck anymore."
Williston resident "Gabriella," also a pseudonym, had lingering feelings of resentment after a devastating divorce three years ago from a husband with a penchant for violence. For her, self-preservation has become a question of realizing "it was better not to keep carrying around so much bitterness and anger."
Both women are learning to forgive as part of an ongoing research project conducted at Fletcher Allen Health Care by Samuel Standard, a 36-year-old Stanford University Ph.D. candidate in counseling psychology who is currently living in South Burlington. "Forgiveness is such a loaded term," he suggests, "and often an act of bravery."
The power of forgiveness has been appreciated since at least the dawn of Christianity, when the apostle Matthew prayed, "Forgive us our trespasses, as we forgive those who trespass against us." But only recently have scientists begun to explore the impact that moving on can have on our physical health.
To quantify this effect, Standard is looking at levels of stress-related hormones in the saliva of aggrieved women who receive different amounts of forgiveness training. His study will not only shed new light on the physical impact of emotions. It is improving the lives of Nadine, Gabriella and the other subjects in the study.
Participants in a control group attend one five-hour workshop. A test group is given eight hours of sessions spread over a series of weeks. They all "learn the same techniques," Standard says. "Both approaches offer solid encouragement for people who want to escape a never-ending cycle of acrimony.
"To have forgiveness, you don't need to say it to the person. It doesn't mean passivity or condoning or forgetting or not seeking justice," he observes. "When we replay a grievance, though, it gives power to that person and puts us in the role of a victim. Anger can be motivating and inspiring, but at some point it gets in the way."
Standard's current research grew out of an earlier foray into the field. A New York City native, he spent seven years in Vermont before moving to California in the late 1990s to work on his advanced degree at the 18-month Stanford Forgiveness Project. The "primary investigator"— as head researchers are called — was a pioneer in the field named Carl Thoresen. The "co-primary investigator" was Fred Luskin, who went on to write a book called Forgive For Good.
As a group leader, Standard's role was to help recruit 259 men and women who harbored unresolved resentment involving lovers, friends, family members, co-workers or bosses. Subjects attended six weekly "intervention" sessions at which they were offered relaxation techniques designed to ameliorate their intense emotions. Participants reported their somatic symptoms. When the project ended in 1999, anecdotal evidence suggested that forgiveness can do a body good.
But Standard wondered if he could measure this transformation. "Are there physiological changes that go along with this? There is some literature that suggests when people imagine themselves forgiving, their blood pressure goes down," he says. "If they imagine the opposite, blood pressure goes up."
In June 2001, Standard launched his own modified forgiveness project with 34 women in California. Since last month, he has been continuing this research in Burlington as part of a "clinical year" required to complete his doctorate. The current phase of his unfunded empirical study looks at how levels of two stress hormones — cortisol and DHEA — change as subjects relive or reconcile old grudges.
Our well-being lives in the shadow of DHEA, which Standard describes as "a marker of physiological robustness that normally declines with age." Cortisol is linked to our fight-or-flight response, Standard says, "but at high levels, over long periods of time, it's associated with chronic diseases like hypertension, diabetes and cancer."
Just thinking about a past threat or injury can bring on a surge of cortisol, he notes. "If we replay the memory with the same kind of vividness as when it took place, there's a cost."
For three miserable years, Nadine has been haunted by a vivid replay of the moment her ex-boyfriend revealed his cheating heart. "I sort of imploded and it started a negative chain reaction in my life," she says. "I took my anger out on other people. It got to the point where I thought I was a monster. I left the town and state where I'd been living, but it was a wherever-you-go-there-you-are scenario."
She even broke some windows in the thick of her rage. "I'm basically a really nice girl," Nadine contends. "But this unleashed the beast within."
By the time she saw an ad for the forgiveness project, Nadine was already in therapy and had begun to ask "if this was the real me. Initially, I thought I needed to forgive him, but I really wanted to forgive myself. I needed to realize it wasn't my fault."
Standard's sessions, which began in April, taught Nadine to pay attention to the physical reactions she experienced while conjuring up the same awful vision of infidelity: increased heart rate, sweaty palms, nausea and tightness of the neck and chest. The forgiveness techniques Standard offers have allowed her to quiet her mind and find ways to replace the original grievance story with what she calls "a new path that makes a groove just as strong as that past event."
During the last few weeks of Standard's sessions, she has noticed a boost in her patience. "Things that once threw me off for hours now remain only for maybe five minutes or, in some cases, just a minute. I'm beginning to see a dramatic difference," surmises Nadine. She also suspects her healing may be helped along with humor — as when she dismisses the jerk with a semi-serious quip: "May he burn in hell."
Gabriella, 43, faces a more difficult challenge in the forgiveness game. Her ex-husband, who had been physically and verbally abusive, managed to triumph during the divorce proceedings as well. "I think I got a raw deal," she says. "My settlement was too little. We had a business together. I did get my freedom, but I was afraid he was going to hurt me. He really did me wrong. Some things are not so easily forgiven."
Like Nadine, Gabriella endorses Standard's stress-reduction techniques. "We did breathing exercises, focussing on the area around our hearts," she recalls. "We also had to write about the traumatic situations that brought us there — studies say that writing is beneficial to the immune system — followed by guided meditations. We were supposed to think about times and places we felt safe and happy. For me, that was an image of Jamaica."
The result? "I don't think I'm ever going to really forgive him," Gabriella says, "but I feel I won't hold a grudge."
"If you're unsafe, maybe you need to think about forgiving later and get to safety now," Standard theorizes as he considers the experiences of Nadine and Gabriella. "If you're able to say, 'May he rot in hell,' you've probably already started the forgiveness process. That's a lot different than saying, 'May the son of a bitch rot in hell.' It's always easy to hear forgiveness or unforgiveness in how people tell the story."
This month, Nadine, Gabriella and their fellow subjects are winding up the first phase of the study. Standard is looking for a new crop of potential forgivers for the fourth and final segment of his project, which begins in June. To provide "a more homogenous sample," he is limiting the study to women older than 18 but not yet in menopause. "The body's hormones change with menopause; DHEA goes down and cortisol goes up," he explains.
Though he's not judgmental when it comes to choosing participants — he's often unaware of the details of their grievances — Standard does screen out volunteers with certain problems or chemical imbalances. "I won't accept people who feel like hurting themselves or someone else. And if they take steroids, smoke or exercise more than 20 hours a week, it affects cortisol levels. Also, you can't have had a psychiatric hospitalization within the last six months."
Subjects who enroll in the study will likely find Standard empathetic. When it comes to letting go, he's been there, done that. In his twenties, he was involved in a romantic triangle gone sour. The other guy threatened to kill him while brandishing a grappling hook. Standard got away, but nurtured revenge fantasies for years afterward.
"When I began training to lead groups for the Stanford Forgiveness Project, the techniques helped me with my own feelings," says Standard, who is now married and the father of a small child. "That's part of the reason I believe in this work: I have a lot of hope that we can not only forgive specific things, we can become more forgiving people in general."
For more info or to participate in the Forgiveness Project, call 324-4825.