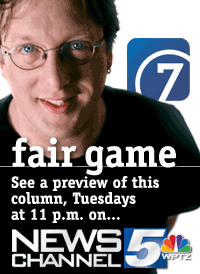 This is it, folks: Two more weeks to go before November 2, and the race for governor is neck and neck — statistically — between Republican Brian Dubie and Democrat Peter Shumlin.
Every decision counts right now, and the campaigns will continue to attack, er, "reach out" to voters through TV ads, mailings, phone calls and one-on-one visits.
A quick look at the race: Vermont Public Radio's recent "Vermont Poll" found Dubie leading Shumlin 44-43, with 5 percent of voters opting for one of the independent candidates and 8 percent still "undecided." Mason-Dixon Polling and Research of Washington, D.C., conducted the poll by calling 625 Vermonters. Its margin of error is 4 percent.
A phone survey conducted one month ago by Rasmussen Reports put Shumlin ahead of Dubie, 49-46. The margin of error in that poll was 4.5 percentage points.
That's not a good scenario for Dubie, who had a clear path in the race for governor while Shumlin fended off four challengers and blew through hundreds of thousands of dollars in the primary.
Speaking of money, the latest fundraising reports also provide some clues about the physics of the race.
Dubie had raked in $1.35 million as of October 15, while Shumlin raised a total of $1.13 million — $225,000 of which is a personal loan.
Yet Shumlin raised a whopping $490,000 in the past 30 days, compared to a paltry $58,000 in the month prior. That's almost triple Dubie's take of $172,000 in the same time period; Dubie raised $150,000 in the 30 days before that.
The numbers indicate that Shumlin is gaining momentum while Dubie may be peaking. Dubie holds a 16-point lead among self-identified independents, according to the VPR poll. Sounds good. He's also got plenty of volunteers and paid campaign staff knocking on doors throughout Vermont. So far, they've hit 75,000 households. It's a page right out of the political playbook of Sen. Bernie Sanders (I-VT) — perhaps the best grassroots campaigner in Vermont history, and the guy Dubie considered challenging in 2006.
Meanwhile, Sanders is stumping for Shumlin all over the state this week. The Dem's team is putting its money into volunteer phone banks and relying on the state Democratic Party's get-out-the-vote operation (GOTV) which is usually far superior to the Vermont GOP's.
A group of labor and environmental groups, along with Planned Parenthood of Northern New England, will announce this week an unprecedented independent GOTV effort: Knock on at least 50,000 doors, make 225,000 personal phone calls to voters and blanket the state with 200,000 pieces of mail in support of Shumlin.
The Democratic National Committee is pumping millions of dollars into get-out-the-vote efforts, in hopes of making first-time 2008 voters into second-time 2010 voters.
In Vermont, there were 40,000 first-time voters in 2008, according to Jesse Bragg, the Vermont director of Organizing for America.
"Our goal is to make those first-time voters have as much interest in statewide races — right on down to special elections for city council — as they did in coming out for Barack Obama in 2008," said Bragg.
The A-Bomb
Do women's reproductive rights matter in the Vermont governor's race? Vermont Public Radio's poll found only 1 percent of respondents think so, but that isn't preventing Peter Shumlin and Planned Parenthood of Northern New England from launching ads criticizing Brian Dubie's conservative social views.
Dubie and his campaign have repeatedly said Roe v. Wade is "settled" law and that he would not change how the state pays for reproductive health through Medicaid and other public health programs.
Shumlin and the pro-choice contingent supporting him aren't buying it.
Dubie insists that jobs and the economy are his top priorities. Republican Chris Christie told New Jersey voters the same thing on the campaign trail in 2009.
Christie told reporters he was pro-life but would not use the governor's office to "force that down people's throats." Solving the state's fiscal crisis was more important.
Once in office, Christie slashed funding for family planning and reproductive health, blaming it all on the fiscal crisis. New Jersey lawmakers balked at the $7.5 million cut and replaced the money. Christie then vetoed the budget, but the legislature couldn't muster the two-thirds majority to override the veto and the cuts stayed in place. At least four clinics have closed, and two more have severely curtailed their hours.
Could that happen in Vermont? The state spends more than $1.5 million on state and federal family planning.
"We don't know for sure, because he keeps brushing aside questions about where he stands when it comes to women's reproductive rights," said Jill Krowinski, PPNNE's director of communications.
PPNNE's Action Fund is spending $70,000 this week to let voters know Dubie is out of touch with mainstream Vermont views on family planning and reproductive rights. The group may spend even more next week on ads, said Krowinski.
"Brian Dubie doesn't understand reproductive health care services are a basic part of women's health care," said Krowinski. "Women have fought for these rights, and it's too bad that we constantly have to have these battles."
Signs of the Times
One of the Vermont Senate's most outspoken moderates — Sen. Richard Mazza (D-Grand Isle) — has held his tongue about the governor's race. Until now.
For months he told reporters that he "doesn't have a dog in the fight," and has been mum on an endorsement.
That's why I was surprised to see a "Shumlin for Governor" sign in front of Mazza's General Store in Colchester.
Mazza tells "Fair Game" a customer put the sign out front, but he doesn't appear to be in a hurry to take it down.
"Didn't the wind blow it down? No? Oh, well, I guess it can stay," he remarked.
Mazza wouldn't say directly if he's endorsing Shumlin, but he made it clear to "Fair Game" that he's fed up with Dubie's constant assault on Shumlin's credibility.
"If you don't agree with his plans, fine, but enough of this. I've served with Peter and he's not unethical," said Mazza. "You may not agree with him or his ideas, but that's different."
Remember, Mazza supported same-sex marriage, but was one of just four senators who voted to relicense Vermont Yankee beyond 2012.
"It's unfortunate, and it's putting a real sour taste in my mouth," said Mazza. "I think Dubie would be better served if he sent his out-of-state campaign manager packing and cleaned up the campaign. Every time I pick up the paper, this manager is saying something else about how we can't trust Peter. I mean, come on: When are we going to start talking about real issues?"
Tick Tock Ticket
State police Det. Sgt. Michael O'Neil, the president of the Vermont Troopers Association, outed himself last week as the previously mysterious, unnamed officer who tried to void Sen. Peter Shumlin's speeding ticket.
O'Neil'fessed up when he learned his name was going to be released by Department of Public Safety Commissioner Thomas Tremblay as part of a citizen's public records request.
The question is: How did O'Neil's email to a trooper at the Bradford barracks become a public record, when Tremblay and Gov. Jim Douglas said an internal department probe prevented them from releasing the information?
I suppose it was dumb luck that O'Neil's email ended up in the hands of Brady Toensing, a Charlotte attorney who has donated to Dubie's past campaigns and helped the candidate with a records request in 2006.
Pure Vermont coincidence.
The news broke the same morning Tremblay was in federal court to answer an allegation leveled by Burlington attorney John Franco: that the commish is playing political favorites by releasing an embarrassing traffic-stop video of Democrat Shumlin and not a similar video of Republican auditor Thomas Salmon.
The federal judge dismissed part of Franco's claim that Tremblay violated state public records law, and told him to sue in state court. So he did.
The next hearing is scheduled for October 27 at 10 a.m. in Montpelier's Washington Superior Court.
Trick or Treat
Burlington Telecom is hoping for treats, not tricks, from CitiCapital on Halloween: October 31 is the city's deadline to renegotiate its $33 million lease.
City officials must be hoping the talks with CitiCapital go better than they have with Moody's. Last week, the agency downgraded the credit rating of Burlington Electric and the Burlington International Airport. Why? BT's $17 million debt to the city has a lot to do with it.
The end of October could bring some finality to other inquiries into the BT operation. A financial review being conducted on behalf of the Department of Public Service may be completed within the next month, said DPS attorney Geoff Commons, but he offered no guarantees.
Attorney General Bill Sorrell tells "Fair Game" that he, too, expects a debriefing from Orleans County State's Attorney Keith Flynn during the last week of October. Flynn is trying to determine if any criminal acts have been committed.
One thing's for sure: Mayor Bob Kiss is standing by his right-hand man, Chief Administrative Officer Jonathan Leopold, the guy who OK'd the ongoing loans to BT that eventually amounted to $17 million.
On Monday, Kiss vetoed a city council resolution designed to make it easier for the council to remove department heads. Last fall, he rejected the council's call to suspend Leopold from his post.
"I'm concerned it is based on short-term considerations and not the long-term interests of the city," said the mayor.
Uh-huh.