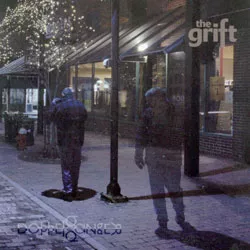 (GlennSource Records, CD)
Long lumped into the state's increasingly impotent "jam" scene, Vermont's The Grift have emerged with an intriguing follow-up to their mediocre 2005 album, Life Beyond Aluminum. While not exactly an about-face, Doppelganger suggests the veteran outfit has rededicated their attentions to song craft and set aside the tired genre templates that largely comprised their last effort — though in fairness, those are never too far out of reach. The results, while not always sparkling, will likely appeal to longtime fans, as well as those with a taste for sugary pop confections.
"Beautiful Urchin" leads off with a sinuous, driving electro groove, courtesy of keyboardist Ryan Erskine. That The Grift — particularly vocalists Peter Day and Clint Bierman — have made a conscious effort to refocus on melody is immediately apparent. The tune features vocal hook upon snappy vocal hook.
Bottom-heavy "Things at Stake" is next and evolves from a sly, slow jam into a poppier-than-thou jaunt. Imagine an electrified Guster and you're sort of on the right track.
The band gets its baby-makin' slo-funk thing on with "Your Love." Vocal harmony has long been the band's calling card, and that talent is firmly on display here. Day and Bierman deliver more sexy soul than two dudes from Addison County really have any right to.
"Collision" is a bit of a clunky relapse, evoking the wiggly remains of Strangefolk — which is fine if that's your baggie, er, bag. But even Reid Genauer seems to have (mostly) moved on. Maybe it's time everyone else did, too. Just a thought.
The band rebounds nicely on the next cut, "La Fille de l'Auto-Stop." If you've ever wondered what Ween might sound like if Gene and Dean were Francophones, here's your answer.
"Stand to Fall" again elicits worthy comparisons to electro-Guster. Depending on your predilection for harmony-driven jam-pop, that statement could be taken any number of ways. Regardless, Day and Bierman are once again in total lockstep. Their vocal abilities are impressive, even when the material borders on uninspiring.
The disc continues in this hit-or-miss fashion straight through to the album's finale, a cover of Pete Townshend's "Eminence Front."
After 10 years, The Grift are not about to apologize for their jam-pop roots — nor should they. But all in all, The Grift connect more than they strike out. And with Doppelganger, they have made notable strides toward infusing old tricks with some new life.