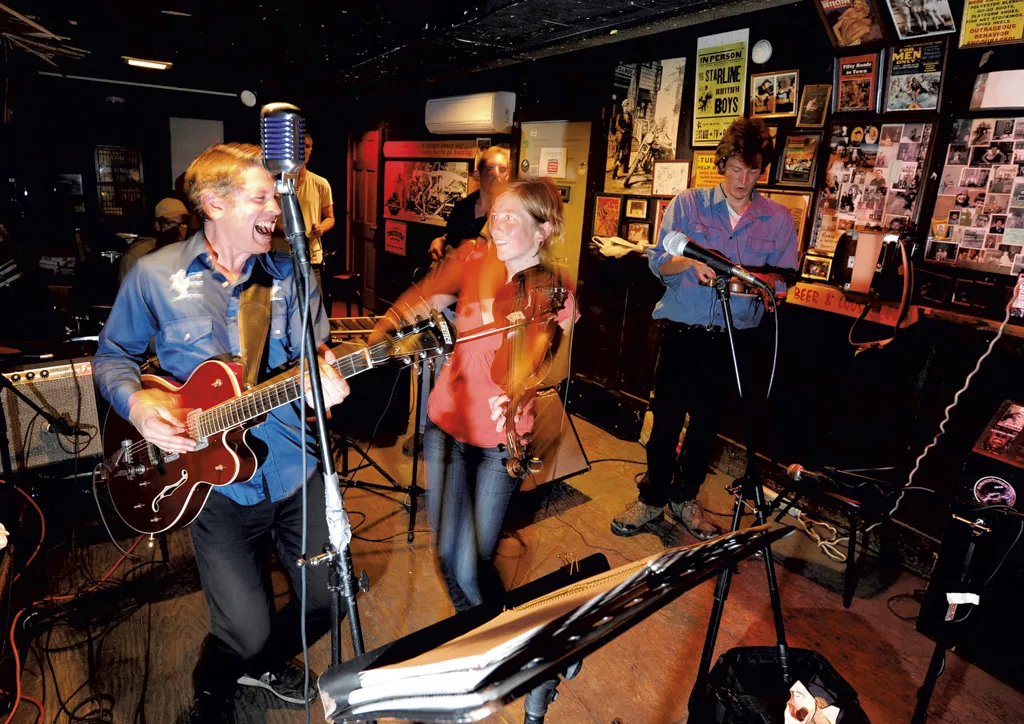 It's early on a Wednesday night at Charlie O's in Montpelier, but you wouldn't know it to look at the dance floor. It's already filled with couples two-stepping to driving rhythm guitar and drums, haunting fiddle melodies and French lyrics straight outta the bayou. The Green Mountain Playboys are in town, making a home for Cajun in their namesake state.
Until recently, most of the Cajun music heard in Vermont has been imported. The Playboys, composed of four relative newcomers to the genre and one seasoned veteran, are working to change that. Since their formation last December, they've played a number of gigs in central Vermont. And the band is expanding its reach through two residencies — a current one on third Wednesdays at Charlie O's and an upcoming first-Tuesdays gig beginning November 4 at Burlington's Skinny Pancake.
The Playboys got their start after singer and fiddler Katie Trautz and guitarist Jay Ekis made a pilgrimage to the South Louisiana Blackpot Festival & Cookoff last October. They brought back some Cajun tunes and set up a couple of low-key jam sessions to keep the music going.
Fiddler and accordionist Alec Ellsworth was among those invited to the sessions. He'd picked up the fiddle five years earlier and found a love for not only Cajun music but the vibe that surrounded it.
"When I went to the Québécois or Irish music festivals, I found out that, unless you were a hotshot fiddler, you couldn't even sit in on a jam," Ellsworth says. "Cajun was more earthy and open. You could sit down with 100 other people, everybody playing, and everyone would be having a good time."
Ellsworth came to Cajun music relatively recently, but another member of those early jam sessions has been playing it for decades. Lee Blackwell, a drummer and guitarist, started playing Cajun back in the 1980s, when he and a friend formed a band in Cavendish, Vt., called OK Bayou. "I didn't know that I didn't really know what I was doing," Blackwell says with a chuckle. Before long, that changed.
His old friend Tracy Schwarz, who had played in legendary New York City folk outfit the New Lost City Ramblers, introduced Blackwell to Cajun guitar. Along with Schwarz, Blackwell found himself playing in the early '90s with the late "Bill Monroe of Cajun," Dewey Balfa of Louisiana. Their first gig was on ABC's "Good Morning America." Later, Blackwell played guitar in the Tracy Schwarz Cajun Trio, which cut two Le Cajun Music Award-winning records and brought the music to the UK over eight annual tours.
"We hired the same guy and the same van every time," Blackwell recalls. "We called the van the Meatball, and we put 25,000 miles on it during those tours. We played every arts center that ever had Cajun music in England and Scotland and Wales."
After the trio disbanded in 2001, Blackwell set his Cajun aside. "It just hadn't arrived [in Vermont]," he says. "So I kind of gave up on it."
Then, last fall, Trautz invited Blackwell to a Cajun jam. What he heard surprised him. "I knew Katie had started to play Cajun music, but I didn't know how dedicated she and her friends were. They really got bitten by the bug, just like I did when I was their age."
It wasn't long before the informal jam sessions morphed into the Green Mountain Playboys. The current outfit includes Trautz on fiddle and vocals, Ellsworth on fiddle, accordion and vocals, and Blackwell on drums. Ekis plays guitar and sings, Noah Hahn plays bass, and Chris Hollis plays triangle, a traditional Cajun instrument. The band played its first gig at the Breaking Up Christmas party last December in Cabot, where Trautz grew up and Blackwell runs an organic farm.
While relatively new as a band, the Green Mountain Playboys have already begun to convert some fans to Cajun. Trautz attributes this not only to the music but to the activities that traditionally accompany it. "There is a hunger in Vermont for people to socialize around music and food. The dancing is a new thing here, and I think it's slower to catch on. But people really enjoy it when they start. It is pretty infectious music, so it's hard not to start dancing."
Catch a Playboys gig and it's easy to make the transition from wallflower to two-stepper. There's usually someone on hand to give a quick lesson, and if there isn't, the band offers one between sets. Learning the basic moves takes just a few minutes.
If many of the dancers are learning Cajun moves as they go along, so is most of the band. The basic musical chops are there. But it's a challenge, says Trautz, to adopt the sound and sensibility of another culture, particularly when that culture sings in French. It's a challenge the Playboys are working hard to meet.
As part of their commitment to getting things right — and, one suspects, their commitment to fun — all band members except Ellsworth will head south in late October to immerse themselves in Cajun culture at this year's Blackpot.
Despite their commitment to authenticity, the band members are also eager to bring their own influences to the mix — something that fits right in the malleable genre of Cajun. While rooted in other traditional styles, says Blackwell, "the tempo is different from Irish music or old-time or bluegrass. The Cajuns slowed it down and rocked it up, and they are not afraid to put anything in it. Drums, pedal steel, electric guitar, you name it."
In particular, says Blackwell, Ekis' hooky, surf-influenced guitar adds a pleasant twist to traditional tunes. "He knows a lot of styles and he's not shy about bringing those in, but he's bringing them in in a very tasteful way," he says. "I think Dewey Balfa would love it."
Most importantly, the band just enjoys playing. "It's all pretty fresh and we are still trying to find out what we are doing as a band, exactly," says Ekis. "We're caught up in the heat of the music."
For the Green Mountain Playboys, that's a good place to be.
INFO
Green Mountain Playboys play every third Wednesday at Charlie O's in Montpelier, 8-11 p.m., no cover; and every first Tuesday at the Skinny Pancake in Burlington, 8-10 p.m., beginning November 4, $5-10 donations.
The original print version of this article was headlined "New Bayou"