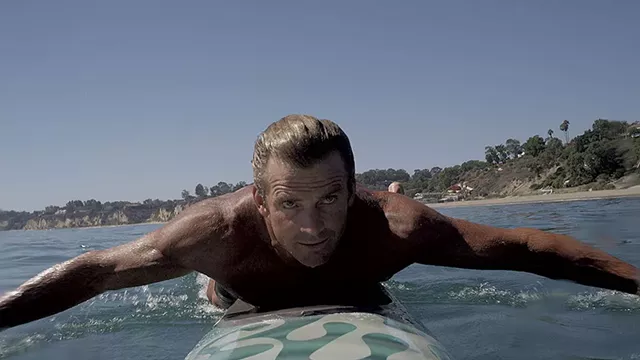 Take Every Wave: The Life of Laird Hamilton
The Green Mountain Film Festival turns 21 this year, and executive director Karen Dillon is determined to throw a big party. The "coming-of-age" theme informs much of the film and special events programming in Dillon's rookie year at the helm.
As usual, the 10-day event will dominate the Savoy Theater and touch down at other Montpelier venues. This year, though, the fest is also putting down a stake in Chittenden County.
"We are really focused on getting the best possible films to the Green Mountain Film Festival so that the community can be inspired ... [and] come together around critical conversations," Dillon said.
Featuring 82 feature films and 75 shorts, the fest will kick off with a theme party on Friday, March 16, at Montpelier's Vermont College of Fine Arts. Guests are encouraged to dress in their best clothes that evoke the year 1968.
"For many in the GMFF audience, 'coming of age' was defined by their experiences in '60s counter-culture," writes Dillon in the festival's program. The year 1968, she continued, "was an era that proved a galvanized youth culture could disrupt a conservative society and shift its values."
This year, several films celebrate activism and community engagement. One of them is The Divine Order, a comedy about the female suffragette movement in Switzerland in the 1970s. "It's very funny. It's very warm. It's a great women-empowerment movie," Dillon said.
Another film that celebrates resistance is The Maribor Uprisings, an interactive documentary about a revolt in the industrial city of Maribor in Slovenia. What makes it "interactive"? Director Milo Guillen, who will be present to facilitate a conversation with the audience, will also stop the film at certain points and ask viewers to choose which cameras they'd like to follow. The documentary will go in the direction they decide. "It's kinda a 'choose your own storytelling' adventure," Dillon said.
From September through January, a 30-member screening committee watched and rated fest films submitted through the FilmFreeway website, as well as ones solicited directly from filmmakers and distributors.
Films that haven't yet screened at Vermont's commercial theaters are festival highlights, including the German drama In the Fade, a Golden Globe Award winner; and political satire The Death of Stalin, from "Veep" creator Armando Iannucci.
The programmers also included some films that didn't receive high ratings from the screeners because they provide "great opportunities to create important community dialogue around a topic or subject," said Dillon.
It wouldn't be the Green Mountain Film Festival without locally made coming-of-age films in the lineup. Off the Street, made in 1968 but not screened until 2017, documents a group of students who spent eight weeks at the Vermont Academy in Saxtons River months after the assassination of Martin Luther King Jr.
The film's Pavilion Building Auditorium screening on Saturday, March 17, has been paired with that of another short documentary about student activism — "Raise a Flag of Revolution: Black Lives Matter at the University of Vermont." UVM students Meghan Nanan and Nishani Kessler directed the documentary and will join a panel discussion on the connection between race and education in Vermont.
For the first time since the inception of GMFF, films will also be screened at Essex Cinemas in Essex Junction. "Bringing the festival to Essex really gives us a chance to make it bigger," said Eric Reynolds, who was instrumental in that shift. Now the Essex's general manager, he was heavily involved in GMFF during his nearly 14 years of working at the Savoy Theater.
In another nod to the coming-of-age theme, 21 films will be shown in Essex. Reynolds is looking forward to Rory Kennedy's movie about a surfing pioneer, Take Every Wave: The Life of Laird Hamilton, which will screen at the T-Rex Theater, the biggest in the state.
"That particular film is going to play very well on a big, giant screen, with those giant waves," Reynolds said.
The partnership with GMFF will allow Essex Cinemas to play art-house films that it doesn't always get to screen, he added. Reynolds hopes that moviegoers in Chittenden County will turn up in strong numbers to send a clear message that they're "interested in alternative programming."
"If they are able to support it, we can do this kind of thing again," he said.
Despite its name, the GMFF isn't solely about films. "We wanted the Green Mountain Film Festival to really feel festive," Dillon said. "We wanted it to feel like a party for everyone."
If a '68 theme party isn't enough to drive the March blues away, moviegoers can dress up as Charlie Chaplin, get their photos taken and watch a free screening of A Dog's Life at the Savoy on March 17.
This year, the festival also offers programming that combines film and a culinary experience. Four exclusive Film to Table events give members of the audience a chance to meet filmmakers in an intimate, dinner-party format.
Viewers of films where food features prominently can enjoy meals that originate from those movies' country or region of origin. For instance, on Sunday, March 18, at VCFA, Nipponophiles who wish they could taste the work of renowned chef Osamu Tomita, as portrayed in Ramen Heads, can opt for the next best thing: Watch a cook-off between New England Culinary Institute students, sample ramen dishes and vote on the winner.
The last day of the festival will bring the Vermont Filmmakers Summit, dedicated to screening films about Vermont or made by a Vermonter.
"I hope the day turns into more than just screenings," said Dillon. She envisions filmmakers using the opportunity to build a stronger film network in Vermont.
"I want to support film in Vermont, people who love film and audiences who love film," she said.