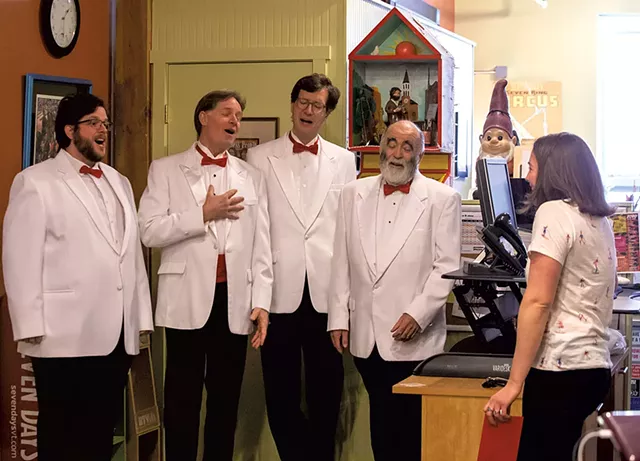 Luke Awtry
From left: Alex Niquette, Neil Schell, Nate Foster and Ed Hutchinson serenading Katie Hodges
Katie Hodges barely batted an eye when she found four men in white tuxedos standing expectantly by her desk. As Seven Days' sales and marketing coordinator and de facto front desk receptionist for about a year, she's accustomed to, shall we say, unusual foot traffic coming through the front door. Hodges probably assumed the men had come to place a classified ad, or maybe to speak to an arts editor. She couldn't have expected what happened next.
"Hi, Katie," Neil Schell said, grinning boyishly as he extended a red greeting-card envelope and some Lake Champlain Chocolates. "Cupid sent us a little bit early to deliver a singing valentine."
Standing to Schell's right, Alex Niquette blew a note on a pitch pipe as a dazed Hodges accepted the card and sweets. The four penguins responded by singing a matching chord and then earnestly launched into a classic barbershop ballad, "Heart of My Heart," in ringing four-part harmony.
The quartet's bright-red bow ties matched the shade that bloomed across Hodges' face. As the singers crooned, "Light of my life, my darling, I love you, I love you," she shuddered, sort of cry-laughing with her hand to her chest. Then she muttered, "I'm gonna kill him."
Fortunately, no boyfriends were harmed in the aftermath of this little prank, which took place a couple of weeks before Valentine's Day and was staged by Seven Days employees, not Hodges' boyfriend. But on Valentine's Day proper — this Friday, February 14, in case you've forgotten — similar scenes will play out in offices, restaurants, homes and other venues around the region.
For 25 years, quartets from Green Mountain Chorus, Vermont's preeminent barbershop ensemble, have delivered singing valentines to unsuspecting objects of affection across northern Vermont. And at least some of their musical love notes have elicited reactions similar to Hodges'.
"My favorite part is the look of pure fear that comes over their faces," joked Niquette, the chorus' assistant music director.
With the exception of the annual and holiday concerts, Valentine's Day is Green Mountain Chorus' biggest event of the year. That's true in financial terms as well as in pure visibility. Singing valentines, which include a card and chocolates, start at $25 when delivered by telephone; in-person serenades range from $55 to $100.
Ten percent of the proceeds from the singing valentines go to the homeless advocacy nonprofit Committee on Temporary Shelter. The rest goes toward maintaining the chorus, which is a registered nonprofit itself. To pay nominal dues, members pass a hat at the chorus' weekly Tuesday night rehearsals at the St. Francis Xavier School gym in Winooski. But anyone is welcome to drop in and sing along.
"We're always looking for new guys to join," said Schell, who's been in the chorus for 16 years and signs his emails "Sing-cerely, Neil Schell."
Founded in 1947, the all-male Green Mountain Chorus is the oldest barbershop chorus in the state. Its 40-some members represent the Burlington chapter of the Barbershop Harmony Society, a national organization dedicated to preserving barbershop music. Last year, the organization began admitting women for the first time in its 82-year history.
Schell says Green Mountain Chorus will remain all male, but the chapter would welcome female and mixed choruses.
"We invite anybody and everybody into the chapter," he said. "If there's enough interest, we'll start another chorus."
Green Mountain Chorus members have ranged from professional-caliber singers to amateur, sing-in-the-shower types. According to Schell, numerous local musicians have dropped in and out of the group over the years to improve their singing chops.
In the early days of Phish, members joined the chorus to learn barbershop harmony. According to Jerry Walter, a chorus member for 49 years, Phish concerts still feature the version of "The Star-Spangled Banner" that the band learned with the Green Mountain Chorus.
Lyrically, much of the classic barbershop canon can feel a bit dated and a lot corny, qualities that its singers gleefully ham up. That's why those old ditties are perfect for a Valentine's Day serenade.
Musically, though, barbershop singing is deeply challenging stuff. As Schell noted before a January rehearsal, barbershop is often called "the black belt of singing." That's due to the style's intricate and ear-tingling close harmonies, which are as beautiful to hear as they are difficult to sing.
At that same January rehearsal, music director Neil Cerutti put the chorus through its paces in preparation for Valentine's Day. Cerutti, who is a member of the acclaimed local vocal group Counterpoint, reinforced fundamentals such as proper breath support and accurate intonation, rhythm and tempo. He also homed in on more granular elements, picking apart individual phrases and measures down to the note. Cerutti's instruction, along with that of assistant director Niquette, provides a high level of coaching for an amateur group.
"It's basically like free singing lessons every week," Schell said.
Even more than the music, what has drawn the Green Mountain Chorus together for more than seven decades is a kind of fraternal bond. That was evident in the jokes and good-natured ribbing throughout the rehearsal. This reporter's school a cappella group jokingly described itself as "a frat with a singing problem." Green Mountain Chorus has a similar vibe.
"It's guys' night out for most of us," Schell said.
"I don't really even listen to barbershop music," Green Mountain Chorus president John Villere added. "It sounds cheesy, but it really is about the camaraderie. Barbershop just happens to be the mode it took."
That bond is evident in the unabashed way Green Mountain Chorus performs. Even in rehearsal, the group sings with earnest enthusiasm and, well, glee. It's hard not to be charmed as the members croon through chestnuts such as "Coney Island Baby" or "Witchcraft." As Hodges discovered, that's especially true of the group's intimate singing valentines.
"Now I want to do it to other people," she said with a laugh a few days after her serenade. "I want to send them to all my friends."