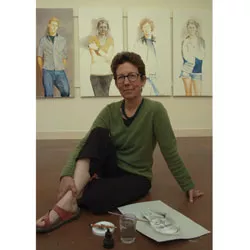 What happens in Kate Gridley's studio stays in Kate Gridley's studio. Especially when the governor is involved.
"He's sworn me to secrecy," the Middlebury artist says of the official portrait Gov. Jim Douglas commissioned her to paint last January. "And I'm absolutely following his orders on this one." At least until December 1, when the painting will be unveiled at the Statehouse in Montpelier.
But before it takes its place on the wall beside the other portraits of Vermont governors, Douglas' visage is returning to Middlebury, both his and Gridley's hometown. There it will be unveiled, again, in a ceremony at the Town Hall Theater, where Douglas has moderated Town Meeting for the last two years, since the building was renovated.
"We're fans of his and he's [a] fan of ours," says THT executive director Doug Anderson, who several months ago approached State Curator David Schutz about sharing the gov love. Gridley is also a friend of THT's; she has served on its board of directors. The portrait framer, Martha Lapham, hails from just south of Middlebury in Shoreham.
"[The portrait] will be specially lit, it will be dramatic, both Jim and Kate will get to open up about it," Anderson explains. "It will be just a great, relaxed and yet, in its way, historic event."
The secrecy shrouding the process isn't entirely new to Gridley. She doesn't like to paint from photographs, preferring to have her subjects sit for her as much as they can. And like a psychotherapist who guards her patient's privacy, she likes to keep the content of those sessions confidential.
"When people sit for a portrait, they're sort of in a vulnerable spot," she says. "I ask them questions and they talk, they open up." Gridley reveals this much about her time with the governor: They didn't talk about politics. "We talked about how he's teaching a J-term [January] class at Middlebury … I've been quizzing him about what he's planning to do next.
"I hope that the portrait is about him as a person, not about him as a politician," she says. To Gridley, every detail, each phrase of body language helps to create a "truth" about somebody.
"When someone sees this in 50 years, what are they going to know about him? We've created the truth about him," she says. Gridley worked collaboratively with Douglas and his staff to make decisions about his pose, expression and wardrobe, but she acknowledges that when it comes down to it, the artistic decisions are all hers: "I've been hired for my point of view, and my technique."
How does she feel about participating in this moment in Vermont history? "It's totally a blast," Gridley says.