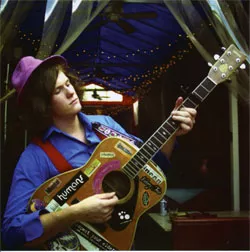 When you live on Church Street in Burlington, part of summer's soundtrack is the songs of street musicians, which drift breezily through apartment windows at all times of day. Last summer, I heard funky New Orleans standards, a high-school kid singing Bob Dylan tunes, a young cellist and an old-timey band harmonizing like The Carter Family.
Then one morning, as I was making breakfast, I thought I heard someone singing gospel. I had the radio on, so it was hard to tell at first. But then the voice leapt powerfully into a higher register and I broke out in goosebumps.
I walked across the room, overtaken by a feeling of excitement. I opened the window and looked down. What I saw was a young white kid wearing shorts, a short-sleeve button-down shirt, Wayfarers and a fedora. His white tube socks were pulled up to the tops of his calves, and he was grooving back and forth as he chopped out funky chord changes on an acoustic guitar.
For the first few seconds, I couldn't believe what I was seeing; the voice and the image didn't match. But the hair on my arms was standing on end, and I had a smile on my face. My girlfriend walked across the room and asked what I was doing. Without turning away from the window, all I could say was, "I think you should come over here."
Now it's December and Joshua Panda, the 23-year-old singer-songwriter with the fedora and gospel pipes is sitting across from me in Muddy Waters. We're talking about his new album, What We Have Sewn, and what it's like to have a voice that turns heads.
"Singing has been the main thread throughout my whole life. No matter what I was doing, I was always singing," Panda says with enthusiasm. "I'm either onstage or waiting to be onstage. I absolutely live for it. 'Cause that energy, you know … I'm getting excited right now just thinking about it. It's just always been natural."
Panda has been performing most of his life. Raised outside of Charlotte, N.C., he started singing solo in his church choir when he was 3 years old. His mother was the church pianist and sang in a gospel trio with her sister and mother. Panda started learning songs from her and spent the next 12 years of his life honing his voice, both in the choir and in classes at school.
Panda left home in 2007 to start recording Sewn with a friend in Brooklyn. While working on the record, he hopped a train to Burlington for a solo gig at Nectar's. In spring 2008, he and his friend and manager, Ruth Hill, pitched Nectar's on a summer residency. They offered him Saturday nights from 7 to 9 p.m., and Panda spent the summer sleeping on a friend's couch and busking on Church Street during the day to promote his shows.
"I pretty much met everybody that same way that you heard me the first time," he explains. "And that's been the biggest thing for me here, because everybody walks down Church Street."
It didn't take long for him to connect with local musicians. Soon enough Panda had befriended players such as ex-Grace Potter and the Nocturnals bassist Bryan Dondero, guitarist and singer Lowell Thompson, and drummer Sean Preece, all of whom wanted to play with him. Then one night Panda saw a bluegrass band called The Murder Ballads at Radio Bean and, as he says, "It was destiny. Those are the people I'm still playing with today."
Panda fell in love with Vermont and decided to stay. Since that summer, he has earned a reputation for putting on barn-burning shows at small rooms in Burlington, such as Radio Bean and The Skinny Pancake. His band is usually a combination of whoever can make the gig that night — a mix of his Burlington friends and folks from Montréal's The Murder Ballads. The music they play is part country, part gospel and part soul. Or as Panda simply describes it: rock 'n' roll.
"They all blend together so well," he explains. "Because all of those things existed before rock 'n' roll, but then people started beefing it up, putting some drums in there, turning up the electric guitar, and then it became rock 'n' roll. So that's what I say we do."
And that's what Panda and friends do on What We Have Sewn, which hops genres from the simple folk of "If I Had a Balloon," to the art-pop of "Diamonds in the Sand," to the R&B of "Egyptian Princess." That last track is so hot that, when the band finishes, you can hear Panda yell, "Oh, that was it! Let's get nekkid!"
It might be too cold to go that far, but you should still stop in for Panda's CD release party. There's a good chance this one will feel a little like church — in a good way.