Rick Kisonak: Hollywood is a pretty happy place right now, and the reason has nothing to do with holiday cheer. Rather, it has to do with sequels, remakes and reboots. And, more than anything else, with franchises. Largely on the basis of their grosses, 2015's box office has already surpassed last year's by 4 to 5 percent, according to Box Office Mojo. Which is real money when you're talking billions.
Those figures come from early December, with a highly anticipated new chapter of Star Wars and the vast majority of awards contenders yet to hit the cineplex. When the dust clears and the big ball drops on New Year's Eve, movie industry history may have been made.
I find this both fascinating and a little sad. I'm old enough to remember when people complained about sequels and anything that smacked of studio corner cutting and profit gouging. I suspect today's industry heads can't believe their luck. Times change, and with them, audience preferences. For whatever reason, the current generation of moviegoers seems happy with Hollywood's business plan.
Get this: Last month, AMBI Pictures announced it would remake Christopher Nolan's 2000 breakout thriller Memento, and eyebrows went virtually unraised. Studio head Monika Bacardi actually said in a press release, "We intend to ... deliver a memorable movie," and the Twitterverse didn't go into oversnark.
Rather, viewers line up and shell out for sequels such as Jurassic World (the year's No. 1 release at press time) and Furious 7 (No. 4), remakes like Poltergeist and Point Break, and the never-ending Marvel Universe franchises. The comic-book movie, with its endless menu of character combinations, has become a multibillion-dollar industry unto itself. Marvel has interrelated releases scheduled through November 2020.
Franchises are the future. One of these days, you and I could find ourselves writing a year-in-review piece composed of nothing else. Have you had that nightmare yet?
Margot Harrison: Not yet, perhaps because there's one thing I like about franchises: They're long-form storytelling, and they force audiences to cultivate strong memories for complex narratives. I just wish those narratives didn't involve so much smashing of CGI buildings.
I'll just repeat what I say every year: Original, intelligent movies exist. If you want to see them anywhere but video on demand, leave your living room. Patronize your local art house or film series, and then give the manager or organizer a list of other movies you'd love to see there. We have it in our power to prevent theaters from becoming the exclusive domain of 3D blockbusters. And I know plenty of young folks who believe in that goal.
Most Stellar Performance
RK: I got a charge out of the range Brad Pitt displayed in the two roles he played this year — an alcoholic writer in By the Sea and a financial wiz in The Big Short. I felt likewise about the eerie moment in The Hateful Eight when Tim Roth channels Christoph Waltz. Michael Fassbender was great in Steve Jobs, as was Leonardo DiCaprio in The Revenant. But I've got to go with the tag team of Paul Dano and John Cusack, who between them produced a hauntingly perfect portrayal of Brian Wilson in Love & Mercy. This was one time a split personality was a good thing.
MH: For me, this was the year that produced a wealth of stunning female performances, from Rooney Mara and Cate Blanchett in Carol to Saoirse Ronan in Brooklyn to Nina Hoss in Phoenix to Emily Blunt in Sicario. But my favorite is Brie Larson's portrayal of the alternately tender, angry and desperate young mother in Room.
Most Annoying Performance
RK: Diane Keaton (Love the Coopers), Sean Penn (The Gunman) and Ted, voiced by Seth MacFarlane (Ted 2), spring to mind. But really, nothing was quite as annoyingly awful as Deanna Dunagan's over-the-top Nana in M. Night Shyamalan's latest letdown, The Visit.
MH: I liked Sharlto Copley in District 9. But as the whiny voice of the childlike robot Chappie, he made me want to flip a switch, undermining the film's message about the machine's humanity. Alicia Vikander made a far better Turing test candidate in Ex Machina.
Best Comedy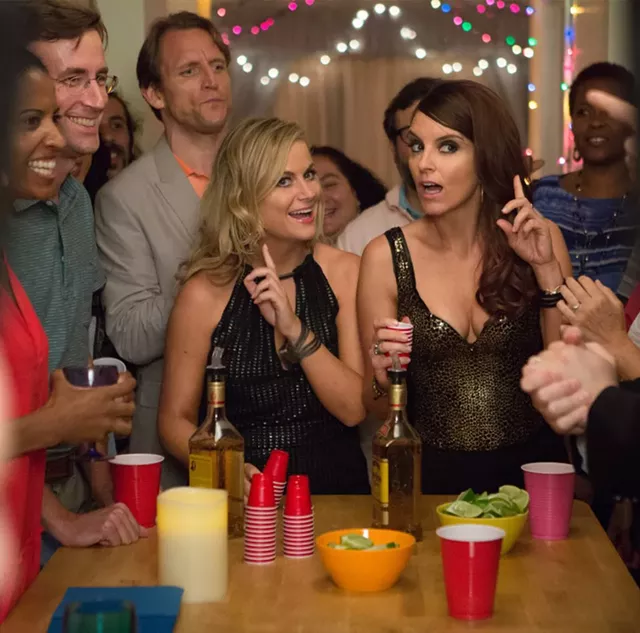 RK: The Martian. Just kidding, though "Musical or Comedy" is the category in which the Hollywood Foreign Press Association has nominated the film for a Golden Globe. Alongside Trainwreck and Spy — which, I'm pretty sure, makes the Golden Globes themselves the year's best comedy. My own honorable mentions go to While We're Young and Mistress America (it was a very good year for Noah Baumbach). But for all-out, anything-goes laughs, no other comedy came close to Sisters.
MH: What We Do in the Shadows isn't particularly groundbreaking (it's the nth vampire spoof) or taboo-breaking. It's just flat-out lovely and hilarious, thanks to committed character work and even more committed silliness.
Lamest Comedy
RK: Get Hard and Hot Pursuit disappointed. Ted 2 achieved a level of repellency I wouldn't have imagined possible based on the original. Irrational Man told the story of a tortured philosophy professor so tedious it was torture to sit through (it was a very bad year for Woody Allen). For sheer kill-me-now lameness, however, nothing held a Christmas candle to Love the Coopers. I'm all for marriage equality, with one exception: There ought to be a law against certain movie marriages, and the union of Diane Keaton and John Goodman is the test case I'd use to argue the matter before the Supreme Court. Slam dunk.
MH: The D Train was a cringe comedy with a daring premise that I wanted to love. Unfortunately, most of the cringes ended up coming from the filmmakers' one-note conceptions of their characters.
Biggest Letdown
RK: The Hateful Eight. Hey, Quentin Tarantino is a genius, no argument there. His two preceding films rank with his finest. But all winning streaks come to an end. The auteur's latest has its moments, but most of the ones in its bloated, pokey, super-talky running time honestly rank with Jackie Brown and Death Proof. This is self-indulgent, second-rate Tarantino.
MH: You want to talk bloated? Emmanuel Lubezki's cinematography for The Revenant deserves awards, but in other respects, I found Alejandro González Iñárritu's latest to be an overlong, overwrought, self-important movie with a weak storyline. Go to admire the exquisite landscape shots and a few set pieces.
Biggest Surprise
RK: Jason Segel's subtly powerful portrayal of David Foster Wallace in The End of the Tour. I was flabbergasted. From last year's Sex Tape to this? Who saw this sensitive, credible, funny, amazingly layered performance coming? It's easily one of the year's best and deserved far more recognition than it received.
MH: Mad Max: Fury Road. I wasn't expecting a belated entry in this franchise to be my favorite action movie of the year, possibly of the decade. But George Miller's return to the postapocalyptic desert was just that extreme, quirky and exciting.
Film So Forgettable I Didn't Remember Seeing It Until Compiling This Year-End Review
RK: The Lazarus Effect. What's to remember about this derivative riff on reanimation? Mark Duplass and Olivia Wilde play Frank (get it — Frankenstein?) and Zoe, a pair of lovestruck researchers working on a serum for bringing back the dead. Which is a tad ironic, given what a lifeless, mindless mess this is.
MH: It takes me a few years to forget a movie's existence. But virtually the only thing I remember about The Transporter Refueled is the crime crew of former prostitutes who disguise themselves by donning identical dresses and wigs like an homage to Robert Palmer's "Addicted to Love" video.
Best New Name to Watch in Front of the Camera
RK: Room wasn't Jacob Tremblay's first movie performance, but it's the 9-year-old's breakout. The young Canadian is ridiculously convincing in the role of a boy who's spent his entire life locked with his mother in a small space. The gamut of emotions and reactions Tremblay handles would have been crazy impressive for an actor many times his age. Scary film. Scary-good acting for a kid who hasn't even turned 10.
MH: Soulful coming-of-age movies are a dime a dozen, but Bel Powley brings a new kind of honesty and verve to The Diary of a Teenage Girl. Neither a wallflower nor a Lolita, her Minnie is hungry for life, charismatic and defiantly herself. I hope we see this British actress more often.
Best New Name to Watch Behind the Camera
RK: OK, Laurie Anderson is not exactly a new name. She's been one of the most prominent names in performance art since the '70s. What she's new at is feature filmmaking, and her debut, Heart of a Dog, has been winning awards and blowing minds since its premiere at the Telluride Film Festival in September. It's even been short-listed for an Oscar. The experimental documentary/drama/essay film is a one-of-a-kind rumination on everything from the deaths of Anderson's husband, Lou Reed, and her pet rat terrier, Lolabelle, to the nature of memory and life in a post-9/11 surveillance state. As you might imagine, the soundtrack's not too shabby, either.
MH: David Robert Mitchell, writer-director of The Myth of the American Sleepover (2010) and It Follows, one of my favorite movies of 2015. Though one of those films is technically a coming-of-age drama and the other is horror, they're more alike than you'd think — both moody, haunting and indelible.
Most Inexplicable Hit
RK: I'm unclear on how Taken 3 (No. 30) made the list of the year's 30 top-grossing films, according to Box Office Mojo. And I've got to admit, the appeal of Furious 7 (No. 4) eluded me. Who expected we'd one day live in a world where Vin Diesel is the face of a global multibillion-dollar franchise? But the movie whose success mystified me the most was Jurassic World. Sure, it was a couple hours of CGI summer fun. But the fourth in the Jurassic Park series lifted whole chunks verbatim from the first, the story line was essentially the same and the ending was a dino-size rip-off. How that translated into more than a billion and a half dollars worldwide is beyond me.
MH: I guess I can understand why Minions stands at No. 5. Kids love those little chaotic yellow guys, and I hear they make good Facebook memes or something. But San Andreas (No. 19), a disaster movie without a single original idea, really shouldn't be occupying the space above Mad Max.
Most Inexplicable Flop
RK: Given that it was made by Paolo Sorrentino, whose The Great Beauty took the Best Foreign Language Film Oscar last year, I'm surprised there's been so little love for Youth. Michael Caine and Harvey Keitel are great as old friends looking back at their lives. It's got one of the year's best scripts, is gorgeously shot in the Alps and has a soundtrack by Pulitzer Prize-winning composer David Lang. No. 240 on Box Office Mojo's 2015 list — come on!
MH: Youth hasn't had a chance yet. It's only been in limited release for three weekends (at press time). But Guillermo del Toro's Crimson Peak was a bona fide domestic flop at No. 73. I wouldn't recommend the movie to anyone for its story, but oh, what a gorgeous, overheated, gothic concoction it is. The costumes alone, if you like that sort of thing, are worth the rental price, and Jessica Chastain wears them while consuming whole roomfuls of scenery.
Freshest, Most Creative Screenplay
RK: Easy: Anomalisa by Charlie Kaufman. Stop-motion animation, graphic sex and a motivational speaker undergoing an existential crisis. Need I say more?
MH: The screenplay for Inside Out was clever and moving enough to charm both kids and their parents. I loved the comic acumen with which The Big Short sexed up dull-as-dirt financial concepts. And Ex Machina's twisty script helped revive brainy science fiction.
Most Formulaic, Cliché-Infested Screenplay
RK: Back in July, I wrote, "OK, it's official: Worst Movie of the Year ... it's simply inconceivable that a studio will release a more derivative, witless, ineptly crafted or cynically conceived piece of cinematic manure than The Gallows." Turns out I actually ended up seeing something worse. But this was bad. Totally brain-dead. Highest cliché count of the year.
MH: Open letter to Aaron Sorkin: Please stop writing movies that preach to us about how tech entrepreneurs really just want to be loved. I know this is an unpopular opinion, but very little of the dialogue in Steve Jobs rang true to me as anything that could be uttered by human beings in the situations depicted. (Yes, Steve Jobs is way less formulaic than, say, Fifty Shades of Grey. But we expect a lot more than that from a Sorkin script, or at least we used to.)
Best Movie With No Movie Stars
RK: Beasts of No Nation, no contest, if it hadn't featured one familiar face — that of Idris Elba. So I guess I'll go with Heart of a Dog.
MH: Tangerine, a dynamic little LA indie with two trans actresses in the lead roles. It's a comedy (sometimes) about a Christmas Eve revenge mission.
Worst Movie With an All-Star Cast
RK: What the hell was Tomorrowland? If you ask me, the latest from Brad Bird wasn't so much a movie as two hours-plus of product placement. The nerve of Disney to sell us tickets to an ad for a theme-park attraction to which it wants to sell us tickets. That's not synergy. That's corporate greed. Even George Clooney couldn't save this one.
MH: Sandra Bullock tried to stretch her range with Our Brand Is Crisis, while Billy Bob Thornton played to type, and a bunch of other fine actors were simply wasted in underwritten roles. None of them came out looking good.
Whom We'd Like to See More of at the Movies
RK: I wasn't as crazy about Grandma as a lot of critics were, but it did remind me that the movies could use a lot more Lily Tomlin.
MH: I agree! Also, the Streep daughters. This year, Mamie Gummer was an intensely rageful presence alongside her mom in the uneven Ricki and the Flash, making me want to see her in a lead role.
Whom We'd Like to See Less of at the Movies
RK: I hate to keep dumping on Diane Keaton, but my God. Has there been another actress who's so blithely trashed a significant film legacy? From Annie Hall, The Godfather and Reds to Because I Said So, And So It Goes and The Big Wedding. If she's going to be such consistently chuckleheaded company, I'd rather not have her around.
MH: "Chosen one" characters — a trend that reached its nadir with the cynical revision of Peter Pan into the loud, pandering, unmagical Pan. Must everyone be Harry Potter or Luke Skywalker? Can't a not-special boy or girl save the world for once?
Best Documentary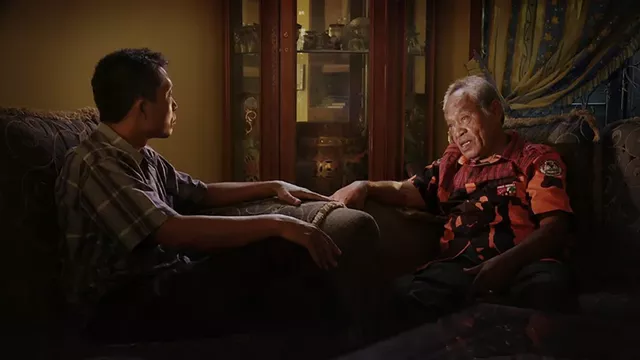 RK: This was a phenomenal year for documentaries. How often do you see films as fabulous as The Look of Silence, Listen to Me Marlon, Heart of a Dog, Going Clear: Scientology and the Prison of Belief and Best of Enemies all released in the same 12 months? Not to mention that Michael Moore is back (Where to Invade Next). Even in a field this extraordinary, however, Amy stood out.
MH: The Look of Silence is an essential sequel to The Act of Killing — together they give a fuller picture of a place where atrocities are neither disowned by the perpetrators nor forgiven by the survivors. It's also tenser than any action thriller.
Most Disposable Movie Franchise
RK: "I'd love to do something with Forest [Whitaker] again, and if it's in a Taken 4 scenario ... great." I'm not sure "great" is the word I'd use, but that's Liam Neeson's official position on the prospect of yet another Taken sequel. Bryan Mills, if you want to rescue someone, save us from more of this increasingly insipid series.
MH: As a horror fan, I beg for the end of the Insidious and Paranormal Activity series. They started with juice, but the scares are long gone, and they lack the camp appeal that helped render Freddy, Jason and Michael Myers undying.
Worst Picture
RK: Love the Coopers wasn't just the year's lamest comedy, it was the lamest movie, period. Technically, I gave The Letters an even worse review, but the pope just made Mother Teresa a saint, and I don't want to go to hell.
MH: The MTV time-travel found-footage movie Project Almanac, which came across as a 10-year-old's attempt to mash up Back to the Future with Primer after sleeping through most of both. And I like the found-footage format.
Best Picture
RK: Spotlight is one of the great newspaper movies of all time, a film on par with All the President's Men. In this automatic awards contender from director Tom McCarthy, Mark Ruffalo, Rachel McAdams, John Slattery, Liev Schreiber and Stanley Tucci do some of the most impressive work of their careers. Michael Keaton is so good he's looking at the possibility of back-to-back Oscar nominations. Finally, the film tells a sad but true story that no one who sees it will ever forget.
MH: My favorites of this year are films in the spirit of noir — highly stylized, dread-soaked tales of the devastation that can result from the workings of complex systems that are rotten at the core. In The Big Short, it's the American financial system, and the film's "heroes" are actually scoundrels who find a way to profit from the collapse. In Sicario, it's the drug war, and Emily Blunt is the heroine whose ideals are no match for reality. Roger Deakins' expressive cinematography gives the latter the edge for me. But both movies strike exactly the right balance of meaty procedural detail and cinematic flair. They're epics for pessimists.